The product of an outstanding vintage in the Southern Rhône Valley, the 2015 Pierre Usseglio Châteauneuf-du-Pape offers everything one hopes to find in classic Châteauneuf-du-Pape: color, aroma, depth of flavor, power, warmth and rustic charm. One can also expect more than a bit of polish and freshness in this wine, which garnered 93 points from James Suckling and 92 points from Wine Advocate. Ripe raspberry and dark cherry fruit aromas entertain the nose, while deep berry flavors, crushed herbs, garrique, and hints of spice and wood smoke fill the mouth and permeate the senses. Round, ripe tannins and a pleasant freshness carry the wine's fruit and mineral elements to a long, pleasing conclusion. Although smooth and quite approachable for a young Châteauneuf-du-Pape, we suggest decanting the 2015 Pierre Usseglio Châteauneuf-du-Pape 1-2 hours before serving. Enjoy now through 2025.
The 2015 Pierre Usseglio Châteauneuf-du-Pape, like the finest red Châteauneuf-du-Pape wines, is one of the world's most versatile wines at table. Chicken, beef, pork, lamb, hot sausages, spicy vegetable dishes and even tuna and other denizens of the deep make fine accompaniments to this wine. Lamb and beef are traditional Provençal accompaniments to Châteauneuf-du-Pape, so braised lamb shanks, savory stews, and beef tenderloin served medium-rare, with thickly sliced portabella mushrooms in a red wine, shallot and Herbes de Provence reduction, all provide good companions to Pierre Usseglio's flavorful Châteauneuf-du-Pape. For a tasty, but hearty, vegetarian accompaniment, we suggest a salad of roasted red peppers, sautéed portabella mushrooms, roasted eggplant, tomato, caramelized onions, and a healthy crumbling of hard cheese. Served over a bed of complex greens or freshly baked focaccia, with a dollop of pesto mayonnaise as a dressing, this dish makes a sublime accompaniment to any Châteauneuf-du-Pape. Roast duckling, prepared with a blackberry or kirsch based sauce, offers another splendid companion. Quail stuffed with foie gras pairs beautifully with this wine, too. Seared tuna steaks and deep sea fish accompanied by complex sauces pose no difficulty for this Châteauneuf-du-Pape either. Thai and Vietnamese specialties also play well with this wine.
Domaine Pierre Usseglio & Fils is a must-stop in Châteauneuf-du-Pape, the first appellation of France to receive Appellation Control status because of the superior quality of its wines. Not only are the wines splendid at Pierre Usseglio, current co-owner Thierry Usseglio has constructed a large outdoor diorama of the three distinct soil types of Châteauneuf-du-Pape from specific sites at his estate: rock, gravel, and sand mixed with limestone. Domaine Pierre Usseglio possesses vineyards on all three of the major soil types, which depict the uniqueness of the area's varied terroir, and each is explained in detail by Thierry. So one not only gets to drink some of Châteauneuf-du-Pape's finest wines at this address, one receives a first class education.
The Usseglio presence in Châteauneuf-du-Pape began in 1931 when Italian Francis Usseglio left Italy for France where he found work with winegrowers in Châteauneuf-du-Pape. In 1948, after the Second World War, he acquired his own property. Francis had two sons: Pierre, who inherited his father's property, and Raymond, who established his own Châteauneuf-du-Pape estate.
Today the third generation, Jean-Pierre and Thierry Usseglio, run Pierre Usseglio with assistance from Thierry's wife Sandrine and their son Thibault. They make one white Châteauneuf-du-Pape and several superb red Châteauneuf-du-Pape wines from estate sites. In addition, under Jean-Pierre and Thierry the domaine has expanded greatly, both in Châteauneuf-du-Pape (to 21 hectares or 52 acres) and into neighboring appellations, most notably Côtes-du-Rhône and Lirac. In 2011 the brothers purchased nearly 15 acres in Lirac of established vineyards laden with galets (large round stones), a soil composition very similar to their prized Châteauneuf-du-Pape terroir. Not surprisingly, recent vintages of Pierre Usseglio's Lirac could easily be mistaken for first rate Châteauneuf-du-Pape.
Châteauneuf-du-Pape is the Rhône Valley's most important appellation. Located in Provence, astride the swift moving Rhône River, this sun-drenched locale is blessed with a dry Mediterranean climate that is nearly ideal for the cultivation of vines and the production of red wine. Châteauneuf-du-Pape also possesses some of the oldest vines in France; the average age of the vines here is in excess of 40 years, by far the oldest of any major appellation in France. In addition, the entire production of this great wine is hand harvested. Moreover, Châteauneuf-du-Pape possesses fabulous terroir – large flat stones known as galets roulés that are mingled with plenty of decomposed gravel, limestone and sand. The remnants of Alpine glaciers that once covered southern France, Châteauneuf-du-Pape's glacial till provides excellent drainage and imparts subtle nuances of flavor to the appellation's outstanding wines.
The red wines of this sun-drenched appellation enjoy the highest standards of production in France and by all acclaim constitute some of the finest red wines in the world. Increasingly, white Châteauneuf-du-Pape approaches the quality of the appellation's red wine, yet it comprises less than 5% of the region's entire production.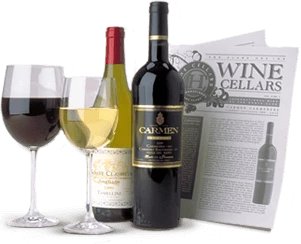 Enjoy Limited Production Estate
Bottled Wines
Discover limited production estate bottled wines such as Vergenoegd's internationally
acclaimed 2005 Cabernet Sauvignon, imported exclusively for our members.
DISCOVER OUR FOUR CLUBS