Brooding, packed, and completely hedonistic, the 2003 Domaine Père Pape La Crau de Ma Mère Châteauneuf-du-Pape is great Châteauneuf-du-Pape in the making. First and foremost, it is essential to state that the 2003 La Crau de Ma Mère is no lightweight, despite its formidable up front appeal, lush texture, and flamboyant flavor profile. It tops out at more than 14.5% alcohol, but it never appears out of balance. The wine is deep in color and the nose is heady and vinous, exhibiting seductive hints of cherry, kirsch, and plum. In the mouth the 2003 La Crau de Ma Mère is rich, sexy, and utterly pleasing. It has layers of fruit and a gorgeous mid palate, which is interwoven with violets and oriental spice. Moreover, the wine can breathe for hours, revealing new and interesting nuances of flavor with every sip, and then finish like gangbusters. Better still, this three year old Châteauneuf-du-Pape has just begun to reveal its true colors. Can any of us wait a few more years to catch the 2003 La Crau de Ma Mère wine at its peak? In an ideal world, each of us should have a bottle of the 2003 Domaine Père Pape La Crau de Ma Mère Châteauneuf-du-Pape on the table, and a case, or two, or three in the cellar. We suggest that you serve this youthful Provencal treasure at cool room temperature (64°-66° F), with just a few minutes if aeration. Otherwise, give it at least two hours or more of breathing time, and taste the fireworks. Each scenario offers its own set of rewards. A votre santé!
Lamb and beef are the traditional accompaniments to Châteauneuf-du-Pape, and there is absolutely no reason to deviate from traditional wisdom with the 2003 Domaine Père Pape La Crau de Ma Mère, unless of course you need to spruce up an ordinary meal with an "extra ordinary" wine. The 2003 Domaine Père Pape La Crau de Ma Mère can render simple peasant foods and ordinary mid week fare meals fit for royalty. Old-fashioned Lentil or Split Pea Soup, served with crusty French bread and a spoonful of shaved hard cheese, makes for a splendid mid week banquet in the company of this excellent Châteauneuf-du-Pape. Unequivocally, one of the great attributes of this wine is its versatility. La Crau de Ma Mère is truly a wine for all seasons and many occasions. In addition, another one of its many charms is its ability to complement fish and full-flavored sauces. Consequently, why not give it a try with Grilled Salmon or Tuna, served with lentils and a red wine and tarragon reduction. Bean, sausage, and tomato-based dishes provide other fine complements, too, so as you like it!
In an appellation where many winemaking families can trace their lineage and unbroken ties to the Provencal land they tend as far back as the Middle Ages, Domaine Père Pape is a mere neophyte or relative newcomer at best: its origin dates to only 1864. However, this fine estate has made the best of those 140 plus years. Run with great precision as well as vision by proprietor Maurice Mayard, Domaine Père Pape has been steadily growing in size and stature since the 1970s. Today, this property crafts world class Châteauneuf-du-Pape from several outstanding vineyards. Typically, Domaine Père Pape fashions two fine red Châteauneuf-du-Pape wines each vintage: La Crau de Ma Mère and Clos du Calvaire. Both are classic sumptuous Châteauneuf-du-Pape. However, La Crau de Ma Mère is often the more flamboyant of the two offerings, especially in its youth. Mayard's wines are made in the traditional manner, with no destemming during fermentation and ageing in oak foudres for up to 14 months before the final assemblage. And like nearly all other great wines in Châteauneuf-du-Pape, Mayard's reds are a blend of a coterie of red varietals, with Grenache, Syrah, Cinsault, and Mourvèdre leading the way. Small quantities of traditional white wine also flows from this 106-acre property.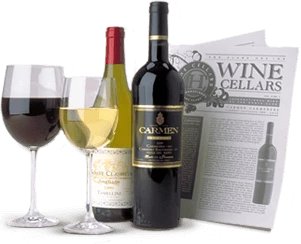 Enjoy Limited Production Estate
Bottled Wines
Discover limited production estate bottled wines such as Vergenoegd's internationally
acclaimed 2005 Cabernet Sauvignon, imported exclusively for our members.
DISCOVER OUR FOUR CLUBS