A port-like nose underscores the ripeness and weight inherent in the 1998 Domaine Martin Cotes-du-Rhone. Plum, anise, black fruits and the peppery scents of Grenache dominate the aroma and flavor of this plush Cotes-du-Rhone. Rich in fruit, lush and hedonistic, this wine is ample proof that the Rhone Valley of France continues to turn out some of the world's most pleasurable, user-friendly wines. A gold medal winner at the prestigious Paris Concours General Agricole, the 1998 Domaine Martin is easy to like. And, although ripe, round and easy to drink from the time its opened, the Domaine Martin benefits immensely from an hour's breathing time; it develops richness, definition and subtle nuances of flavor that make the little extra effort well worthwhile. Enjoy this wine at cellar temperature (58°-68°F).
A versatile, easy to drink wine, the 1998 Domaine Martin Cotes-du-Rhone is equally adaptable to burgers on the grill as it is to grilled loin lamb chops, or even more elaborate fare. A Mediterranean Salad consisting of either feta or mozzarella cheese, calamata olives, basil, fresh blood red tomatoes, cucumber, mixed greens and a light anchovy paste also makes for a wonderful accompaniment to a cool bottle of the Domaine Martin. (Rhone wines, even reds, should never be served more than 68°F). A fried walnut encrusted goat cheese on mixed greens in a light raspberry vinaigrette constitutes another tasty treat with this wine, as does a simple roast chicken basted with butter, olive oil and Provencal herbs. The only caveat we would suggest is that you save very rare cuts of meat or heavily garlicked or spiced dishes for more tannic fare; the 1998 Domaine Martin is too pretty and far too laid back for "blood and guts". In fact, we even love this wine all by itself, especially after an hour in a decanter, and there are not too many young reds we can say that about. Enjoy!
Domaine Martin is situated between the two ancient cities of Orange and Vaison-La Romaine in the prettiest part of Provence, the Vaucluse. The domaine's vineyards are primarily in the village of Travaillan, the remainder in nearby Rasteau, in an area known as La Plan de Dieu (God's special country, if you would). Yves Martin is the latest guardian of this estate, which was founded officially by his grandfather at the turn of the last century. (However, the Martins have been vineyard owners and grape growers since the time of the French Revolution). Together with his brother Rene, the winemaker, the Martins cultivate well over 100 acres of old vines, averaging nearly 80 years of age, in and around the estate's cellar. Here they produce an excellent, full-flavored red Cotes-du-Rhone from low yielding vines. The estate also turns out smaller quantities of white and rose wine, along with a tiny amount of Vin Doux Naturel Rasteau, a delicious late harvest dessert wine. Yet, it is the red Cote-du-Rhone that reigns supreme at this domaine. Domaine Martin's 1998 red Cotes-du-Rhone won another gold medal at the prestigious Paris Concours General Agricole, reflecting the individual, quality conscious approach the Martins take at their estate. This broad shouldered, hedonistic wine is a delightful blend of traditional Grenache, Syrah, Cinsault and Mourvedre, all from old vines. In addition to working with his brother Rene and nephew Eric at Domaine Martin, Yves, like his father, Jules before him is Mayor of Travaillan. Yves is also the President of the local syndicate of grape growers in Travaillan-Camaret, underscoring his leadership and stalwart devotion to quality grape growing in the Vaucluse.
France: The Affordable Pleasures France is a treasure trove of fine wine at affordable prices. "How can this be?" you ask…"with many Bordeaux, Burgundies and Champagnes selling at all time highs?" But it's true. Aside from a couple of hundred well known brands and top chateaux from the most renowned appellations, the rest of France constitutes a versatile bargain…ripe for picking. Even in well known appellations, there are bargains galore, rising stars, and a bevy of young talented upstarts eager to make a name for themselves, all selling fine wine at modest prices. What you need is the willingness to depart from the time worn and often overpriced "top" forty in any given locale, and the world of fine French wine awaits your beg and call, and at prices you can afford. For the past decade or more, France has been in the midst of a fine wine renaissance, transforming its wine industry from top to bottom. Driven by a new generation of young, quality -minded winegrowers, superb terroir, modern technology and a concentrated government effort that encourages the quality rather than the quantity of production, nearly all of the viticultural areas of France are producing better wines now than ever before. Twenty years ago, who had ever heard of a Viognier, a Gigondas, a Vacqueyras or better still a Rasteau, let alone ever had the opportunity to drink such a wine? And just a few years ago, while America and the rest of the collectors and speculators in the wine importing world were fixated on the Top 100 French Chateaux, the other thousands of growers and producers were virtually ignored, despite undeniable evidence that many of these bona fide estates were making better wines than the so-called, self aggradising Top 100. While many of the more expensive names were content to live off their reputations, many lesser known producers were busy replanting vineyards, refurbishing their facilities and building reputations for quality, at a fraction of the cost of the big name guys just down the road. So don't be put off by unfamiliar name or an odd sounding appellation (place name of origin); France is ripe with affordable pleasures. And let us not forget that France is the home to nearly all of the great international varietals, red and white, which means that strange sounding appellation may just produce some of the world's best Syrah or Shiraz, Cabernet Sauvignon, Chardonnay or Merlot, and they probably do. And, we haven't even mentioned Sauvignon Blanc, Pinot Noir, Chenin Blanc or Grenache, etc., etc. as the list goes on. So be open and daring, taste and compare, and see that at the moment France is the affordable pleasure. May the dollar remain strong, amen.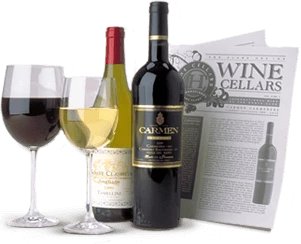 Enjoy Limited Production Estate
Bottled Wines
Discover limited production estate bottled wines such as Vergenoegd's internationally
acclaimed 2005 Cabernet Sauvignon, imported exclusively for our members.
DISCOVER OUR FOUR CLUBS