Marc Colin's white Burgundies epitomize elegance, and Colin's 2011 La Fontenotte Saint-Aubin is certainly no exception. The 2011 Marc Colin La Fontenotte embodies elegance, breed and all that makes white Burgundy the world's most renowned Chardonnay. From a tiny single vineyard that sits alongside the Premier Cru Les Champlots, this wine delights the eye from the moment it is poured. As an opening act, it offers a sparkling sun-kissed robe, followed by an entrancing bouquet of ripe citrus, poached pear, and a hint of wood smoke. With each sip, it caresses the palate with gentle fruit and mineral driven flavors. "Class in a glass," is how one long-time white Burgundy aficionado described this wine, so what more can we say? Give Marc Colin's pure, graceful 2011 La Fontenotte a moderate chill (40°-45° F) and enjoy it now and over the next year to two as it gains further depth and complexity.
A good part of the joy in serving exceptional white Burgundy as flavorful as the 2011 Marc Colin La Fontenotte Saint-Aubin is pairing it with a wide variety of dishes of equal stature. Grilled Salmon served on a cedar plank, Steamed Lobster with drawn butter, and Sea Scallops sautéed in butter and white wine with pistachio nuts and fresh herbs all provide mouthwatering accompaniments. A classic French dish, Escalopes de Veau à la Crème (Veal Medallions with Mushrooms and Cream), also makes a splendid companion to a bottle of Marc Colin's tasty 2011 La Fontenotte. Other rewarding choices include an Herb Encrusted Pork Tenderloin. The succulent tenderness of pork (the other white meat) wonderfully complements the savory flavors inherent in Colin's tasty Saint-Aubin. Halibut, flounder and almost anything else that once swam in the sea provide good companionship to Colin's excellent Saint-Aubin, too. And all types of poultry offer a myriad of additional options with which to enjoy this delicious white Burgundy. Bon appétit!
Domaine Marc Colin certainly ranks high among Burgundy's iconic producers, especially for the production of extraordinary white Burgundies from the prized appellations of Saint-Aubin, Chassagne-Montrachet, Puligny-Montrachet, and Corton. Pierre-Yves Colin, who took over the winemaking duties from his father Marc in 1995, fashions wines of tremendous finesse, flavor, and balance, all of which express a harmony between fruit and oak barrel ageing that few can equal. Together with his father and two brothers, Joseph and Damien, Colin guides his 50-acre family domaine on a precise course, making wines that rank among the most sought-after around the world.
Since taking over the domaine, Pierre-Yves Colin has been updating the winery, investing in new equipment and improving the vineyard management. By all measures Pierre-Yves is a patient and meticulous man who farms as organically as possible, yet he refuses to be hamstrung by a dogmatic philosophy of viticulture or winemaking. Colin's wines admirably reflect their distinctive terroirs, and Colin himself proclaims that his wines should speak of their individual vineyards. He employs only wild yeasts from each vineyard to further express the individuality of each wine he bottles. Consequently, the white wines from the stonier soils, such as the Puligny-Montrachet "Trezin," are firmer and taste of minerals, while those from the deeper soils like Saint-Aubin express more breadth and weight. In any given year, Domaine Marc Colin bottles close to thirty different wines, the vast majority of which are white from Saint-Aubin, Chassagne and Puligny. Limited quantities of red wine from Pinot Noir vines are produced from those appellations as well.
Burgundy is a wine as well as a place. In fact, it is many wines and many distinct locales, all of which were once part of the ancient duchy of Burgundy. Situated several hundred kilometers southwest of Paris, Burgundy is hallowed ground to serious lovers of the vine. From its golden hillsides, whose center slopes are so aptly named the Côte d'Or, flow France's most expensive and profound wines. Names such as Romanée Conti, Chambertin, Clos de Vougeot, and Le Montrachet among others have been delighting serious wine aficionados for centuries. Yet, there is much more to Burgundy and its wines than a few illustrious names. For starters, Burgundy is the ancestral home of two of the world's most revered grape varieties – Chardonnay and Pinot Noir.
Clearly, Burgundy is much more than a single wine or one great vineyard: it is a special place, a land almost entirely devoted to wine in one fashion or another. However, what remains surprising to many wine drinkers is that Burgundy is both red and white wine, the best of which come from Pinot Noir and Chardonnay exclusively. With a few rare exceptions, the finest Burgundies emanate from the region's core, the Côte d'Or, which begins on the fabled Côte de Nuits, just to the south of Dijon, and flows all the way south to Santenay at the tip of the Côte de Beaune. The Premier, Grand Cru and single vineyard wines from these illustrious hillsides rank among the world's finest. Salut!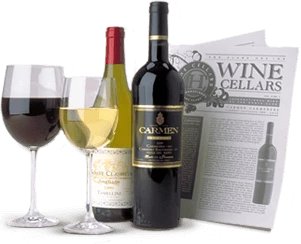 Enjoy Limited Production Estate
Bottled Wines
Discover limited production estate bottled wines such as Vergenoegd's internationally
acclaimed 2005 Cabernet Sauvignon, imported exclusively for our members.
DISCOVER OUR FOUR CLUBS