Deeply robed in regal purple, the 1999 Domaine Les Fines Graves Moulin a Vent bears the tell tale signs of its ageworthy pedigree. Nevertheless, this Moulin a Vent is prettier and more accessible early on than previous vintages. Bright fruit and stuffing surround the tannic core of the wine and offer very pleasant drinking in the near term. Drink this wine cool, within the first year or so of its life while the baby fat of a first-rate Beaujolais prevails. Otherwise, lay it down for at least three years to experience the savory Burgundian qualities that come with maturity. As with most true Moulin a Vent, the betwixt and between will hardly capture the glory of this fine appellation.
In its youth, beef, ham and full-flavored cheeses, including normally hard to pair bleu cheeses: Saga, Gorgonzola and Roquefort make outstanding accompaniments to Janodet's Moulin a Vent. Coq au Vin, Boeuf Bourguignonne, escargots and other traditional Burgundian fare also provide excellent complements to this wine. Roast turkey with onion and sage stuffing, and well-prepared pork roasts offer more interesting flavors for well-aged bottles of this Moulin a Vent. As you like it! Enjoy!
As one leaves the fabled Cote d Or and heads south, the landscape begins to take on the look of the south: red tiled roofs, steep green escarpments and massive rock out-croppings dot the landscape. About an hour south of Dijon, one enters the realm of Beaujolais, the southern extremity of the ancient province of Burgundy. Though not the most lauded of Burgundy appellations, Beaujolais remains the most picturesque and certainly the most typically French, a meeting of north and south where the stalwart Gallic reserve gives way to a polite, thaw. The very first stops in Beaujolais are without question the very best and one need go no further because the 10 Grand Cru of Beaujolais grace the visitor heading south with all the beauty, charm and eminent drinkability inherent in Beaujolais. Vines are nearly everywhere, covering the gentle hills and higher slopes alike, nearly to the tree crowned summits. Between Julineas and Fleurie, with Moulin a Vent as its center, one receives the image of a rural harmony that harkens back to a time when tiny, steeple-studded villages gave way to the surrounding countryside, providing sustenance for an agrarian world. In the midst of this fecund world, atop a small hill, stands a windmill, the very symbol of man's sustenance by nature and his labor to harness its power. This is the famous Moulin a Vent, which appropriately lends its name to the wine that is the King of Beaujolais Grand Cru: Moulin a Vent. It is from choice parcels within sight of this old windmill that the noble, age worthy Moulin a Vent of the Domaine Les Fines Graves flows, a wine that bears no resemblance to the oceans of light, often rude "Beaujolais Nouveau" that sail across the Atlantic each November just in time for the annual Thanksgiving debauchery.
Domaine Les Fines Graves Domaine Les Fines Graves is the fiefdom of Jacky Janodet, his lovely wife and quite soon, their son, a young man appropriately completing his apprenticeship in oenology. From the moment you come to the entrance to their pretty cheerful house on the outskirts of Romaneche-Thorins, a home with a meticulously mountained lawn and a lovely garden, you know that the Janodet's are a serious sober, dedicated family that don't tolerate anything done in slip-shod fashion. Vines cover nearly every available plot in Romaneche-Thorins, beginning their assault on the land directly behind the Domaine Les Fines Graves and neighboring homes in "Les Garniers" at the edge of the village. Yet, it is not until a few yards beyond the town road that the neat rows of Gamay vines begin their slow ascent to Moulin a Vent and the surrounding Grand Cru hillsides, some five kilometers from the Domaine. The Janodet's produce several excellent wines from numerous plots. From parcels near the village, they make a fine, fairly full-bodied Beaujolais-Villages that resembles more a robust, structured Moulin a Vent than a typical Beaujolais-Villages. Even firmer and fatter still is a very good Grand Cru Chenas that is built to last. However, it is the Moulin a Vent, the king of Beaujolais that reigns at this estate. Deep, brooding and quite Burgundian in nature, the Domaine Les Fines Graves Moulin a Vent is one of the most masculine and ageworthy of all Beaujolais wines. When asked how he most enjoyed his prize wine, Monsieur Janodet responded , "Not usually before it is five years of age; though some villages mature a little sooner than others...but my wines are made to age." Nearly all Beaujolais Villages and many Grand Cru as well would be dead and buried by their fifth anniversary. Nonetheless, contrary to popular belief, Beaujolais can be a real wine and a true Burgundy, gaining complexity with age, if only the necessary pruning and attention to quality that is practiced by Janodet would be employed elsewhere in the appellation.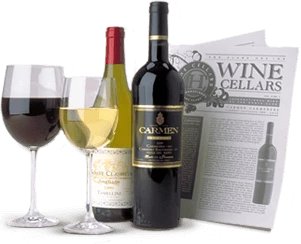 Enjoy Limited Production Estate
Bottled Wines
Discover limited production estate bottled wines such as Vergenoegd's internationally
acclaimed 2005 Cabernet Sauvignon, imported exclusively for our members.
DISCOVER OUR FOUR CLUBS