Saint-Chinian remains one of our favorite Languedoc appellations, and Lanye-Barrac shines as one of Saint-Chinian's brightest stars. The 2018 Lanye-Barrac La Rabidote Saint-Chinian (50% Syrah, 20% Grenache, 20% Mourvèdre, 10% Carignan) offers rich flavors, superb texture, and a downright sensuous aroma, which has only accentuated with time in the bottle. Blackberry, cherry, and raspberry scents tantalize the nose. Boldly flavored but supremely smooth and inviting in the mouth, the 2018 Lanye-Barrac La Rabidote rewards the taster with silky smooth berry flavors infused with hints of rose petal, garrigue, sandalwood, and vanilla. A delight to drink now, Mélanie and Bernhard's 2018 Lanye-Barrac La Rabidote Saint-Chinian is now approaching its prime, yet it should continue to delight for years to come. For optimal enjoyment, we suggest affording the Lanye-Barrac La Rabidote Saint-Chinian 15-20 minutes of aeration before consuming around 58°-62° F. Anticipated maturity: 2021-2026. Enjoy!
The 2018 Domaine Lanye-Barrac La Rabidote Saint-Chinian provides the ideal wine to serve with a main course or throughout a dinner party, as one can open a second or third bottle of this charming Saint-Chinian in the middle of a dinner party and have no fear that it lacks sufficient aeration or will require a production to shine. In short, Domaine Lanye-Barrac's La Rabidote is, likely, the most welcome guest at table. All that remains is to decide what to serve with this smooth, sensuous delight. Lamb, beef, and pork all have their adherents in the company of this wine. Northern and Southern Italian specialties, such as Pasta Bolognese, Three Cheese Agnolotti stuffed with braised short ribs and King Trumpet mushrooms, and homemade lasagna with a savory béchamel or red tomato sauce, all provide tasty companionship to this wine. Most pasta dishes and American classics such as meatloaf and Carolina pork barbecue make good companions to the 2018 Lanye-Barrac La Rabidote, too. Another memorable accompaniment is a savory carrot and lentil stew, but most anything will do. Salut et Bon Appétit!
Lanye-Barrac shines as a beacon of quality in France's sprawling Languedoc. In fact, there is nothing ordinary about Mélanie and Bernhard Backhaus's Domaine Lanye-Barrac and Viti-Farm in Saint-Chinian. Mélanie, an osteopathic physician, and Bernhard, a sommelier, grew up in the same small town on the island of Corsica where they knew each other in elementary school. Separated before adolescence when Bernhard's family moved to the Dordogne region of France, they met up by chance, or destiny the couple says, in 2010.
In 2012, Mélanie and Bernhard established Lanye-Barrac and Viti-Farm, a multi-use organic and bio-dynamically run farm of considerable biodiversity in Saint-Chinian, one of our favorite appellations in France's Languedoc. All winter long among Lanye-Barrac's vines, many of which are in excess of 100 years of age, graze sheep, ducks, chickens, and even pigs, which not only provide natural fertilizer, they also prevent vine diseases and stress. The ducks and chickens eliminate the insect pests and snails that damage vine leaves during and after bud break, while the domain's Gascon black pigs turn up and plough the soil, diminishing weed growth and reducing the vines' water competitiveness. The result is a healthy balance of flora, fauna, minerals, and human interaction that carries over into the winemaking process. Lanye-Barrac's wines are pure, natural tasting, and downright delicious, especially the domain's flagship offering and this month's feature, the 2018 Lanye-Barrac La Rabidote Saint-Chinian. Taste and see!
Languedoc is a veritable treasure trove of fine wines and the source of many of the world's greatest wine values, as the region continues to push the envelope in terms of both quality and value. Languedoc is a vast region and is easily the world's largest single viticultural area, encompassing many appellations and distinctive sub regions – all of which are capable of producing fine wine. This sprawling viticultural wonderland stretches all the way from the Spanish border in the southwest, within sight of the towering Pyrenees, to the banks of the Rhône River far to the northeast. Languedoc cuts a huge swath of dry coastal plain and sheltered mountains from which flow the guts and the glory of French viticulture.
The Languedoc, whose name is synonymous with the language of southern France, was the first part of ancient Gaul to be extensively planted to the vine. And, long before Caesar's Roman legions had subdued the Gallic tribes, wine was big business in Languedoc. The Phoenicians passed this way, and not surprisingly the region's beauty and superb conditions for the cultivation of the vine did not escape the first Greek colonists who planted vines there, making Languedoc the cradle of French viticulture in the fifth century BCE. For nearly two thousand years, Languedoc remained the "big dog" and premier purveyor of wine to France and the world. However, the glory of France's most historic wine region – the birthplace of troubadours and Provencal, the lyrical language of poetry – came to a screeching halt at the end of the 19th century with the advent of phylloxera, the most dreaded of all vine diseases.
Throughout the late 19th century and most of the early 20th century the Languedoc languished, becoming the planet's greatest source of bulk wine, known unceremoniously as vin ordinaire, plonk, and worse. It was not until the 1970s that Languedoc began the long march back to glory. With no longer a demand at home or abroad for cheap, coarse wines, the emphasis in Languedoc shifted back to quality rather than quantity. Many of the region's oldest vineyards were restored, premium varietals replanted, and vines began moving back to ancient hillside sites to produce less wine of greater quality. The results initiated a veritable Renaissance in the Languedoc, especially in the favored appellations of Fitou, Corbières, Minervois, Pic St. Loup, and Saint-Chinian where choice hillside vineyards have produced fine wine for millennia.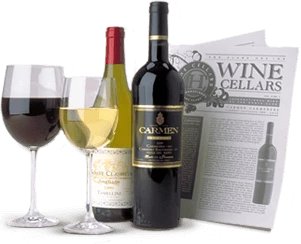 Enjoy Limited Production Estate
Bottled Wines
Discover limited production estate bottled wines such as Vergenoegd's internationally
acclaimed 2005 Cabernet Sauvignon, imported exclusively for our members.
DISCOVER OUR FOUR CLUBS