A blend of old vine Grenache and Syrah, the 1994 Domaine La Garrigue Vacqueyras is a deep, brooding, purple potion. Scents of a cassis, woodland blackberries, roses and violets form the cachet of this wine, while a touch of "Garrigue", or herbe de Provence, pervades the rustic, sumptuous flavors that speak of the south of France. Richly fruity, yet completely dry, the Domaine La Garrigue Vacqueyras needs at least forty-five minutes open to reveal a core of pure, rich, natural flavors. According to the proprietor, as well as several reliable sources on Rhone wines, no additional sulfites are added at bottling. Indeed this would not surprise us since Domaine La Garrigue is essentially organically farmed. All of its wines are made in the most natural way possible; from the initial fermentation in tanks to aging in ancient ceramic vats, Domaine La Garrigue practices the ancient art of bringing a well tended vineyard to your table with the least bit of interference. Bravo!
Like all fine medium-to-full bodied dry reds, Vacqueyras pairs nicely with grilled meats. Vacqueryas is terrific food wine and will complement pheasant, wild boar, rabbit, partridges and other game as well as lamb and roast kid quite well. Consider pairing it with a lightly seasoned sirloin steak on the grill or with grilled lamb chops, brushed with garlic, olive oil, and rosemary. A nice simple duck, braised either in a clay pot or conventionally, with some carrots in the stock to sweeten it slightly makes for another fine meal. For vegetarians, we suggest vegetable paella.
Domaine La Garrigue - Vacqueyras From the very first sight of the Domaine's windswept vineyard on the Vaucluse plateau, to the snarling dog that guards the cellar door, to the old combat boot toting auntie that bottles and labels the wine, to the stocky, plain-speaking proprietor, Domaine La Garrigue recalls the quintessential Provence: rugged, beautiful landscapes and honest, unpretentious people. The Bernard family, proprietors of both Domaine La Garrigue and the excellent restaurant "Les Florets" in Gigondas, are a generous, honest, and hardy lot. It should then come as no surprise that their wines reflect their nature and character offering the consumer some of the most affordable and pleasurable drinking in Provence. Producing chunky, flamboyant, all natural wines, Domaine La Garrigue is indeed one of our favorite producers of Rhone wines: Vacqueyras, Gigondas and Cotes du Rhone in particular. This Domaine is one of the largest estates in Vacqueyras, a distinctive red wine as well as a beautiful Provencal village that looks like it stepped out of a Marcel Pagnol novel. Domaine La Garrigue produces a fine Vacqueyras; a serious red with a penchant for aging. With a few years in bottle, it evolves from a lusty, herb-tinged red into a plush, aromatic and flamboyant wine of distinction. Likewise, the Domaine's Gigondas is another formidable red; it is pure, rich and laden with both personality and character. Unfortunately, La Garrigue's small production of Gigondas is rarely seen outside of the winery or the family's renowned Gigondas restaurant; "c'est dommage". The other fine coup from this estate is the winery's excellent Cote du Rhone, labeled Cuvee Romaine after the myriad of Roman artifacts that were excavated by archeologists on the property in the late 1970's and the early 1980's. Cuvee Romaine is a veritable bargain; originating in the village of Vacqueyras, it is a combination of old vines, Grenache and Syrah. The estate produces no white wine. However, a little Provencal rose is said to be produced at Domaine La Garrigue. Domaine La Garrigue takes its name from the wild herbe de Provence and ground cover of Provence called Garrigue, a common scent often detected in the region's better wines, including Domaine La Garrigue's Vacqueyras. How we love Domaine La Garrigue. The estate's wines taste like wine, not like the insipid laboratory, homogenized beverages that so many commercial wineries try to foist on the wine consuming public. Like it or not, this is the real McCoy. All of the Domaine's wines are bottled un-filtered, retaining the natural flavors of the region's soil and climate.
Vacqueyras: A Wine and a One-Horse Town In a small corner of the Vaucluse, hemmed in by the Rhone River and the craggy granite teeth of the Dentelles de Montmirail which constitute the last outcropping of the Alps, lies Vacqueyras. A picturesque, one-horse Provencal town, complete with twisting streets of red-tiled roofs and pétanque (the Provencal equivalent of "boule" or bacie) players, Vacqueyras is surrounded by some of the finest scenery in France. Along with Gigondas and Chateauneuf-du-Pape, Vacqueyras completes the triage of great Cotes de Rhone Villages that set the standard for fine wine in the south of France. A traditional blend of the ubiquitous Grenache and Syrah, along with a sprinkling of Mourvedre and Cinsault, the red wines of Vacqueyras are often compared to their more famous neighbors in Chateauneuf-du-Pape and Gigondas with which they share similar characteristics. Although sometimes not quite as polished as the finest Chateauneuf-du-Pape or Gigondas, Vacqueyras is often more robust, particularly in lesser vintages when the grapes in Vacqueyras ripen more fully than those in neighboring villages. With a warmer micro-climate and the presence of the galets, or large, flat polished stones, in many of its vineyards to radiate the sun's heat back into the vineyard at night, Vacqueyras is more consistently full and rich in comparison to its neighbors, even in so-called off vintages. With nearly 160 growers, Vacqueyras should be better known in the international market, but whether it be the absence of one large Domaine to garner world-wide renown or the unusual sounding place name itself, Vacqueyras has yet to be discovered by the popular wine press. For the moment, it is one of the best kept secrets in Provence.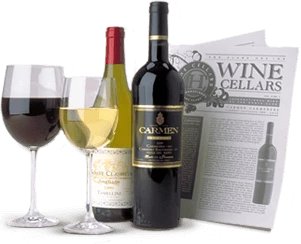 Enjoy Limited Production Estate
Bottled Wines
Discover limited production estate bottled wines such as Vergenoegd's internationally
acclaimed 2005 Cabernet Sauvignon, imported exclusively for our members.
DISCOVER OUR FOUR CLUBS