Domaine Houchart's 2011 Côtes de Provence made us stand up and take notice. In a tasting of high priced Côtes-du-Rhône and Provencal reds, the 2011 Domaine Houchart delivered more than any of the other high flying wines. As it turns out, we weren't alone in our infatuation. The Concours des Vins de Provence awarded the 2011 Houchart Côtes de Provence a Gold Medal and Wine Enthusiast gave it 90 points. For starters, the wine's beautiful vermillion robe is a veritable feast for the eyes, but the nose and palate won't be a bit jealous or left wanting. This Côtes de Provence red quickly delivers up a heady aroma of red and black fruits, savory hints of garrigue (the scented herbal brush of the Provence) and an enticing touch of cinnamon. In the mouth, layer upon layer of succulent fruit and spice unfold on the palate, before exiting with a flourish. Elegant, flavorful, and so easy to drink, the 2011 Domaine Houchart Côtes de Provence provides considerable hedonistic pleasure. For optimal enjoyment, drink this wonderful sleeper now and over the next several years at cool room temperature (60°-65° F).
The scented, savory red wines of Provence are some of the most versatile of all wines, and that includes the delightful 2011 Domaine Houchart Côtes de Provence. It possesses a real affinity for food and complements a wide variety of individual dishes and cuisines. It also provides a wonderful companion to the vast array of gastronomic delights that emanate from traditional Provencal kitchens. Roast leg of lamb, spicy cassoulets and ratatouilles, and just about any kind of pasta all make wonderful accompaniments to this wine. Interestingly, Provence shares a border with Italy as well as a love for pasta, and pizza, too. One tasty, easy to prepare pasta we have particularly enjoyed with the 2011 Domaine Houchart Côtes de Provence is Pasta and Chickpeas with Broccoli Rabe sautéed in olive oil and garlic. Hard core carnivores can add spicy Italian style sausage for an added kick. Some other simple mid week treats with this wine include juicy lamb burgers with a slice of Gorgonzola cheese or a good old fashioned hamburger with a slice or two of avocado and tomato. Pizza provides another wonderful companion to this easy to drink red, and whether it's a delicious vegetable, cheese or meat laden variety, Domaine Houchart's Côtes de Provence will stand and deliver both flavor and pleasure. Enjoy!
The history of Domaine Houchart dates back centuries to the French Revolution, while the cultivation of the vine on and around the domaine at the base of Mont Saint Victoire can be traced back to antiquity. The modern estate owes much of its success to the energetic proprietor and negociant Aurelien Houchart, for whom the domaine is named. In the 1850s Aurelien expanded his family's rural properties and later reconstituted the old vineyards on the site that had been destroyed by phylloxera. He also had a winery and cellar constructed there, so that among a patchwork of small family vineyards and wineries, Domaine Houchart became one of the largest domaines in Provence. It also served as a cultural center as Aurelian was friends with the famous painter Paul Cezanne, Emile Zola and other notable contemporaries.
Domaine Houchart remains today the largest wine estate in Provence with about 200 acres, and it is now part of the Quiot family, the proprietors of the renowned Domaine Vieux Lazaret in Châteauneuf-du-Pape and several other celebrated Rhône estates. It came to the Quiots through Geneviève, the wife of Jérôme Quiot, when she inherited part of the original domaine as a descendent of Aurelian Houchart. Beginning in the 1980s, Geneviève set about restoring the property to its former grandeur. She continues to work the property with her children Jean-Baptiste and Florence.
Red and rosé wine, the latter a Provencal staple, dominate Domaine Houchart's production. Traditional Provencal varietals proliferate as well with Grenache, Syrah, Mourvèdre, Cinsault and Carignan leading the charge for the red and rosé wines. Small quantities of white wine are produced from Clairette and Rolle. These grape varieties are all traditional to Provence. We invite you to taste and feel the beauty of Provence in each of the estate's superbly crafted wines.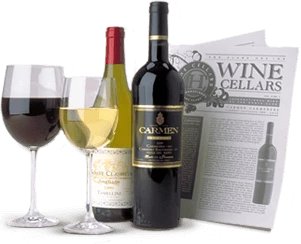 Enjoy Limited Production Estate
Bottled Wines
Discover limited production estate bottled wines such as Vergenoegd's internationally
acclaimed 2005 Cabernet Sauvignon, imported exclusively for our members.
DISCOVER OUR FOUR CLUBS