A tiny production from the southern flank of the Côte d'Or, the 2020 Guy Amiot et Fils Santenay Vieilles Vignes (100% Chardonnay) drinks much like a young Chassagne-Montrachet. Amiot's 2020 Santenay Vieilles Vignes models the region's pretty pale straw color and offers a caressing aroma of apricot and white peach as well as a delectable hint of passionfruit. Medium-bodied but rich in flavor, Amiot's 2020 Santenay offers a creamy texture in which the wine's cornucopia of flavors flows. Apricot and white peach with a dab of butter, a hint butterscotch, a touch of vanilla, and a pleasant underlying minerality all meld together in this bright, sophisticated white Burgundy. For ultimate enjoyment, afford this fine white Burgundy a moderate chill (40°-45° F) before allowing it to unfold slowly in the glass to shed some of its chill. And, like a fine red Burgundy, a young white Burgundy, such as this Santenay, will benefit from a little time in the glass to collect itself, so afford the 2020 Guy Amiot et Fils Santenay Vieilles Vignes a bit of aeration in the glass before imbibing to reveal all that it has to offer. Anticipated maturity: 2023-2027. Salut!
As a classic white Burgundy, the 2020 Guy Amiot et Fils Santenay Vieilles Vignes provides the quintessential partner to fresh fish and sophisticated shellfish dishes. Poached salmon, sole, and flounder in the company of a savory cream sauce provide several of our favorite accompaniments. However, crab, scallops, and lobster also offer superb companionship to a bottle of Amiot's splendid 2020 Santenay Vieilles Vignes. Blue crab dips; scallops sautéed with butter, white wine, and fresh herbs; and stuffed lobster tails top our list. For those who prefer meat or crave gourmet classics, Suprêmes de Volailles (Breast of Chicken with cream) and Escalopes de Veau (Sautéed Veal Scallops with mushrooms and cream) are two tried and true French favorites that shine in the company of Amiot's Santenay Vieilles Vignes. And if good old-fashioned sipping is more to your liking, this Santenay Chardonnay provides plenty of pleasure on its own as an aperitif, with nary a morsel… so as you like it. Bon appétit!
Domaine Amiot is one of the finest producers of white Burgundy from France's fabled Côte d'Or, with their Chassagne-Montrachet and Santenay ranking among those two revered appellations' finest. Guy Amiot, the present owner and guardian of the domaine that bears his name, represents the third generation of renowned growers at this estate. However, critics are quick to point out that over the last two decades Guy and his two sons Thierry and Fabrice have taken their family domaine to the next level of quality and placed it firmly among Burgundy's top echelon. From the estate's outstanding 2020 Guy Amiot et Fils Santenay Vieilles Vignes (this month's feature) fashioned from vines in the southern part of the Côte d'Or to Chassagne-Montrachet and Le Montrachet itself, the Amiots fashion small lots of exceptional and highly acclaimed white Burgundies. They also produce splendid red burgundy, too, from Pinot Noir vines in Chassagne-Montrachet and the surrounding Côte d'Or.
Guy's forebear, Arsène Amiot, an adopted Parisian, began the estate in 1920 after falling in love with the golden slopes of Chassagne-Montrachet, arguably the world's finest commune for Chardonnay. Arsène's initial purchase in the tiny village of Chassagne-Montrachet accounted for a mere 2 hectares or approximately 4.5 acres of vineyard, but what jewels Arsène had acquired. These original parcels were remarkably well chosen and still form the core of the domaine. In fact, Amiot's holdings included vineyards in Les Vergers, Le Clos Saint Jean, les Caillerets and les Dents de Chien, all of which were later to be designated as Montrachet Grand Cru, the mark of the world's finest and most expensive white wines. Additional acquisitions in Santenay have solidified the Amiots' holdings of Vieilles Vignes (Old Vines) on Burgundy's Côte d'Or.
Guy Amiot took over the domaine in 1984 with the passing of his father Pierre. After completing studies in oenology, Guy gained considerable experience working in several of France's greatest vineyards, which led him to combine modern winemaking methods with a traditional knowledge of Burgundian viticulture. Moreover, he has wisely decided to retain old vines (Vieilles Vignes) and focus on bringing out the individual character and terroir in each of the wines he fashions, favoring the production of wines that are aromatic, rich, and balanced, as illustrated by the remarkable quality of the wines he has produced since 1985. With his sons, the fourth generation of Amiots to enter the family business, Guy built a new wine cellar whose elliptical vaults are ideal for the natural aging of the wines. It is comforting to know that this remarkable estate remains in capable hands to assure yet another generation of excellent authentic Burgundy wines.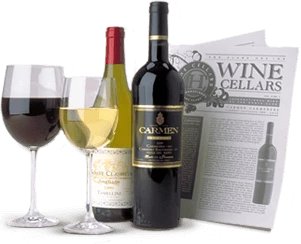 Enjoy Limited Production Estate
Bottled Wines
Discover limited production estate bottled wines such as Vergenoegd's internationally
acclaimed 2005 Cabernet Sauvignon, imported exclusively for our members.
DISCOVER OUR FOUR CLUBS