The superlative 2018 Guy Amiot et Fils Cuvée Simone Bourgogne Pinot Noir, which pays homage to the generous loving wife of Pierre Amiot, emanates from vines just outside the boundary of Chassagne-Montrachet and drinks like classic red Burgundy from that renowned village. This wine is all one could possibly hope for in Bourgogne Pinot Noir but rarely encounters. Outstanding weather in 2018 and the Amiots' superb winemaking has yielded the finest Bourgogne Pinot Noir we can remember. One has to taste this wine to believe it. The 2018 Amiot Guy et Fils Bourgogne Pinot Noir is a wine of grace, pure fruit, precision, and sublime texture, which is pure silk. Raspberry and strawberry fruit with intoxicating hints of exotic spices greet the nose and grace the palate with pure pleasure from start to finish. Almost weightless in the mouth, but full of flavor, the 2018 Guy Amiot et Fils Cuvée Simone Bourgogne Pinot Noir pays joyful homage to the remarkable woman for whom the wine is named. For optimal enjoyment, we suggest opening this graceful, delightfully hedonistic red 15-20 minutes before consuming at cool room temperature (60º-64º F). Enjoy!
As quintessential red Burgundy, 2018 Guy Amiot et Fils Cuvée Simone Bourgogne Pinot Noir provides the ideal accompaniment to nearly everything or nothing at all. However, in Burgundy, the delicious 2018 Cuvée Simone would ultimately find its way to table to accompany the region's classic dishes, each of which makes a wonderful tableau upon which to craft a successful dinner party. Coq au Vin immediately springs to mind. Yet, for our taste, almost any chicken or turkey dish prepared with mushrooms or stuffing will pair superbly with this savory Bourgogne Pinot Noir. Breast of Chicken in a savory white sauce and Sautéed Veal Medallions with mushrooms and cream are two additional tried and true classics that shine in the company of Bourgogne Pinot Noir such as the 2018 Amiot Cuvée Simone. The savory aspects inherent in the wine and the food play beautifully off one another, which will no doubt cause the bottle to empty quickly. An Herb Crusted Pork Tenderloin makes for another splendid dinner companion. Serve the pork with a dried cherry sauce and sides of roasted shallot mashed potatoes and haricot verts for additional gastronomic pleasure. And if good old-fashioned sipping is more to your liking, Amiot's Cuvée Simone Bourgogne Pinot Noir provides plenty of pleasure, au naturel with nary a morsel. Bon appétit!<
Domaine Amiot is one of Burgundy's finest producers of Chassagne-Montrachet, fashioning a rich portfolio of outstanding white and red Burgundies from the commune of Chassagne-Montrachet and surrounding environs. Guy Amiot, the present owner and guardian of the domaine that bears his name, represents the third generation of renowned growers at this estate. However, most critics are quick to point out that over the last two decades Guy and his two sons Thierry and Fabrice have taken the family's domaine to the next level of quality and placed it firmly in the top echelon, alongside the very finest producers in Burgundy. From the estate's outstanding 2018 Cuvée Simone Bourgogne Pinot Noir (this month's feature) fashioned from vines just outside the boundary of Chassagne-Montrachet to Le Montrachet itself, the Amiots fashion small lots of exceptional red and white Burgundies.
Guy's forebear, Arsène Amiot, an adopted Parisian, began the estate in 1920 after falling in love with the golden slopes of Chassagne-Montrachet, the world's finest commune for Chardonnay. Arsène's initial purchase in the tiny village of Chassagne-Montrachet accounted for a mere 2 hectares or approximately 4.5 acres of vineyard, but what jewels Arsène had acquired. These original parcels were remarkably well chosen and still form the core of the domaine. In fact, Amiot's holdings included vineyards in Les Vergers, Le Clos Saint Jean, les Caillerets, and les Dents de Chien, all of which were later to be designated as Montrachet Grand Cru, the mark of the world's finest and most expensive white wines.
Pierre Amiot, one of Arsène's sons, took over the family business in 1936. He acquired several additional vineyard jewels for the domaine, such as La Maltroie, Les Champgains, and Les Macherelles. Under Pierre's direction, Amiot's production began to be sold directly to individual connoisseurs and savvy restaurant owners. After the Second World War, the acquisition of prestigious parcels like Les Chaumées and Les Demoiselles added further to the estate's very well-established reputation, both in France and abroad.
In 1984, Pierre Amiot passed away after a lifetime of producing estate bottled Burgundies and the torch passed to Guy. After completing studies in oenology, Guy gained considerable experience working in several of France's greatest vineyards, which led him to combine modern winemaking methods with a traditional knowledge of Burgundian viticulture. Moreover, he has wisely decided to retain old vines (Vieilles Vignes) and focus on bringing out the individual character and terroir in each of the wines he fashions, favoring the production of wines that are aromatic, rich and balanced, as illustrated by the remarkable quality of the wines he has produced since 1985. With his sons, the fourth generation of Amiots to enter the family business, Guy built a new wine cellar whose elliptical vaults are ideal for the natural aging of the wines. It is comforting to know that this remarkable estate is in capable hands to assure yet another generation of excellent, authentic Burgundy wines.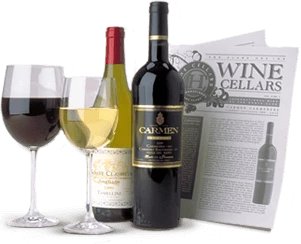 Enjoy Limited Production Estate
Bottled Wines
Discover limited production estate bottled wines such as Vergenoegd's internationally
acclaimed 2005 Cabernet Sauvignon, imported exclusively for our members.
DISCOVER OUR FOUR CLUBS