Creamy, sensuous, and downright delicious, Guy Amiot et Fils' recently released NV Crémant de Bourgogne Brut holds court with the finest of the world's sparkling wines, including Champagne. Composed of a roughly equal blend of old-vine Chardonnay, Pinot Noir, and Aligoté, it is made using the Méthode Traditonnelle, the same painstaking method of fermentation in the bottle as Champagne, and it rests on it lees for a minimum of 16-18 months. Guy Amiot's Crémant de Bourgogne Brut offers a pretty sunlit color and a delicate vivacious mousse, which is alive with the savory notes of freshly picked apples, citrus, and a delightful hint of marzipan. Clean and round in the mouth, the Amiots' Crémant de Bourgogne Brut embodies the same round, mineral-driven texture inherent in the house's award-winning Chassagne-Montrachets. Enjoy this crowd pleasing bubbly now and often with a proper chill (38º F). Enjoy!
Just as Domaine Amiot's exceptional white and red Chassagne-Montrachets provide the quintessential accompaniments to the delights of the table, so does the Guy Amiot et Fils Crémant de Bourgogne Brut. It makes a splendid companion to fresh seafood, especially poached salmon, sole, and flounder in the company of a savory cream sauce. Crab, scallops, and lobster offer superb companionship, too. Crab dips; scallops sautéed with butter, white wine, and fresh herbs; and stuffed lobster tails, constitute several of our personal favorites. For those who prefer poultry or veal, Suprêmes de Volailles (Breast of Chicken with cream) and Escalopes de Veau (Sautéed Veal Scallops with mushrooms and cream) are two tried and true French favorites that shine in the company of Guy Amiot's splendid, food-friendly Crémant de Bourgogne Brut. And if a fine aperitif or an occasion to celebrate is in order, Guy Amiot et Fils' Crémant de Bourgogne will stand and deliver, one pleasurable sip at a time, with or without a morsel. Bon Appétit!
Crémant de Bourgogne is a sparkling wine that is under pressure. It should always be well chilled before opening. Always exercise caution when opening a bottle of sparkling wine. Never use a corkscrew. Point the bottle away from people and objects. Use a clean towel or cloth to firmly grip the bottle. Gently remove the wire stopper while firmly holding the cork in place. Then with thumb and forefinger, remove the cork slowly from the bottle. Do not let the cork fly. Enjoy!
Domaine Amiot is one of Burgundy's finest producers of Chassagne-Montrachet, fashioning a rich portfolio of outstanding white and red Burgundies as well two exceptional Méthode Traditionelle Crémants de Bourgogne from the commune of Chassagne-Montrachet and surrounding environs. Guy Amiot, the present owner and guardian of the domaine that bears his name, represents the third generation of renowned growers at this estate. However, most critics are quick to point out that over the last two decades Guy and his two sons Thierry and Fabrice have taken the family's domaine to the next level of quality and placed it firmly in the top echelon, alongside the very finest producers in Burgundy. From the estate's outstanding Cuvée Simone Bourgogne Pinot Noir fashioned from vines just outside the boundary of Chassagne-Montrachet to Le Montrachet itself and the finest Crémant de Bourgogne (this month's feature), Domaine Amiot is all about quality.
Guy's forebear, Arsène Amiot, an adopted Parisian, began the estate in 1920 after falling in love with the golden slopes of Chassagne-Montrachet, the world's finest commune for Chardonnay. Arsène's initial purchase in the tiny village of Chassagne-Montrachet accounted for a mere 2 hectares or approximately 4.5 acres of vineyard, but what jewels Arsène had acquired. These original parcels were remarkably well chosen and still form the core of the domaine. In fact, Amiot's holdings included vineyards in Les Vergers, Le Clos Saint Jean, les Caillerets, and les Dents de Chien, all of which were later to be designated as Montrachet Grand Cru, the mark of the world's finest and most expensive white wines.
Pierre Amiot, one of Arsène's sons, took over the family business in 1936. He acquired several additional vineyard jewels for the domaine, such as La Maltroie, Les Champgains, and Les Macherelles. Under Pierre's direction, Amiot's production began to be sold directly to individual connoisseurs and savvy restaurant owners. After the Second World War, the acquisition of prestigious parcels like Les Chaumées and Les Demoiselles added further to the estate's very well-established reputation, both in France and abroad.
In 1984, Pierre Amiot passed away after a lifetime of producing estate bottled Burgundies and the torch passed to Guy. After completing studies in oenology, Guy gained considerable experience working in several of France's greatest vineyards, which led him to combine modern winemaking methods with a traditional knowledge of Burgundian viticulture. Moreover, he wisely decided to retain old vines (Vieilles Vignes) and focus on bringing out the individual character and terroir in each of the wines he fashions, favoring the production of wines that are aromatic, rich and balanced, as illustrated by the remarkable quality of the wines he has produced since 1985. Today, Guy's sons Thierry and Fabrice, the fourth generation in the family business, now make the wine and run the family winery in a wine cellar they built whose elliptical vaults are ideal for the natural aging of the wines. The best just got better.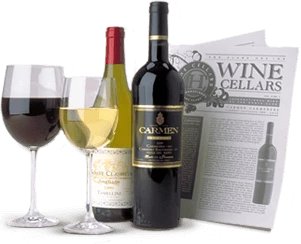 Enjoy Limited Production Estate
Bottled Wines
Discover limited production estate bottled wines such as Vergenoegd's internationally
acclaimed 2005 Cabernet Sauvignon, imported exclusively for our members.
DISCOVER OUR FOUR CLUBS