One can always count on Gilles Noblet to fashion one of the appellation's finest Pouilly-Fuissés. "Consummate, incomparable, exceptional" are just a few of the adjectives used to describe Domaine Gilles Noblet's delicious Pouilly-Fuissé. With that said, in 2018 Gilles Noblet appears to have turned out his finest Domaine Gilles Noblet Pouilly-Fuissé to date, even eclipsing his exceptional 2015 Pouilly-Fuissé. The 2018 Domaine Gilles Noblet Pouilly-Fuissé Noblet bears a brilliant pale golden sun-splashed color and offers a beguiling aroma that hints of acacia blossoms, freshly picked apples and ripe pears. In the mouth, the wine offers a delicious combination of elegant fruit in the form of apple and citrus as well as fine concentration and persistence. What's more, the 2018 Domaine Gilles Noblet Pouilly-Fuissé exhibits pinpoint precision as well as an elegant and seductive mid-palate rich in mineral and spice. This is Pouilly-Fuissé and Chardonnay at its best. As a noble white Burgundy, we suggest providing Noblet's 2018 Pouilly-Fuissé only a moderate chill (40°-45° F), before allowing it to evolve slowly in the glass. Salut!
Domaine Gilles Noblet's outstanding 2018 Pouilly-Fuissé serves as a perfect foil to seafood, poultry, soups, and salads. Scallops, sautéed in a light cream sauce with pistachio nuts; Coquille St. Jacques; and steamed Alaskan king crab legs dipped in drawn butter all provide tasty accompaniments to this wine. Blue Fin Crab cocktail offers another memorable pairing with Noblet's, elegant, flavorful Pouilly-Fuissé. Flounder, grouper, or halibut stuffed with crabmeat, makes a wonderful pairing, too. In addition, baked or grilled sole, grouper, and sea bass offer other fine choices with this Pouilly-Fuissé. And for those not beholden to the sea for sustenance, light creamy pastas and healthy garden salads topped with grilled chicken offer other excellent accompaniments to Domaine Noblet's beautiful Pouilly-Fuissé. Potato Leek Soup and Lobster Bisque provide tasty complements to a glass of Gilles Noblet's Pouilly-Fuissé, too. Soft creamy cheeses such as Bucheron, Edam, and Port Salut provide excellent, easy to prepare accompaniments to this wine as well. And for our money any Domaine Gilles Noblet Pouilly-Fuissé provides considerable drinking pleasure as an apéritif extraordinaire – an ideal way to begin a special evening or provide the means to wash away the weather-stained cares of life, without worrying about what food to pair with the wine. Truly, a wine meant to be enjoyed with or without a morsel! Enjoy!
Gilles Noblet continues to fashion some of the Mâcon's finest and most enjoyable white wines from old vines in Pouilly-Fuissé, St. Véran, and neighboring southern Burgundy appellations. Noblet's domaine, known presently as Domaine Gilles Noblet, Maison Gilles Noblet, and Domaine de la Collonge (the latter because of the domaine's vineyard location), is a small family owned and run property of just 22 acres. Gilles is the fourth generation member of his family to make wine at this prized property, where sustainable agriculture and non-interventionist practices prevail. No artificial fertilizers or insecticides are employed, and only natural yeast is used in fermentation. Moreover, the age of the vines at Domaine Gilles Noblet averages more than forty years, with many vines much older than that. Noblet's old vines and reduced yields result in white wines that are both generous and concentrated.
Noblet's estate name, Domaine de la Collonge, derives from the sector or area (known as an aire) of the Fuissé commune that is called Collonge. Most of Gilles Noblet's estate is spread along the hills of la Collonge, which yield on average only a little more than six thousand cases of Pouilly-Fuissé each year. In addition to superb Pouilly-Fuissé, Monsieur Noblet fashions to considerable critical acclaim tiny quantities of exceptional St. Véran, Mâcon-Fuissé, and Pouilly-Loché from the other highly-prized appellations in the Mâcon crown.
Pouilly-Fuissé is the premier appellation of southern Burgundy as well as one of Burgundy's finest white wines. Pouilly-Fuissé is ideally located in the heart of the Mâconnais region and is renowned for its massif limestone bluffs and chalky alkaline soil, which provide the ideal terroir for Chardonnay. This appellation comprises just four villages that stretch out over a series of steep hills, just to the north of the ten greatest villages of Beaujolais. All the wine of this renowned commune is white, emanating exclusively from Chardonnay vines.
In Pouilly-Fuissé, the tradition is to give fully ripened Chardonnay grapes a gentle press, so that the resulting wine expresses the ultimate quality of the grape, soil, and entire terroir, instead of sculpturing the wine with the extensive use of new oak. Consequently, most Pouilly-Fuissé wines still see little or no new oak barrel aging, so as not to obscure the delicacy, elegance, and subtle charm for which the wines of this prized commune are renowned.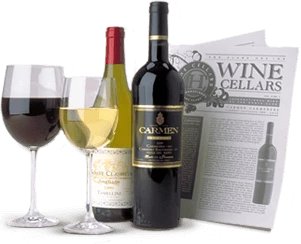 Enjoy Limited Production Estate
Bottled Wines
Discover limited production estate bottled wines such as Vergenoegd's internationally
acclaimed 2005 Cabernet Sauvignon, imported exclusively for our members.
DISCOVER OUR FOUR CLUBS