The 2020 Domaine Gilles Noblet Les Champs Pouilly-Fuissé sports a bright yellow robe, the color of the noonday sun. Even more satisfying are the aromatic scents of soft ripe fruit, acacia flower, forsythia, and deft touches of vanilla, which waft from the glass. This singular Pouilly-Fuissé is even more rewarding in the mouth, where it graces the palate with heightened fruit and floral flavors in the form of acacia, forsythia, and tropical fruits, all gently bathed in a highly refined patina of sweet butter, creamy oak, and Pouilly-Fuissé's renowned limestone-rich minerality. Moreover, the 2020 Domaine Gilles Noblet Les Champs Pouilly-Fuissé finishes with a soft and satisfying minerality. This noble Pouilly-Fuissé retains the finest attributes of the appellation, though it could easily be mistaken for a village Puligny-Montrachet or Chassagne-Montrachet. Similar to those wines, the 2020 Domaine Gilles Noblet Les Champs will continue to evolve and mature in bottle for several more years. For optimal enjoyment, we suggest serving the 2020 Domaine Gilles Noblet Les Champs moderately chilled (40°-45° F) before letting it unfold gently in the glass to reveal its complexity and many subtle charms. Anticipated maturity: 2023-2026. Salut!
The 2020 Domaine Gilles Noblet Les Champs Pouilly-Fuissé is an easy wine to pair with food. Its delicate fruit, creamy texture, and deft touches of oak complement cream and cheese based sauces with aplomb, while the wine's purity and latent minerality also make it the perfect match for shellfish and almost any denizen of the sea. Scallops, sautéed in a light cream sauce or prepared as a classic Coquilles St Jacques, provide perennial favorites. Grilled or poached salmon with a beurre blanc sauce provides another true classic and extremely tasty companion to the 2020 Domaine Gilles Noblet Les Champs Pouilly-Fuissé. A whole steamed lobster served with drawn butter earns two thumbs up and gets our vote, too. However, pasta with shrimp or other fruits de mer, served in an Alfredo sauce, provides another rewarding complement. Rotisserie chicken or turkey, accompanied by a light stuffing, will also do justice to Gilles Noblet's noble, highly allocated Pouilly-Fuissé. Bon appétit!
Gilles Noblet and his eminent Domaine Gilles Noblet are no strangers to our longtime wine club members. In the past two decades, we have featured Noblet's excellent estate bottled wines, including Pouilly-Fuissé, Mâcon-Fuissé and St. Véran, a number of times. This month we are pleased to offer our Collectors Series members Domaine Noblet's 2020 Pouilly-Fuissé Les Champs, the estate's highly allocated, barrel-fermented Pouilly-Fuissé from 70-year-old vines. This is a true Vieilles Vignes (Old Vines) offering and unquestionably one of the most illustrious wines of Pouilly-Fuissé.
Domaine Gilles Noblet is a small family owned and run estate of only 22 acres. Gilles is the fourth generation member of his family to make wine at his prized property. He is joined by his wife and more recently his daughter in this multi-generational effort where quality reigns supreme. Domaine Gilles Noblet practices sustainable agriculture and uses non-interventionist methods almost exclusively. Although not officially certified organic, no artificial fertilizers or insecticides are employed, and only natural yeast is used in fermentation. Moreover, the average age of the vines at Domaine Gilles Noblet are truly Vieilles Vignes, which results in reduced yields and wines of elegance and generosity.
Domaine Gilles Noblet's Pouilly-Fuissé spreads along the hills of la Collonge, a special aire or sector. In addition to producing outstanding Pouilly-Fuissé from premier limestone-rich hills, Domaine Gilles Noblet fashions small quantities of Mâcon-Fuissé, Pouilly-Loché, and St. Véran – elegant Chardonnay-based wines similar to Pouilly-Fuissé – which emanate from neighboring appellations just outside the boundary of Pouilly-Fuissé. However, what may still be one of Burgundy's best-kept secrets is Noblet's extraordinary Les Champs Pouilly-Fuissé (this month's feature), which he makes only in very limited quantities and in the finest vintages from the estate's oldest vines.
Pouilly-Fuissé is the premier appellation of southern Burgundy as well as one of Burgundy's finest white wines. Pouilly-Fuissé is ideally located in the heart of the Mâconnais region and is renowned for its limestone massif bluffs and chalky alkaline soil, which provide the ideal terroir for Chardonnay. This appellation comprises just four villages that stretch out over a series of steep hills, just to the north of the ten greatest villages of Beaujolais. All the wine of this renowned commune is white, emanating exclusively from Chardonnay vines.
In Pouilly-Fuissé, the tradition is to give fully ripened Chardonnay grapes a gentle press, so that the resulting wine expresses the ultimate quality of the grape, soil, and entire terroir, instead of sculpturing the wine with the extensive use of new oak. Consequently, only Pouilly-Fuissé from the best barrels and from the oldest vines are barrel fermented and oak barrel aged. Typically, Pouilly-Fuissé exhibits the greatest delicacy, elegance, and subtle charm among the white wines of Burgundy.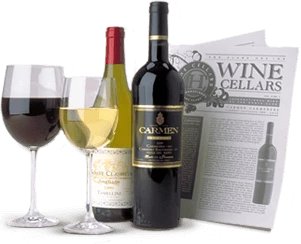 Enjoy Limited Production Estate
Bottled Wines
Discover limited production estate bottled wines such as Vergenoegd's internationally
acclaimed 2005 Cabernet Sauvignon, imported exclusively for our members.
DISCOVER OUR FOUR CLUBS