The 2019 Francine Bachelier Fourchaume Premier Cru Chablis pays tribute to Fourchaume's renowned terroir and Francine Bachelier's acumen in fashioning exceptional Premier Cru Chablis. The scion of a warmer than average vintage, Bachelier's 2019 Fourchaume Premier Cru seamlessly weds pure ripe fruit with Chablis' telltale flint and chalky minerality to tempt the nose. In the mouth, this racy, crowd pleasing Premier Cru Chablis is both subtly complex and quietly seductive, offering a fine layer of acacia and orchard fruit flavors infused with a satiny texture and a ribbon of fresh minerality, which left our palates begging for more. Bachelier's 2019 Fourchaume Premier Cru Chablis is a wine that you will not want to put down and will want to drink often now and over the next several years. Although it goes down easily, taking time to sip and savor this superb Premier Cru Chablis will handsomely reward patient partakers. For optimal enjoyment, we suggest affording Domaine Francine Bachelier's 2019 Fourchaume Premier Cru a moderate chill (40°-45° F) before allowing it to unfold gently in the glass. Anticipated maturity: 2023-2026. Enjoy!
Given that Chablis flourishes in Kimmeridgian soil atop an ancient seabed, it should come as no surprise that the fruits of the sea provide an array of gastronomic delights in the company of Francine Bachelier's superb 2019 Fourchaume Chablis Premier Cru. Shellfish earns especially high marks with Bachelier's Fourchaume Premier Cru. Oysters (a classic match and personal favorite) served raw, roasted, steamed or sautéed provide especially tasty table companions. Clams and mussels also work well. Steamed lobster and King crab legs served with drawn butter provide mouthwatering accompaniments, too. Pan-seared scallops with almond and mushroom duxelle earn high praise, as does salmon, grilled on a cedar plank. Caviar offers another impressive marriage. However, as exquisite as seafood can be, the wonders of the sea don't constitute the only suitable partners for this domain's wine. Chicken and simply prepared game birds served in light creamy sauces also offer splendid accompaniments to world-class wine such as the 2019 Francine Bachelier Fourchaume Chablis Premier Cru. There is also no better aperitif than Francine Bachelier's pure fruit and mineral-driven 2019 Premier Cru Chablis. Bon Appétit!
Domaine Francine Bachelier possesses outstanding vineyards, which lie in the very heart of Chablis among the gently sloping hills of Maligny. It is a small estate where the Savary/Bachelier family makes classic un-oaked Chablis that aptly reflects the traditional style of Chablis as well as the distinct terroir of Maligny. Ideally, this means bright, shimmering Chablis with a greenish gold robe that offers an ethereal fragrance, a mouthful of racy fruit with flinty highlights, and a long, crisp finish. Yet, in unusually warm vintages, the wines of Domaine Francine Bachelier can also take on fleshy, corpulent characteristics that can best be described as plush and velvety, not to mention hedonistically delightful. But no matter the gifts or vagaries of the vintage, Domaine Francine Bachelier's Chablis captures the freshness and unique pleasure that only authentic Chablis can provide.
In addition to producing excellent appellation Chablis, Domaine Francine Bachelier fashions tiny amounts of exquisite Premier Cru Chablis from the renowned Premier Cru vineyards of Vaillons and Fourchaume. The 2019 Bachelier Fourchaume Premier Cru Chablis (this month's feature) hails from Chablis' most lauded Premier Cru. All of Domaine Bachelier's Chablis wines emanate from the unique chalky limestone-rich Kimmeridgian soil that has made French Chablis, the only authentic Chablis, world-renowned.
Chablis is a distinct part of Burgundy as well as one of the world's finest white wines. Since the 12th century when Cistercian monks introduced Chardonnay into the region, the name Chablis has been synonymous with outstanding white wine. No wonder, then, so many generations of California producers tacked the name Chablis onto their inferior generic wines, hoping to elevate their wines in the eyes of consumers.
Today, all authentic Chablis is derived exclusively from Chardonnay grapes that are grown in Chablis' chalky, limestone-rich soil known as Kimmeridgian. The name Kimmeridgian is in reference to an identical landmass that scientists identified in England's Kimmeridge Bay. Chablis possesses one of the world's greatest terroirs for the cultivation of white grapes; the Chablis appellation (A.O.C.) sits upon what was once the floor of an ancient seabed dating from the Second Jurassic Period (also known as Kimmeridgian) that now feeds the region's Chardonnay vines. Because of this special terroir, Chablis yields unique, dry, mineral-rich wines of considerable finesse and flavor.
The French National Institute of Appellation d'Origine Controlée (A.O.C.) recognizes four distinct areas of Chablis: Petit Chablis, Chablis, Chablis Premier Cru, and Chablis Grand Cru. All offer the taster a unique experience, increasingly superior quality, and value at every level. In total, all four districts of Chablis cover just 7,000 hectares (15,400 acres). The best parcels typically occupy the region's hillsides, making Chablis' choice Premier Cru and Grand Cru vineyards the most apt to produce the region's finest, most complex wines. Premier and Grand Cru Chablis also possess a propensity to age well in the bottle, often as long as a decade or more.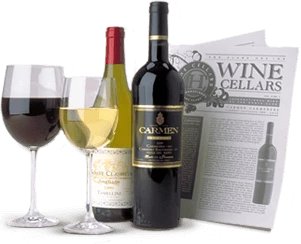 Enjoy Limited Production Estate
Bottled Wines
Discover limited production estate bottled wines such as Vergenoegd's internationally
acclaimed 2005 Cabernet Sauvignon, imported exclusively for our members.
DISCOVER OUR FOUR CLUBS