Jerome Quiot consistently makes hedonistic red and white Châteauneuf-du-Pape, but his 2009 Domaine du Vieux Lazaret Châteauneuf-du-Pape may be his estate's most seductive offering to date. Initially shy and unassuming when first poured, this wine quickly turns on the charm after a few minutes in the glass. From the wine's dense ruby and purple color emerges a savory scent of ripe black cherry, raspberry, and Asian spices. And on the palate, one is properly introduced to the wine's full rich fruit, fleshy body, and long lingering flavors that are artfully framed by ripe tannins. The 2009 vintage is an excellent vintage that yielded a fleshy, full-bodied Châteauneuf-du-Pape. To Jerome Quiot's credit, he appears to have captured the finest attributes of the vintage in his 2009 offering, including the ability to improve further in the bottle. Although Quiot's excellent 2009 Châteauneuf-du-Pape Rouge is ready to drink now, it will likely gain even greater charm and complexity given another year or two of ageing, so no need to be in a hurry. Enjoy this highly sought after Châteauneuf-du-Pape at cool room temperature (58°-64° F) over the next 8-10 years.
One of Châteauneuf-du-Pape's many attributes is how well it complements a wide variety of foods, from game prepared with elaborate sauces to simple unadorned pizzas. However, our preference is to pair Jerome Quiot's 2009 Châteauneuf-du-Pape with the finest fare we can muster, beginning with classic Provençal specialties. Regional favorites such as gigot d'agneau (roast leg of lamb) and savory lamb stew promise a memorable meal and an equally satisfying evening when paired with the 2009 Domaine du Vieux Lazaret. Lamb, prepared almost any way one can image, provides a splendid opportunity to highlight the full, rich flavors of Châteauneuf-du-Pape, as the flavors of the meat are simultaneously enhanced and mellowed by the wine. Nevertheless, Quiot's hedonistic, full-bodied 2009 Domaine du Vieux Lazaret is hardly a one dish wine. We enjoy this Châteauneuf-du-Pape equally well with fine cuts of beef, venison, and herb infused vegetarian specialties made with eggplant and squash. Ravioli stuffed with lobster and tortellini made with fresh peas and prosciutto provide other excellent accompaniments. Furthermore, the 2009 Domaine du Vieux Lazaret has the ability to elevate simple well-prepared foods to the status of haute cuisine, so no need to worry about what to serve: this wine will take the lead. Bon Appétit!
A proponent of the fleshy, seductive, modern style of Châteauneuf-du-Pape, Jerome Quiot, proprietor of Domaine du Vieux Lazaret, has pushed the envelope in recent years in fashioning forward, immensely pleasing Châteauneuf-du-Pape from his substantial, well-established property. With nearly 250 acres to exploit, Quiot is one of the movers and shakers in what many critics claim to be the finest appellation in France. Quiot also plays an integral role in the administration of the appellation system in France, a process that not so ironically was born in Châteauneuf-du-Pape during the 1920's.
Châteauneuf-du-Pape has been blessed with a nearly ideal climate for vines and the production of red and white wines. Châteauneuf-du-Pape does indeed produce white wine as well as red wine though in smaller quantities. It also possesses some of the oldest vines in France; the average age of vines in Châteauneuf-du-Pape is in excess of 40 years, which is by far the oldest of any major appellation in France. In addition, the entire production of this great appellation is hand harvested, and we haven't even mentioned the region's fabulous terroir – large flat stones known as galets that provide excellent drainage as well as subtle nuances of flavor in the resulting wine.
Châteauneuf-du-Pape is the Rhône Valley's most important appellation. Located in Provence, astride the swift moving Rhône River, this sun-drenched locale is blessed with a dry Mediterranean climate that is nearly ideal for the cultivation of vines, many of which are 80-100 years of age, and the production of wine from their concentrated grapes.
Large flat stones known as galets roulés mingle with plenty of decomposed gravel, absorbing warmth during the day and radiating it back to the vines at night, helping to ripen the fruit. The remnants of Alpine glaciers that once covered southern France, Châteauneuf-du-Pape's glacial till provides superior drainage and adds subtle flavor nuances to the appellation's outstanding wines, which can be both red and white and contain up to thirteen legal grape varieties, including Grenache, Syrah, Mourvèdre, Cinsault, Muscardin, Cournoise, Clairette, Bourboulenc, Picpoul, Roussanne, Terret Noir, Picardan, and Vaccarese. A case can be made that there are actually fourteen legal grape varieties in Châteauneuf-du-Pape, as Grenache can be either a red or white grape.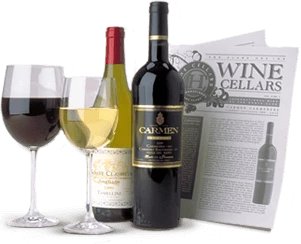 Enjoy Limited Production Estate
Bottled Wines
Discover limited production estate bottled wines such as Vergenoegd's internationally
acclaimed 2005 Cabernet Sauvignon, imported exclusively for our members.
DISCOVER OUR FOUR CLUBS