The 2000 Domaine du Vieux Lazaret Chateauneuf du Pape is testimony to just how good old vine Grenache can be from Chateauneuf du Pape. A traditional blend of 75 % Grenache, with dollops of Syrah and Cinsault and dabs of another half dozen of the 13 permitted varietals for Chateauneuf du Pape, the 2000 Domaine du Vieux Lazaret offers up an entrancing bouquet of kirsch, black fruits and exotic spices. Fleshy, jammy, and ohhh so drinkable, you will want to consume copious quantities of this immensely drinkable wine before its 13.5 % plus alcohol catches up to you. Lush and low in acidity, the Domaine du Vieux Lazaret finishes as easily and seductively as it begins. Serve this extroverted crowd pleaser at cool room temperature (about 65° F).
No self-respecting Provencal man, woman, or child could not suggest gigot d'agneau (roast leg of lamb) with a local Chateauneuf du Pape the likes of the 2000 Domaine du Vieux Lazaret; and we concur. However, the flamboyant, personality filled Domaine du Vieux Lazaret is much more than a one dish wine. We recommend this lovely Provencal wine with everything from an eggplant, fennel, and onion antipasto to a whole rare beef tenderloin. Lobster ravioli, tortellini with fresh peas and prosciutto, and four-cheese pizza are other excellent accompaniments. The Domaine du Vieux Lazaret, like most Chateauneuf du Pape, has the innate ability to elevate simple well-prepared foods to the status of haute cuisine and to highlight grande cuisine rather than overshadow it. Enjoy!
A proponent of the fleshy, seductive, modern style of Chateauneuf du Pape, Jerome Quiot, proprietor of Vieux Lazaret, has pushed the envelope in recent years, fashioning hedonistic, immensely pleasing wines that are unquestionably the finest wines to date from this substantial property. With over 200 acres to exploit, Quiot is one of the movers and shakers of what may be the finest appellation in France. Quiot also plays an integral role part in the appellation system in France, which not so ironically was born in Chateauneuf du Pape in the 1920's. Blessed with a nearly ideal climate for vines and the production of red wine, Chateauneuf du Pape also possesses some of the oldest vines in France; the average age of the vines in Chateauneuf du Pape is in excess of 40 years, by far the oldest of any major appellation in France. In addition, the entire production of this great wine is hand harvested, and we haven't even mentioned the region's fabulous terroir large flat stones known as galets that provides excellent drainage as well as subtle nuances of flavor in the resulting wine. We trust you will enjoy the charming, seductive 2000 Domaine du Vieux Lazaret Chateauneuf du Pape as much as the tasting panel. We figured after all the gloom and doom of the past year, we all needed a special wine to start the New Year. Besides, we're worth it, don't you think? Who's better than you?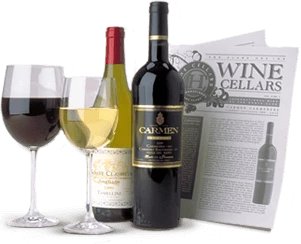 Enjoy Limited Production Estate
Bottled Wines
Discover limited production estate bottled wines such as Vergenoegd's internationally
acclaimed 2005 Cabernet Sauvignon, imported exclusively for our members.
DISCOVER OUR FOUR CLUBS