What makes the 2003Domaine du Vieux Chêne Haie aux Grives Côtes-du-Rhône so attractive is its ability to win friends and influence people, without ever having to call undue attention to itself. Medium-bodied and pure to the marrow, this charming wine provides a lightly fragrant nose and plenty of flavor and mouth feel in the guise of uncomplicated black fruit, subtle spice, and a velvet finish. Due to the natural methods of viticulture and production that are scrupulously practiced at Domaine du Vieux Chêne, the hallmarks of Haie aux Grives are subtle charm, purity of flavor, and a natural, clean, uncomplicated finish. In the words of one taster: "What more could you want?" Better still, perhaps, is what you won't get in this wine: massive tannin, staggering levels of oak and alcohol, or acid balancing. We suggest serving the lovely 2003 Domaine du Vieux Chêne Haie aux Grives at cool room temperature or even slightly chilled (55°-65° F), after some 15-20 minutes of aeration.
Whether you refer to it as good old-fashioned country cooking, down home fare, or just the way mama used to make, unpretentious cuisine is the way to go with the 2003 Domaine du Vieux Chêne Haie aux Grives Côtes-du-Rhône. In fact, one of our all time favorite foods with this wine is pizza, but not just any ordinary pizza. Perhaps, the best-kept secret of Provence is that it, rather than Italy, bears the distinction of being the ancestral home of pizza; while the region's second best secret is just how good Provencal pizzas are. The Provencal versions of the world's most popular food are what we commonly refer to as gourmet pizza. Consequently, some of our favorite accompaniments to the Haie aux Grives are a three-cheese and black olive pizza; a chicken and mushroom pizza, with red onion, peppers, and Provencal herbs; and any number of vegetable pizzas with eggplant, zucchini, or artichoke. Light meats, pasta and almost anything served with fresh tomato sauce, including fish, also provide savory pairings in the company of the 2003 Haie aux Grives. Enjoy!
Domaine du Vieux Chêne is the quintessential Provencal estate, which means a true family affair. Jean-Claude and Béatrice Bouche are the formidable husband and wife team behind this very well run domaine that is located in the village of Camaret. Intriguingly, Camaret lies in the heart and soul of the Vaucluse, Provence's most beloved core. In fact, the great early 20th century French writer Marcel Pagnol set Camaret as the home of Jean and Florette, two of his more famous Provencal characters, from the novel and subsequent film Jean de Florette. Begun in 1978, Domaine du Vieux Chêne has emerged as a leader in the production of pure, naturally made Côtes-du-Rhône wines. For more than a decade, Vieux Chêne has been a certified organic producer, which means no chemical herbicides, pesticides, or fertilizers are ever used at this estate. In addition, the use of sulfites is strictly limited. The result is an enviable selection of individual Côtes-du-Rhône cuvées that highlight the appellation's two most important red varietals: Grenache and Syrah. Consequently, Vieux Chêne's Cuvée des Capucines is comprised exclusively of Grenache, while the fuller Haie aux Grieves offers up additional flavor and depth due the artful blending of a sizeable percentage of Syrah into the Grenache blend. Vieux Chêne also fashions an excellent 100% Syrah Côtes-du-Rhône under the Cuvée Béatrice label. Vieux Chêne, like most serious Provencal wineries, also produces a first rate rosé and small quantities of a superb, proprietary labeled Vin de Pays from Grenache and Syrah called Cuvée Friande. One can find a first rate Merlot here as well, which leads us to wonder if this energetic couple ever has time to sleep, especially since harvesting and nearly every thing else at this property is done the old-fashioned way – by hand. Vive la Différence!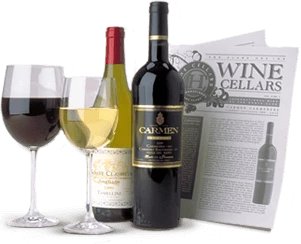 Enjoy Limited Production Estate
Bottled Wines
Discover limited production estate bottled wines such as Vergenoegd's internationally
acclaimed 2005 Cabernet Sauvignon, imported exclusively for our members.
DISCOVER OUR FOUR CLUBS