The 2006 Grand Tinel Cuvée Alexis Establet is a remarkable offering from a unique sector of Châteauneuf-du-Pape called Gardiole. Gardiole is known for its special terroir from which powerful wines of sophistication and great hedonistic appeal flow. Consequently, the 2006 Domaine du Grand Tinel Cuvée Alexis Establet is predictably deep in color and highly aromatic. It offers up an enchanting aroma of black cherry, currant, garrigue, licorice, pepper, and spice. This full-bodied beauty then fills the mouth with the taste of lush black fruits, oriental spice, and Provençal herbs. And in spite of a hefty 15% alcohol content, the 2006 Cuvée Establet comes across the palate as silky and smooth, before finishing with panache and style. We suggest serving this special Châteauneuf-du-Pape at cellar or cool room temperature (57º-66º F), after at least 15-20 minutes of aeration. Although beautiful now, Elie Jeune's 2006 Grand Tinel Cuvée Alexis Establet will continue to improve in bottle and drink well for at least another decade.
Lamb and beef are the traditional accompaniments to great Châteauneuf-du-Pape, and we would not argue with traditional wisdom with this wine. However, if ever there were just a single wine for all occasions, it would have to be Grand Tinel's Cuvée Alexis Establet Châteauneuf-du-Pape. Indeed, the finest cuts of red meat make great partners with this reserve classic, but one should not overlook the virtue of sprucing up an ordinary meal with an "extra ordinary" wine like the 2006 Cuvée Establet, either. Consequently, some of our favorite offerings with the Cuvée Establet include braised lamb shank and beef tenderloin. For the beef tenderloin, we suggest cooking it medium-rare and serving it with thickly sliced portabella mushrooms in a red wine, shallot, and Herbes de Provence reduction. On a simpler note, old-fashioned country style lentil or split pea soup, served with crusty French bread and a spoonful of shaved hard cheese, makes for a splendid mid week banquet in the company of this excellent Châteauneuf-du-Pape, too, as does a salad of roasted red peppers, sautéed portabella mushrooms, roasted eggplant, tomato, caramelized onions, and a healthy crumbling of feta or other full-flavored cheese. Serve this healthy Mediterranean classic over a bed of complex greens or freshly baked focaccia, with a dollop of pesto mayonnaise or tapenade, and both the food and the wine will shine. Roast duckling or quail, venison, and most bean, sausage, and tomato-based dishes provide fine complements, too. Bon appétit!
Domaine du Grand Tinel is one of the largest estates in Châteauneuf-du-Pape, and nearly all of Grand Tinel's 136 acres are devoted to the production of the estate's very highly acclaimed red Châteauneuf-du-Pape wines. As is the case for most red Châteauneuf-du-Pape, Grand Tinel's red wines are fashioned primarily from old vine Grenache (80%), with the balance of the cépage shared by Syrah, Mourvèdre, Cinsault, and Counoise. By nearly all accounts, the wines of Domaine Grand Tinel remain some of the most traditional in style of all Châteauneuf-du-Pape. Moreover, Grand Tinel remains a hands on, boutique operation by virtue of its relatively small production and the fact that it is very much a family run affair. The very capable and talented owner Elie Jeune is both proprietor and winemaker. The house style underscores the full rich fruit of the appellation as well as the power inherent in the finest wines of Châteauneuf-du-Pape. Nonetheless, Elie Jeune's wines are quite approachable when young and will improve for 10-12 years or more in vintages as fine as 2006. In recent years, Elie Jeune has taken to fashioning several red Châteauneuf-du-Pape selections: an excellent regular estate-bottled offering and the outstanding Cuvée Alexis Establet, the domaine's special reserve or tête de cuvée offering made from 105 year old vines. In addition, Domaine du Grand Tinel turns out a miniscule amount of Châteauneuf-du-Pape called Héres from 100% Grenache from old vines as well as a small quantity of admirable white Châteauneuf-du-Pape from Grenache Blanc, Clairette, and Bourboulenc.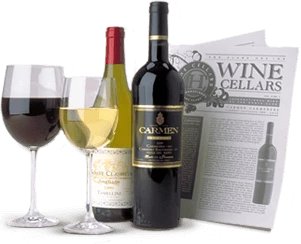 Enjoy Limited Production Estate
Bottled Wines
Discover limited production estate bottled wines such as Vergenoegd's internationally
acclaimed 2005 Cabernet Sauvignon, imported exclusively for our members.
DISCOVER OUR FOUR CLUBS