Domaine du Grand Chemin enjoys a much deserved reputation as one of the most consistent producers in all Southern France, and the 2009 Domaine du Grand Chemin Duché d'Uzès is certainly another unequivocal success. From the moment the cork exits the bottle, this delightful Syrah and Grenache blend brings its welcome with it. Moreover, like its predecessors it invokes vivid images of the French countryside. In fact, this charming wine reminds us of all that is inherently beautiful and enduring about rural France. It recalls the best of Provence and the undulating Midi – a land of scented hillsides, delectable meals, and delicious, quaffable country wines that go down ohhh so easily. For starters, scents of ripe strawberries and black fruits mingle with subtle touches of herbs and spice to captivate the nose. On the palate the 2009 Domaine du Grand Chemin is light and easy; it offers both flavor and finesse as it radiates warmth and good cheer – all without a tannic wallop. It provides ideal drinking now, but our experience with Domaine du Grand Chemin tells us it will likely put on weight and continue to improve in bottle for at least another year or two. For optimal enjoyment, we suggest serving the 2009 Domaine du Grand Chemin between 60º- 66 º F.
The country wines of France provide the perfect companions to the healthy, hearty country fare of rural France, and to a good deal of traditional American food favorites as well. And as the 2009 Domaine du Grand Chemin is the quintessential country red, it pairs as beautifully with Coq au Vin as it does with American country fried chicken, roast turkey served with onion and sage stuffing and topped with giblet gravy, hamburgers, steaks, pork barbecue, and a host of tomato based favorites. In fact, two of our favorite foods with the Domaine du Grand Chemin are Zucchini Parmagiana and homemade pizza, made in traditional Provencal style, with a thin crust, fresh tomatoes, plenty of herbs, and two or more types of cheese. One can add prosciutto, pepperoni, or fresh vegetables that have been sautéed in olive oil and roasted garlic to add an extra kick. When accompanied by a cool bottle of Domaine du Grand Chemin Duché d'Uzès, the culinary delights of Southern France and nearby Italy come to life. Cassoulets, veal chops, and nearly any meat or vegetable from the grill will ably complement the amiable Domaine du Grand Chemin. Bon appétit!
Domaine du Grand Chemin is located on the foothills of the Cevennes, one of the prettiest and most historic areas of Languedoc Roussillon. Nestled between the Mediterranean Sea and the green valleys of neighboring Auvergne, the Cevennes is blessed with all the charms of Southern France, including an abundance of sunshine, a multitude of microclimates, and soils favorable to the cultivation of the vine. For more than 300 years the Floutier family as tended vines at Domaine du Grand Chemin and produced by all accounts the finest wines of Duché d'Uzès. Today, the estate claims 60 hectares (132 acres) of vines under cultivation and is expertly run by Jean Marc Floutier and his son Emmanuel. With the expert guidance of this father and son team, Domaine du Grand Chemin fashions upwards of a dozen different wines from traditional Languedoc vines as well as several Bordeaux varietals. Nonetheless, the estate's flagship offering remains the traditional, consistently excellent Duché d'Uzès, an artful blend of Syrah and Grenache that is as easy to drink in its youth as when aged to perfection in the bottle.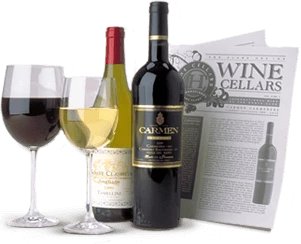 Enjoy Limited Production Estate
Bottled Wines
Discover limited production estate bottled wines such as Vergenoegd's internationally
acclaimed 2005 Cabernet Sauvignon, imported exclusively for our members.
DISCOVER OUR FOUR CLUBS