A ripe, round, personality filled Chablis, the 2005 Domaine du Chardonnay hits all of the high notes and knows how to please. From its bold, golden glow and pure haunting aroma of minerals, fresh-picked apples, and dried pineapple to its creamy texture and clean, racy finish, the 2005 Domaine du Chardonnay reveals the glory of the appellation as well as the vintage. The 2005 vintage was an excellent one for white Burgundy, and all the attributes of that magical harvest happily appear in this Chablis. Ripe, but not over the top, fresh but not acidic, Domaine du Chardonnay has turned out a very sophisticated, yet easy-to-drink Chablis. It should be at its best from 2008-2010. For optimum enjoyment, we suggest a moderate chill at least initially (about 40° F), but the real charms of Chablis are revealed when the wine reaches toward ambient temperature. So, there is no need to rush through a glass of this captivating wine, unless you have another bottle waiting to be opened. Enjoy!
Among many serious wine aficionados and classically trained chefs there is an unwritten rule that states that Chablis and seafood were made for one another, and the 2005 Domaine du Chardonnay Chablis adds credence to the credo. This wine does indeed do serious justice to the myriad of fruits of the sea, especially shellfish. Perhaps, it is the soil of the ancient sea bed that calls its name? Our favorite accompaniments with this superb Chablis are steamed lobster, King Crab legs, or soft-shell crab, with some drawn butter. However, given the level of ripeness inherent in the 2005 vintage, the 2005 Domaine du Chardonnay Chablis provides attractive companionship to more than just seafood. This round, charismatic Chablis pairs wonderfully with roast chicken, turkey, and even game hens. It also has a penchant for cheeses, especially soft, cow's milk cheeses; yet, it will hold up beautifully to Brie, Camembert, and other crusted cheeses where most other red and white wines pale. Although Chablis typically warrants food to be at its best, the extroverted personality of the 2005 Domaine du Chardonnay Chablis makes it an intriguing, full-flavored, easy-to-drink aperitif. Truly, this A.O.C. Chablis shines on its own. Salut!
Domaine du Chardonnay was born in 1987 when three wine growers, Etienne Boileau, William Nahan, and Christian Simon, joined forces to create what is now one of the finest domains in Chablis. They began their venture with only 11 hectares of vines (a little more than 24 acres), of which only nine hectares were in production. Fortunately for thirsty consumers the estate has grown over the past two decades to 37 hectares (nearly 82 acres), including choice holdings in Petit Chablis, Chablis, and five Premier Crus: Montée de Tonnerre, Montmains, Mont de Milieu, Vaugiraut, and Vaillons. Although the wines of Domaine du Chardonnay have been heralded since the estate's inception, the huge investment the partners made in new winery equipment in 1993 has allowed winemaker Etienne Boileau to work his magic. In the past fifteen years, Domaine du Chardonnay has coveted an extensive array of gold medals, with its hillside A.O.C Chablis garnering more than its fair share of top honors. This month's feature, the 2005 Domaine du Chardonnay, won gold at France's most prestigious wine competition, the Concours Génerale Agricole de Paris. We trust you will enjoy this superb Chablis as much as our tasting panels and the Concours' illustrious judges. Chablis Chablis is a distinct part of Burgundy as well as one of the world's finest white wines. Since the 12th century, when Cistercian monks introduced Chardonnay into the region, the name Chablis has been synonymous with outstanding white wine. No wonder so many generations of California producers tacked the name Chablis onto their inferior generic wares, hoping to elevate their wines in the eyes of consumers. Today, all authentic Chablis are derived exclusively from Chardonnay grapes that are grown in Chablis' chalky, limestone-rich soil known as Kimmeridgian. The name Kimmeridgian is in reference to an identical landmass that scientists identified in England's Kimmeridge Bay. Chablis possesses one of the world's greatest terroirs for the cultivation of white grapes; the appellation (A.O.C.) sits upon what was once the floor of an ancient sea bed dating from the Second Jurassic Period (also known as Kimmeridgian) that now feeds the region's Chardonnay vines. Because of this special terroir, Chablis yields unique, dry, mineral rich wines of considerable finesse and flavor. The French National Institute of Appellation d'Origine Controlée (A.O.C.) recognizes four distinct areas of Chablis: Petit Chablis, Chablis, Chablis Premier Cru, and Chablis Grand Cru. All offer the taster a special experience. However, in recent years, it is the Chablis appellation itself that has come to fore, producing some of the region's finest quality and value. In total all four districts of Chablis cover just 7,000 hectares (15,400 acres). The best parcels typically occupy the region's hillsides, making such choice parcels in Chablis and the surrounding Premier Cru and Grand Cru vineyards the most apt to produce the region's fullest, most complex wines.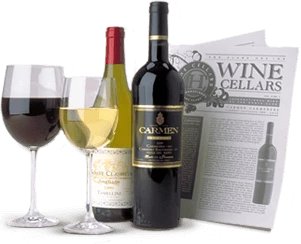 Enjoy Limited Production Estate
Bottled Wines
Discover limited production estate bottled wines such as Vergenoegd's internationally
acclaimed 2005 Cabernet Sauvignon, imported exclusively for our members.
DISCOVER OUR FOUR CLUBS