Eric Sautier's 2020 Domaine Dozon Clos du Saut au Loup Chinon exudes elegance and the sensuous charm of Chinon's Cabernet Franc. The wine's ruby red robe captures the eye, while the seductive scents of raspberry, black cherry, and wild violets greet the nose. In the mouth, the wine graces the palate with the same raspberry and wild cherry flavors that seduced the nose. Add a touch of Cabernet Franc's appealing earthy marrow, reminiscent of a freshly rain-washed forest floor, and Domaine Dozon's 2020 Clos du Saut au Loup Chinon is both palate-pleasing and intellectually interesting. Kudos once again to Eric Santier for a beautiful rendering of Cabernet Franc from the superb Chinon AOC. For optimal enjoyment, afford this beauty 20-30 minutes of aeration before consuming at cool room temperature (58°-64° F). Anticipated maturity: 2023-2028. Enjoy!
The charming, sensuous 2020 Domaine Dozon Clos du Saut au Loup Chinon needs no accompaniments to shine, yet it accompanies fine cuts of meat, poultry, grilled vegetables, and even some seafood dishes with aplomb. Veal Medallions wrapped with prosciutto ham gets a serious nod as does Roasted Colorado Rack of Lamb, served with potato gnocchi, pearl onions, and mushrooms. Other winning accompaniments to this wine include roast duck with a blackberry or cherry reduction, Cornish hens, and game birds with truffles. A perfectly grilled filet mignon makes a splendid companion, too. For a less parochial, yet equally delicious accompaniment, consider pairing Domaine Dozon's versatile 2020 Clos du Saut au Loup Chinon with grilled salmon over a bed of roasted fennel or accompanied by beets glazed with an herby tarragon vinaigrette. Many types of soft cow's milk cheeses will also provide plenty of pleasure in the company of Eric Santier's 2020 Clos du Saut au Loup Chinon Cabernet Franc. However, whatever your choice of complement, Domaine Dozon's superb Cabernet Franc is sure to shine at table and equally well on its own. Bon Appétit!
Domaine Dozon is a very old property in the venerable Loire Valley appellation of Chinon, which has long been renowned for its superlative red wine from 100% Cabernet Franc. Domaine Dozon served for many years as a feed and livestock farm until the early 20th century when Domaine Dozon acquired the distinguished monopole Clos du Saut au Loup and converted it entirely to viticulture. Few of France's revered vineyards are monopoles (acclaimed single vineyards controlled entirely by one owner). In 2013, the erudite Eric Santier, a Chinon native, purchased the entire Clos du Saut au Loup from Laure Dozon with the help of the Baudry family, Chinon's most distinguished producer of Chinon and with whom Santier worked.
Eric Santier has revived the esteemed Clos du Saut au Loup monopole by employing sustainable methods of viticulture. In fact, Clos du Saut au Loup is presently in the process of converting entirely to organic farming. Eric has also discarded older, less desirable barrels and equipment, and he is replacing them with modern state of the art materials. The results of Santier's endeavors have been both immediate and sensational. Under his tenure, Domaine Dozon's Clos du Saut au Loup Chinon has garnered numerous 90 point ratings and is now one of the most respected wines in the appellation. In the best tradition of Chinon, Domaine Dozon's Clos du Saut au Loup emanates from 100% Cabernet Franc that is pure, fresh, and beautifully rendered.
The Loire is France's longest and most picturesque river, and the valley that bears its name is known affectionately as le jardin de France (the garden of France). From the Loire's lush gardens, pastures, and vineyards flow a treasure trove of fruits, vegetables, and wines to grace elegant tables throughout France, including those in the most fashionable temples of gastronomy in Paris.
Given the Loire's length, varied terroir, and multitude of microclimates, it is not surprising that this vast region produces a wide array of wines. From the chalky hills on the upper reaches of the river as it bends in sight of Burgundy come several of the world's finest dry white wines in the guise of Sancerre, Pouilly-Fumé, Menetou-Salon and Quincy – all from Sauvignon Blanc. As the river flows west towards the heart of France, Chenin Blanc predominates and fine, soft sparkling wines and the superlative sweet wines of Touraine and Anjou emerge from green hills in sight of stately châteaux. And, by the time the slow moving Loire reaches the sea near Nantes, it becomes the home of Muscadet, a quaffable, fresh, bone dry white wine that is superlative with seafood.
The majority of the Loire's most celebrated wines are white, but one should not miss the growing number of excellent red wines being made in "the garden of France." Cabernet Franc is the most important red varietal in the Loire, at least in terms of quality, but some very good Gamay-based wines can be found as well. Bourgueil and Chinon are the most notable appellations along the Loire for Cabernet Franc, each with a history for fashioning distinctive velvety red wines.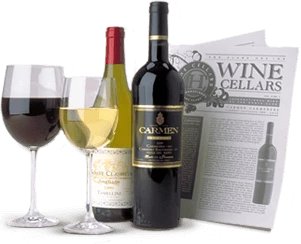 Enjoy Limited Production Estate
Bottled Wines
Discover limited production estate bottled wines such as Vergenoegd's internationally
acclaimed 2005 Cabernet Sauvignon, imported exclusively for our members.
DISCOVER OUR FOUR CLUBS