A pretty cherry robe and a heavenly scent are the first introductions one has to Domaine des Baumard's striking 2005 Anjou Rouge Logis de la Giraudière. Scents of black cherry, cassis, freshly plowed earth, plum, and violet haunt the nose. On the palate the Cabernet Franc based 2005 Logis de la Giraudière comes across as both highly flavorful and supremely smooth, forward, and charming – the antithesis of its harder kin, Cabernet Sauvignon. Born in a ripe, nearly ideal vintage in Anjou for Cabernet Franc, Baumard's Logis de la Giraudière harbors the deep down flavors of black cherry, plum, and spice, but with nary an edge. Even in its youth, with good ripe tannins, the 2005 Logis de la Giraudière comes across as completely harmonious, suave, and sophisticated. We prefer this friendly red wine at cool room temperature (66° F), but others may care to give it a slight chill (55° -60° F), especially in warmer locales.
Neither big nor brawny, the allure of the 2005 Domaine des Baumard Logis de la Giraudière lies not in its size, though it is amply endowed, but in its charming, openly approachable, juicy, food friendly persona. Consequently, there is not too much in the way of food that one couldn't serve with Baumard's amiable Anjou Rouge. Nevertheless, our preference is to serve the 2005 Logis de la Giraudière with lighter meats and less heady dishes than one might consider with Cabernet Sauvignon, if for no other reason than to highlight the sophistication and subtlety of this artfully crafted Cabernet Franc. So, bring on the chicken and the duck, or even the salads and the salmon. Chicken Breasts simmered in a light, tarragon studded cream sauce; Chicken Chasseur, a French country dish, with tomatoes, mushrooms, tarragon, thyme and more; and even Coq Au Vin offer excellent companionship to this wine. In addition, Duck with Wine and Green Grapes, Stuffed Breast of Veal, Osso Buco, and semi soft cheeses such as Beaumont, Reblochon, Muenster, and Monterey Jack provide equally enjoyable choices to accompany Florent Baumard's delicious Logis de la Giraudière. Salut!
Domaine des Baumard lies tucked away in the tiny village of Rochefort-sur-Loire, just south of Savennières, in the very heart of the ancient Duchy of Anjou. This property is an impeccably run estate that has been fashioning outstanding Loire Valley wines since 1634. The historical Baumards are viticulturists who specialize in the great but now nearly forgotten Chenin Blanc variety and in Cabernet Franc, the Loire Valley's premier red grape variety. Under the recent guardianship of Jean and Florent Baumard, Domaine des Baumard has soared to new heights, even as many of Baumard's neighbors have struggled to maintain their marginal vineyards. Although Domaine des Baumard has played a key role in producing great Loire Valley wines for centuries, much of the modern day lore can be attributed to Jean Baumard, Florent's father, who resurrected this family property in the 1950s and 1960s after decades of decline due to phyloxerra, economic depression, and the ever shifting tastes of the wine drinking public. For decades, the Baumards, like many of their neighbors, were forced to concentrate their efforts on their nursery business and the cultivation of vines rather than wine making. That is, until the 1950s, when Jean began acquiring several of the greatest vineyards in Côteaux-du-Layon and Quarts de Chaume and refocused the family's effort into the crafting of the greatest of all Loire Valley wines. Presently, Domaine des Baumard has one of the most extensive portfolios of Anjou wines, including outstanding dry Savennières offerings, sweet treasures from Côteaux-du-Layon and Quarts de Chaume, a beautiful, highly perfumed Cabernet Franc, and at least three of the Loire Valleys most enjoyable sparkling wines. There are also a number of single vineyard offerings. All of Baumard's wines are hand harvested, and each of the estate's wines is made in small, individual lots.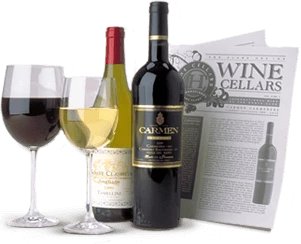 Enjoy Limited Production Estate
Bottled Wines
Discover limited production estate bottled wines such as Vergenoegd's internationally
acclaimed 2005 Cabernet Sauvignon, imported exclusively for our members.
DISCOVER OUR FOUR CLUBS