Born into one of Savennières' greatest vintages, the 2005 Baumard Clos du Papillon has received tremendous acclaim since its release, and all of it well-deserved. A stunning wine of breed, length, and profound depth of flavor, the 2005 Clos du Papillon merits an enviable position as the poster child for Savennières and the dry Chenin Blanc wines of the entire Loire Valley. Furthermore, this wine continues to improve in bottle with each passing year. It also has the uncanny ability of being able to unfold in the glass for hours on end. In typical Baumard fashion, the 2005 Clos du Papillon shines from the glass like the morning sun. It glints of gold and its bouquet beholds the breath of spring: apple and pear blossoms, clove, dried honey, marzipan, and a suave minerality dazzle the nose. Even more impressive is how the wine's haunting aromatic profile carries through on the palate and expands in a lush, seamless array of flavors that coat the tongue and satiate the palate, without residual sugar. For optimal enjoyment we suggest consuming the 2005 Baumard Clos du Papillon only lightly chilled (45°-55º F) to highlight every bit of the subtle charm that Baumard and the beloved Savennières have to offer. In addition, we recommend that one allow the outstanding 2005 Clos du Papillon to breathe for at least several minutes in the glass, as the great wines of Anjou tend to open slowly and reveal themselves fully only with time. For savvy collectors and the more patient among us, we suggest acquiring a few extra bottles to lay away as Baumard's Savennières offerings are some of the longest lived white wines in the world. Anticipated maturity: 2010-2017. Salut!
A wine as rich and sensuous as the 2005 Clos du Papillon lends great esteem to the most exquisite morsels brought to table. Yet, unlike the more austere offerings of Savennières, the 2005 Clos du Papillon is equally splendid on its own, before or after dinner. Nevertheless, fish, poultry, and savory pork dishes provide outstanding accompaniments to this wine. A whole steamed or grilled lobster, served with drawn butter, merits high marks as does slow cooked potted pork roast, smothered in a savory homemade barbecue sauce. Foie Gras, country pâté, and creamy hard cheeses such as Mimolette from Normandy and Brittany offer outstanding complements as well. One could also consider a myriad of Asian fusion specialties with this Savennières. Even moderately spicy Chinese, Thai, and Vietnamese appetizers will not overpower Clos du Papillon. Enjoy!
Domaine des Baumard lays tucked away in the tiny village of Rochefort-sur-Loire, just south of Savennières, in the very heart of the ancient Duchy of Anjou. This property is an impeccably run estate that has been fashioning outstanding Loire Valley wines since 1634. The historical Baumards are viticulturists who specialize in the great but now nearly forsaken Chenin Blanc variety. However, under the recent guardianship of Jean and Florent Baumard, Domaine des Baumard has soared to new heights, even as many of Baumard's neighbors have struggled to maintain their marginal vineyards. Although Domaine des Baumard has played a key role in producing great Loire Valley wines for centuries, much of the modern day lore can be attributed to Jean Baumard, Florent's father, who resurrected this family property in the 1950s and 1960s after decades of decline due to phyloxerra, economic depression, and the ever shifting tastes of the wine drinking public. For decades the Baumards, like many of their neighbors, were forced to concentrate their efforts on their nursery business and the cultivation of vines rather than wine making. That is until the 1950s when Jean began acquiring several of the greatest vineyards in Côteaux-du-Layon, Savennières, and Quarts de Chaume and refocused the family's effort into the crafting of the greatest of all Loire Valley wines. In the past decade Florent Baumard, a brilliant winemaker in his own right, has continued the great renaissance at Domaine des Baumard. Today, Florent may in fact be the region's finest winemaker. The Wine Advocate has stated that "Baumard quietly fashions some the world's most complex dry and sweet wines . . . and if he had been born a Californian, Burgundian, or Bordelais, wealthy vineyard owners would be standing in line to employ his services as a consultant," which is high praise indeed. Presently, Domaine des Baumard has one of the most extensive portfolios of Anjou wines, including outstanding dry Savennières offerings, sweet treasures from Côteaux-du-Layon and Quarts de Chaume, a host of artful cuvees, and at least three of the Loire Valleys most enjoyable sparkling wines. There are also a number of single vineyard offerings. All of Baumard's Savennières and Côteaux-du-Layon wines are produced from low yields (1.5-2.5 tons per acre). Moreover, all of Baumard's wines are hand harvested and each of the estate's wines is made in small, individual lots. Savennières: A Crown Jewel in the Loire Valley Diadem The Loire is France's longest and most scenic river. Moreover, it gives rise to some of the world's most distinguished white wines. The Upper Loire, above Orléans, is famous for a myriad of Sauvignon Blanc wines in the guise of Sancerre, Pouilly-Fumé, and assorted other place names such as Quincy and Menetou-Salon. However, as one moves downriver towards Touraine and Anjou, other grape varieties come to fore. And by the time one gets to Côteaux-du-Layon and Savennières, Chenin Blanc reigns supreme where no more glorious and immortal white wines are produced in France than those of the finest vineyards of Savennières and Côteaux-du-Layon. Savennières is situated just west of Angers. It is a tiny appellation that produces miniscule quantities of powerful, long lived white wines of outstanding quality from Chenin Blanc. Nearly all of its meager 12,000 case production is made dry. This splendid appellation includes two Grand Cru vineyards, Roche aux Moines and Coulée de Serrant. Baumard's Clos du Papillon is consistently one of the appellation's finest wines.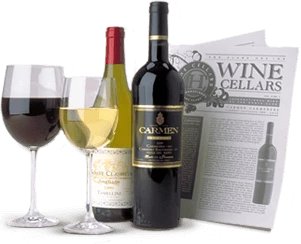 Enjoy Limited Production Estate
Bottled Wines
Discover limited production estate bottled wines such as Vergenoegd's internationally
acclaimed 2005 Cabernet Sauvignon, imported exclusively for our members.
DISCOVER OUR FOUR CLUBS