It is hard to believe that such a young, richly robed, highly charged wine as the 2003 Domaine De Villemajou Corbières can, also, be so drinkable and downright pleasurable at a tender age. However, this just underscores the greatness of the Languedoc and the very high level of wine making that is practiced at Domaine De Villemajou. The 2003 Domaine De Villemajou is a work of Provencal art. From an amplifying nose, redolent with the scent of roses, violets and ripe black plums to a sophisticated polished core and power packed finish the 2003 Domaine De Villemajou is one wine not to be missed. It is full-flavored and sophisticated, as well as elegant and structured. In other words, this wine has body, balance, and every thing else in between, including superb texture and a long, huggable finish. Given its soft ripe tannins, only a few minutes of aeration are required to release the Domaine De Villemajou's latent goodness. However, extended aeration will maximize the wine's roundness, which gives way to a smoothness reminiscent of velvet. Enjoy the 2003 Domaine De Villemajou Corbières at cool room temperature (62°-66° F).
The 2003 Domaine De Villemajou Corbières is the quintessential dinner party wine. It is the type of wine one plans the main course around. And better yet, one can open up a second or third bottle of this charming Corbières in the middle of a dinner party and have no fear that it lacks sufficient aeration or will require a production to shine. In essence, the Domaine De Villemajou Corbières is a most welcome guest at table. All that remains is to decide what to serve with this hedonistic delight, no easy task given Domaine De Villemajou's knack for making almost any meat or western style vegetable dish seem like a prize recipe from the food network. So whether it is lamb, beef, poultry, French Haute Cuisine, savory Italian specialties, or good old American classics such as meatloaf or Carolina pork barbecue, the 2003 Domaine De Villemajou Corbières is a pleasure to bring to the table. One particularly memorable accompaniment is Braised Pork Shoulder, served in a savory carrot and lentil stew, but most anything will do. Salute
Domaine De Villemajou lies in the heart of the ancient Corbières, one of the two oldest and most important appellations of Languedoc – France's largest wine producing region. It is to Corbières that archeologists and historians trace some of the earliest evidence of the vine in France. The Phoenicians and ancient Greeks were drawn to the beauty of Corbières, which has long been renowned for its captivating scenery, and began colonizing this dramatic sweep of Mediterranean coastline by the fifth century BC. Greek colonists planted the first vines in Corbières, making this enchanted land the cradle of French viticulture for over 2,500 years. Georges Bertrand, who was best known as one of the Languedoc's earliest 20th century visionaries, began the family domain of Villemajou. He sought to return the once glorious Languedoc to its former status as France's premier wine region, which it enjoyed before Phylloxera, and was well on his way to accomplishing his goal when he died prematurely in 1987. Fortunately for the Languedoc, Domaine De Villemajou, and the serious wine consumer, Georges left the wine world a legacy in his very talented son, Gérard. Today, Gérard Bertrand is known as one of France's most influential winemakers. He makes his home at Domaine De Villemajou, where he transforms the traditional red Languedoc varietals: Carignan, Cinsault, Grenache, Syrah, and Mourvèdre into powerful but lush wines that speak of old vines, low yields and a deft hand. In addition to the highly acclaimed Domaine De Villemajou, Gérard Bertrand produces other award winning wines from single vineyard sites in nearby Minervois. All of Bertrand's estate wines are produced using sustainable agricultural methods and are hand harvested.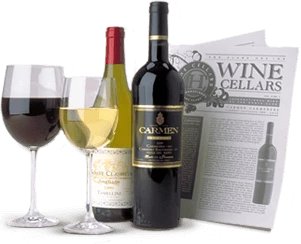 Enjoy Limited Production Estate
Bottled Wines
Discover limited production estate bottled wines such as Vergenoegd's internationally
acclaimed 2005 Cabernet Sauvignon, imported exclusively for our members.
DISCOVER OUR FOUR CLUBS