In the prime of its life, the richly robed, aromatic, downright plush 2000 Domaine De Villemajou Corbières underscores the latent greatness of the Languedoc and leaves little doubt in the mind of any serious wine lover as to why the Greeks and Romans were so enamored of Corbières and its viticultural acumen. Apparently, the love affair continues as the 2000 Domaine De Villemajou is nothing short of hedonism in a glass. One panel member became so despondent when he realized he had finished all of the 2000 Villemajou in his glass that he refused to taste the next wine. Another stated "I wish I could hug this wine". Whether it's Villemajou's amplifying nose, redolent with the aroma of plums, roses, violets and black fruits or simply the smooth sophisticated taste and texture it possesses on the palate, the 2000 Domaine De Villemajou is one Corbières not to be missed. It is full-flavored and sophisticated, as well as elegant and structured. In other words, this wine possesses body and balance and all else in between. Without a tannic bite or even the trace of an edge, the 2000 Domaine De Villemajou requires little to no breathing time to be charming. However, aeration maximizes the wine's round supple flavors to the point where the longer this outstanding Corbières breathes the smoother and more reminiscent of velvet it becomes. Enjoy this mature offering at cool room temperature (about 60°-66° F).
Given the roundness and easy amplitude of the 2000 Domaine De Villemajou Corbières, it has for years ranked high on our list of great dinner party wines. It is the type of wine to plan a main course around. However, with more than a couple of guests, a second or third bottle of the 2000 Villemajou Corbières will most certainly be called for. Truly, this is the quintessential dinner party wine, so all you need to decide is what you want to serve. Whether it is beef, lamb, poultry, French Haute Cuisine, savory Italian specialties or good old American classics such as Texas barbecue or its Carolina sidekick – pork barbecue – the Domaine De Villemajou is a pleasure to bring to the table. Salut!
Domaine De Villemajou lies in the heart of ancient Corbières, one of the two oldest and most important appellations of Languedoc. It is to Corbières that archeologists and historians trace some of the earliest evidence of the vine in France. The Phoenicians and ancient Greeks were drawn to the beauty of Corbières, which had long been renowned for its captivating scenery, and began colonizing this dramatic sweep of Mediterranean coastline in the fifth century BC. Greek colonists planted the first vines in Corbières, making this enchanted land a cradle of French viticulture for over 2,500 years. Georges Bertrand, who was best known as one of the Languedoc's earliest 20th century visionaries, began the family domain of Villemajou. He sought to return the once glorious Languedoc to its former status as France's premier wine region, a status it enjoyed before phylloxera, and was well on his way to accomplishing his goal when he died prematurely in 1987. Fortunately for the Languedoc, Domaine De Villemajou, and the serious wine consumer, Georges left the world of wine a legacy in his very talented son, Gérard, who carries on his father's vision. Today, Gérard Bertrand is known as one of France's most influential winemakers. He makes his home at Domaine De Villemajou, where he transforms the traditional red Languedoc varietals: Carignan, Cinsault, Grenache, Syrah, and Mourvèdre into powerful, lush wines that speak of old vines, low yields and a deft hand. In addition to the highly acclaimed Domaine De Villemajou, Gérard Bertrand produces other award winning wines from single vineyard sites in nearby Minervois. All of Bertrand's estate wines are produced using sustainable agricultural methods and are hand harvested.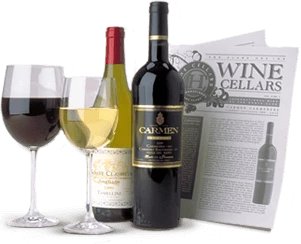 Enjoy Limited Production Estate
Bottled Wines
Discover limited production estate bottled wines such as Vergenoegd's internationally
acclaimed 2005 Cabernet Sauvignon, imported exclusively for our members.
DISCOVER OUR FOUR CLUBS