A splendid, old-fashioned Graves, the 2004 Domaine de la Solitude Pessac-Léognon is everything an exceptional white Graves is called be: aromatic, full, deep, highly structured, and capable of extensive bottling aging. The 2004 Domaine de la Solitude is all this and more. In true Pessac-Léognon fashion, the Domaine de la Solitude Blanc is not your brash, sit around sipping kind of white wine. Instead, it is a wine with a soul, whose charm and character run deep. Rather than flaunt its wares, it prefers to speak quietly and unfold graciously in the glass at table in the company of the finest foods. And remember, good things come to those who wait! Like the exceptional red wines of Pessac-Léognon, this wonderful white Graves also requires a little aeration, but the few extra minutes are more than worth the wait. This Domaine de la Solitude is set in a sunlit, yellow robe that expands in the glass to reveal a sensuous nose of melon, mineral, and subtle fruit. In the mouth the wine is textured, almost waxy, as it expands on the palate to reveal a core of clean fruit and liquid minerals. The finish is long, lingering and refreshingly dry – the quintessential Pessac-Léognon Graves. We recommend that this classic Graves be well chilled, but consumed only moderately cool (40°-50°F) to allow it to open slowly and fully in the glass. Anticipated maturity: 2006-2009.
In Bordeaux white Graves is the order of the day with the region's legendary seafood. Indeed, Domaine de la Solitude struts its stuff when placed in front of Pecan Encrusted Sea Bass or a simple plate of prawns, dipped in drawn butter, or just about any other fruits de mer. Why not consider more eclectic seafood offerings and other elaborate fare as well? In that vein, we suggest Baked Grouper Filets, prepared with a pumpkin seed pesto, or Almond Encrusted Pork Tenderloin, served with a dried cranberry and apple conserve. Both dishes offer a myriad of flavors to complement the sophisticated but well-endowed 2004 Domaine de la Solitude Blanc. A cheese platter that offers a variety of French cheeses, including authentic Roquefort, provides another satisfying complement to this soulful Graves. Bon appétit!
Domaine de la Solitude is a traditional Graves from the commune of Pessac-Léognon. This estate belongs to a religious order of silent nuns, known as La Sainte Famille. Since 1993 Domaine de la Solitude has been under the expert management of the Bernard family of Domaine de Chevalier, who have completely revitalized the estate's vineyards and cellar. Domaine de Chevalier is one of the greatest of all Pessac-Léognon producers, fashioning riveting red Graves and the finest of all white Graves. Under the care of Domaine de Chevalier, Domaine de la Solitude has flourished and can rightfully claim its place of honor at the forefront of the illustrious Graves appellation. Graves: The First Bordeaux Graves is the oldest and most historic of all the Bordeaux communes. Before Latour, Lafite, Margaux, and the rest of the well-known names of the Médoc even existed or had even seen a cultivated vine, there was Graves. In fact, Graves has been the home of cultivated vines since the 1st century AD; due at least in part to the Romans inability to grow other crops in the graveled soil from which the name Graves is derived. The stone and gravel deposits are vestiges of the last Ice Age, a bane to most farmers but a boon to grape growers, whose vines struggle deep into the thin porous soil to draw life and subtle complex flavors from the nutrients below. The wines of Graves appear to be the first Bordeaux wines to be exported, with archeological evidence that Roman garrisons in Britain were the happy recipients of Bordeaux's quintessential wines. And by the early 12th century, Graves was the most sort after wine in England and beyond for its quality as well as its proximity to the city and port of Bordeaux itself, which lies just a few kilometers from Graves. Today, the northern section of Graves called Pessac-Léognon must battle the urban sprawl that has broken out of the confines of the city of Bordeaux and spread to the nearby suburbs of Talence and Pessac; yet the vine still flourishes here and the wines of Pessac-Léognon remain the finest of all white Graves. A little south of these towns lays the pastoral heart of Graves, a pretty, rural country, where vineyards mingle with pastures and pine forests. Here, life remains wedded to the land and the joys of the vine. Graves is rightly famous for both its red and white wines. At their best, the red wines of Graves are unsurpassed for their aromatic beauty as well as their smooth, rich flavors. Earthy fragrant aromas that resemble cedar, a classic cigar box scent, black currant, and tobacco emanate from red Graves and form a bouquet that is frequently described as enchanting and profound. Moreover, fine red Graves is often the supplest claret of all. It is also the most flavorful and easily appreciated of all Bordeaux reds. Meanwhile, white Graves remains a dry, very aromatic wine that emits great freshness, along with luxurious flavor. Perhaps, the greatest event in Graves in the past twenty years has been the revolution that has taken hold among the top producers of white Graves. Once, an obscure and expensive proposition that did not always travel well, the finest white Graves today have retained their traditional style but taken on additional vigor, personality and depth that underscores the physiological ripeness that was sometimes absent in the white Graves of yesteryear. At their finest, the white Graves of Pessac-Léognon rival the best white wines of France. Domaine de la Solitude is one such example.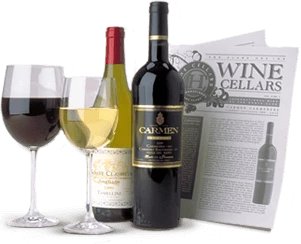 Enjoy Limited Production Estate
Bottled Wines
Discover limited production estate bottled wines such as Vergenoegd's internationally
acclaimed 2005 Cabernet Sauvignon, imported exclusively for our members.
DISCOVER OUR FOUR CLUBS