The 2020 Domaine de Cabasse Gigondas is a delicious, sensual, and complex wine. A traditional blend of 80% Grenache, 10% Syrah, and 10% Mourvèdre, this exceptional Gigondas from the picture perfect 2020 vintage appears deceptively light in color, but the deception ends there. Sensual, savory, and superbly textured Domaine de Cabasse's seductive 2020 Gigondas is hard to resist. Wild strawberry, rose hips, and an alluring cachet of scented herbs waft from the glass. Juicy, yet delightfully balanced, the 2020 Domaine de Cabasse Gigondas seems to melt in the mouth, spreading a rich array of berry flavors and exotic spices on a bed of satiny tannins that spread across the palate like a peacock's tail. Sensual, savory, and superbly textured Domaine de Cabasse's hauntingly beautiful 2020 Gigondas underscores the Gigondas appellation's ability to produce bold, powerful, flavor-charged wines with equal amounts of elegance and finesse. For optimal enjoyment, we suggest affording the 2020 Domaine de Cabasse Gigondas 15-20 minutes of aeration before serving at cool room temperature (55°-60° F). Anticipated maturity: 2022-2028. Enjoy!
It has been said that there is no better red wine on a cold winter's night or a warm summer evening than Gigondas. The strength and vigor of the 2020 Domaine de Cabasse Gigondas rests in its warm rich flavors and satin-like tannins rather than a hard tannic bite. The 2020 Domaine de Cabasse Gigondas provides the ideal companion to all types of meat, pasta and vegetable dishes. Whether it is served with red meat, white meat, flavorful stews, heady pastas, or rich lentil or bean dishes, the 2020 Domaine de Cabasse Gigondas brings a hearty welcome to the table any time of year. In Gigondas and throughout the Rhône Valley, lamb in any form rubbed with fresh garlic, rosemary, and thyme provides the quintessential accompaniment to Gigondas. Consequently, the 2020 Domaine de Cabasse Gigondas makes an ideal companion roast leg of lamb, skewered kebobs, and spicy lamb sliders. A spit roasted rotisserie chicken basted with cream and Provencal herbs provides another tasty accompaniment. Cassoulet, grilled hot Italian sausages and peppers, and lentil and sausage soup served with crusty bread and flavorful cheese offer additional tasty pairings to accompany Domaine de Cabasse's beautiful Gigondas. Creamy mushroom risottos, spicy eggplant dishes, and most tomato laden classics from southern Italy also make fine accompaniments to Domaine de Cabasses's sensual Gigondas. Bon appétit!
Domaine de Cabasse holds a special place for my family and me. We first discovered Domaine de Cabasse a quarter of a century ago on a wine buying trip to the South of France. With 15 rooms and a delightful country kitchen that served superb traditional Provencal fare Domaine de Cabasse provided the ideal base for visiting nearby Châteauneuf-du-Pape and Gigondas while discovering some of the finest Côtes-du-Rhônes on the planet growing just a cicada's song away from our rooms.
Under the dazzling Provencal sun and surrounded by a sea of undulating vines that flow from the hills below the picture perfect hill town of Séguret, officially one of the most beautiful villages in France, we thought we had discovered Shangri-La. There was only one glitch. We could only enjoy the domaine's wines on the spot, as the proprietor Monsieur Haeni was not exporting his wines to the United States. Apparently, only those fortunate enough to stay at Domaine de Cabasse and the small steady flow of Dutch, German and Swiss wine lovers who loaded their vehicles once a year with the domaine's liquid booty were the principal recipients of Domaine de Cabasse's captivating Gigondas and Côtes-du-Rhônes. We returned some years later to the same song: "Enjoy our wines here," and of course we did.
Fortunately, patience and persistence often pay dividends. On a subsequent trip to the Southern Rhône, we again opted to stay at our old haunt and were delighted to discover that the domaine's wines were not only better than we had remembered, but also under new direction. The gregarious new proprietor Benoit Baudry consented to sell us some of his delightful wines, including his highly touted Gigondas (this month's feature) from the 2020 vintage, a vintage that is shaping up to be another pearl in the Southern Rhône's greatest string of consecutive vintages. Domaine de Cabasse also fashions several exceptional Côtes-du-Rhônes, including a delicious village designated Séguret Côtes-du-Rhône, Cuvée Marguerite Côtes-du-Rhône, which is named for the proprietor's wife, and a tasty rosé that goes down far too easily. Wine production is sustainable and carried out under the careful eye and deft hand of Philippe Cambie, the Rhône Valley's most renowned oenologist. After a quarter of century, we are thrilled to share with our members a delightful taste of Provence in Domaine de Cabasse's wines.
Gigondas and the neighboring Provencal villages of Vacqueyras and Châteauneuf-du-Pape, produce the finest red wines of the Southern Rhône. Relying upon old vines of Grenache, married to lesser quantities of Syrah, Mourvèdre, and Cinsault, Gigondas turns out a startling array of big, beautiful, tasty reds from nearly 2,500 acres of vineyards. Spanning a combination of soils, from the gravelly clay of the flat plains at the base of the craggy Dentelles de Montmirail to the sheer bedrock of the Dentelles themselves, Gigondas is testament to the belief that in this enchanted corner of Provence known as the Vaucluse one can even extract blood from stones in the form of a vigorous, deeply colored red wine. The high altitude and distinctive terroir of Gigondas provide the ingredients for serious Gigondas producers to challenge Châteauneuf-du-Pape as the finest wine of the Southern Rhône.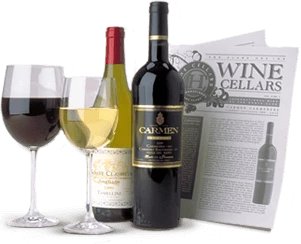 Enjoy Limited Production Estate
Bottled Wines
Discover limited production estate bottled wines such as Vergenoegd's internationally
acclaimed 2005 Cabernet Sauvignon, imported exclusively for our members.
DISCOVER OUR FOUR CLUBS