"Ahh . . . soft, scented, and sophisticated, there is nothing quite like white Burgundy now is there," extolled one of our panel members upon first savoring the 2004 Amiot Guy et Fils Chassagne-Montrachet Vielles Vignes. Indeed, there is no other white wine more rewarding than estate bottled Chassagne-Montrachet, the finest white Burgundy and the quintessential Chardonnay. And Guy Amiot's 2004 Chassagne-Montrachet Vielles Vignes is certainly one splendid example of Chassagne-Montrachet. This wine sports a brilliant color, with flecks of golden highlight. It possesses a lovely nose reminiscent of acacia flowers, pure summer fruits, and soft vanilla and it offers up a creamy texture and a mouth filling savor that coat the mouth with butter, fruit and crème brulée. Elegant, flavorful, and rich but not fat; the 2004 Amiot Guy Chassagne-Montrachet Vielles Vignes is testimony to the Amiots' commitment to style and excellence. Enjoy this lovely Chassagne-Montrachet moderately chilled (45°-50°F). Anticipated maturity 2006-2010.
What do you eat with the finest white wine? The answer to that question should be simple: whatever you want. The 2004 Amiot Guy Chassagne-Montrachet Vielles Vignes hardly needs a prop to hide behind or a leg to stand on. Nevertheless, this wonderful old vine Chassagne-Montrachet provides excellent accompaniment and companionship to simple seafood dishes as well as several, sophisticated classics. Salmon, sole, and flounder are some of our favorite fish with this wine; while crab, scallops, and lobster provide equally superb shellfish companions to a bottle of Amiot's old vine Chassagne-Montrachet. For those craving the classics, Suprêmes de Volailles (Breast of Chicken with cream) and Escalopes de Veau (Sautéed Veal Scallops with mushrooms and cream) are two tried and true French favorites that shine in the company of the finest Chassagne-Montrachet, but as always accompaniment should be as you like it. Enjoy!
Domaine Amiot is one of Burgundy's finest producers of white wine, most notably a rich portfolio of outstanding offerings from Chassagne-Montrachet. Guy Amiot, the present owner and guardian of the domaine that bears his name, represents the third generation of renowned growers at this property. Guy's forbearer, Arsène Amiot, an adopted Parisian, began the estate in 1920 after falling in love with the golden slopes of Chassagne-Montrachet, the world's finest commune for Chardonnay. Arsène's initial purchase in the tiny village of Chassagne-Montrachet accounted for a mere 2 hectares or approximately 4.5 acres of vineyard, but what jewels Arsène had acquired. The original parcels were remarkably well chosen and still form the core of the domaine. In fact Amiot's holdings included vineyards in Les Vergers, Le Clos Saint Jean, les Caillerets and les Dents de Chien, all of which were later to be designated as Montrachet Grand Cru, the mark of the world's finest and most expensive white wines. In spite of Arsène's great affection for his beloved village and the wines it produced, he continued to tend to his business in Paris, while the family remained in Burgundy. From 1925-1935 Arsène left the cultivation of the vines to 'Père' Robe, an eminent winegrower who also devoted considerable time and talent to the vinification and estate-bottling of Amiot's wines, a practice almost unknown at the time. Traditionally, the Burgundy growers dealt with a wine broker who in turn worked with shippers, or négociants, who bottled their wines. These shippers worked from their offices in Beaune or Nuits-Saint-Georges and sold an estate's wines to Parisian merchants engaged in the retail trade. In 1930 Arsène Amiot saw the opening in Paris of a wine cellar and retail store that gave select clients a way to buy the "Grand Vins of Burgundy, delivered to your residence." The business was quickly very popular and orders flooded in. This commercial success meant Amiot could expand his domaine. By 1936, upon completion of studies in viticulture and oenology in Beaune, Pierre Amiot, one of Arsène's sons took over the business and the estate acquired several new vineyard jewels like La Maltroie, Les Champgains, and Les Macherelles. Little by little, Amiot's production began to be sold directly to individual connoisseurs and savvy restaurateurs. After the Second World War, the acquisition of prestigious parcels like Les Chaumées or Les Demoiselles added further to the estate's very well-established reputation, both in France and abroad. In 1984, Pierre Amiot passed away after a lifetime of producing estate bottled Burgundies and the torch passed to Guy, the present owner. Guy has taken the family estate to even greater heights. After completing studies in oenolgy, Guy gained considerable experience working in some of the finest vineyards throughout France. He now combines modern winemaking methods with the traditional knowledge of Burgundian viticulture. He has wisely decided to retain old vines (Vielles Vignes) and focus on bringing out the individual character and terroir in each of the wine's he fashions, favoring the production of wines that are aromatic, rich and balanced, as illustrated by the remarkable quality of the vintages he has produced from 1985 until present. In 1992, the fourth generation of the Amiot family, Thierry, entered the family business and began building a new wine cellar whose elliptical vaults are both in keeping with tradition and ideal for the natural aging of the wines. It is nice to know, indeed, that the future of this great estate is assured in capable hands. Salut!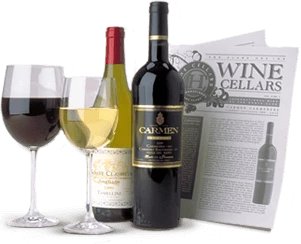 Enjoy Limited Production Estate
Bottled Wines
Discover limited production estate bottled wines such as Vergenoegd's internationally
acclaimed 2005 Cabernet Sauvignon, imported exclusively for our members.
DISCOVER OUR FOUR CLUBS