Amiot Guy's 2014 Bourgogne Chardonnay emanates from vines just outside the boundary of Chassagne-Montrachet and drinks like classic white Burgundy from that renowned village. This Bourgogne Blanc is a wine of grace, precision, and subtlety that bears little resemblance to the tropical fruit-bomb style of many New World Chardonnays. A wholly different approach is taken in Burgundy towards Chardonnay, where the best producers like Amiot Guy strive to accentuate the ultimate attributes of the varietal: charm, elegance, and inherent drinkability that also reflect a distinctive terroir. Rather than overlay the exemplary mineral-rich flavors of Chardonnay or obscure the appellation's unique terroirwith copious quantities of new oak, as is often the case with New World Chardonnays, Guy and Thierry Amiot capture the complexity, sophistication, and eminent drinkability of Chardonnay in the family's brilliant 2014 Bourgogne Chardonnay. The 2014 Amiot Guy Bourgogne Blanc sports a sun-kissed robe that radiates the glow of morning sunshine. Along with a brilliant robe, the medium-bodied Amiot Guy Bourgogne Blanc possesses a mineral-rich nose and a wealth of soft, seductive flavors. In the mouth, a cache of flowers, minerals, and spices well up from the center of this wine, adding complexity and framing the racy finish of this elegant concoction. Although still in the fresh bloom of youth, the 2014 Amiot Guy Bourgogne Chardonnay has several years of favorable evolution ahead of it: it should begin to reach its plateau of perfection in 2017 and offer excellent drinking pleasure for at least several more years. For optimal enjoyment, we suggest only moderate chilling of this exemplary white Burgundy (40º-50º F), as colder temperatures tend to numb the finest Chardonnays and diminish the elegance and complexity of Guy Amiot's handiwork. Enjoy!
As quintessential white Burgundy, Amiot Guy's 2014 Bourgogne Chardonnay provides the ideal accompaniment to fresh fish and shellfish classics. Poached salmon, sole, and flounder provide tasty complements to this wine, especially when accompanied by a savory cream sauce. However, crab, scallops, and lobster offer superb companionship to a bottle of Amiot Guy's Bourgogne Blanc, too. Crab dips; scallops sautéed with butter, white wine and fresh herbs; and stuffed lobster tails, constitute perennial favorites to serve with Amiot Guy's classic white Burgundy. For those who prefer something other than seafood, chicken and veal offer more succulent choices. Breast of Chicken in a savory white sauce and Sautéed Veal Medallions with mushrooms and cream are two tried and true classics that shine in the company of Amiot Guy's 2014 Bourgogne Chardonnay. And if good old-fashioned sipping is more to your liking, Amiot Guy's Bourgogne Chardonnay provides plenty of pleasure as an aperitif, au naturel with nary a morsel… so as you like it. Bon appétit!
Domaine Amiot is one of Burgundy's finest producers of white wine, fashioning a rich portfolio of outstanding white Burgundies from the commune of Chassagne-Montrachet and surrounding environs. Guy Amiot, the present owner and guardian of the domaine that bears his name, represents the third generation of renowned growers at this estate. However, most critics are quick to point out that over the last two decades Guy has taken his family's domaine to the next level of quality and placed it firmly in the top echelon, alongside the very finest producers in Burgundy. From the estate's outstanding Bourgogne Chardonnay (this month's feature), fashioned from vines just outside the boundary of Chassagne-Montrachet, to Le Montrachet itself, Guy and his son Thierry fashion small lots of exceptional white Burgundy.
Guy's forbearer, Arsène Amiot, an adopted Parisian, began the estate in 1920 after falling in love with the golden slopes of Chassagne-Montrachet, the world's finest commune for Chardonnay. Arsène's initial purchase in the tiny village of Chassagne-Montrachet accounted for a mere 2 hectares or approximately 4.5 acres of vineyard, but what jewels Arsène had acquired. These original parcels were remarkably well chosen and still form the core of the domaine. In fact, Amiot's holdings included vineyards in Les Vergers, Le Clos Saint Jean, les Caillerets and les Dents de Chien, all of which were later to be designated as Montrachet Grand Cru, the mark of the world's finest and most expensive white wines.
Pierre Amiot, one of Arsène's sons, took over the family business in 1936. He acquired several additional vineyard jewels for the domaine, such as La Maltroie, Les Champgains, and Les Macherelles. Under Pierre's direction, Amiot's production began to be sold directly to individual connoisseurs and savvy restaurant owners. After the Second World War, the acquisition of prestigious parcels like Les Chaumées or Les Demoiselles added further to the estate's very well-established reputation, both in France and abroad.
In 1984, Pierre Amiot passed away after a lifetime of producing estate-bottled Burgundies and the torch passed to Guy, the present owner. Guy has taken the family estate to an even higher level. After completing studies in oenology, Guy gained considerable experience working in several of France's greatest vineyards. He combines modern winemaking methods with a traditional knowledge of Burgundian viticulture. Moreover, he has wisely decided to retain old vines (Vieilles Vignes) and focus on bringing out the individual character and terroir in each of the wines he fashions, favoring the production of wines that are aromatic, rich and balanced, as illustrated by the remarkable quality of the wines he has produced since 1985. With his son, Thierry, the fourth generation Amiot to enter the family business, the Amiots built a new wine cellar whose elliptical vaults are ideal for the natural aging of the wines. It is comforting to know that this remarkable estate is in capable hands to assure another generation of excellent wine.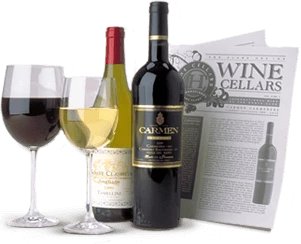 Enjoy Limited Production Estate
Bottled Wines
Discover limited production estate bottled wines such as Vergenoegd's internationally
acclaimed 2005 Cabernet Sauvignon, imported exclusively for our members.
DISCOVER OUR FOUR CLUBS