Terry Speizer's 1999 Domaine Alfred Chamisal Pinot Noir has not only heart and soul, but great body, too. Rich in robe, with a regal purplish hue, this Pinot is deliciously packed with the haunting aromas and flavors of red cherry, raspberry and cola. Scented woodlands and Asian spices emerge in the nose and on the palate, too. Each sniff and subsequent sip of this noble Pinot reveals another dimension, adding meaning to the word complexity. Bottled unfiltered and unfined, so as not to lose any of its precious flavor, the Domaine Alfred Pinot Noir must be tasted to be believed. It is easily the match for most Premier Cru and Grand Cru Burgundies, and will shortly become the yardstick by which all other Edna Valley Pinot Noirs are measured. We suggest you allow this natural, full-bodied Pinot Noir to breathe. Our experience reveals that the Domaine Alfred tastes wonderful from the time the cork leaves the bottle, but the wine continues to gain definition, elegance, and nuance up to three hours or more after opening. What more could you want? A case or two, delivered to your door, you say. In that case, we would be tempted to ask you why you ask for so much, but then we know what your response would be. Why not ask for more? Enjoy!
The 1999 Domaine Alfred Chamisal Pinot Noir is a meal to satisfy the soul as well as the stomach. Indeed, this wine is a meal in itself, requiring no further accompaniment than a little time and a palate to appreciate it. Yet, we must confess it is the wine to enhance a typical mid week meal, such as a lowly meatloaf. We have also been amazed at how well it stands up to big spicy dishes, including sizzling Fajitas and Red Beans and Rice. Having said this, we heartily suggest that you order another bottle or two of the Domaine Alfred Pinot Noir to accompany a truly splendid meal. Why not try them with a noble dish, such as a scrumptious, authentic Cheese Soufflé, a tender Rack of Baby Lamb, or a freshly cut Sashimi grade Tuna Steak, grilled rare and served with a Tomato Basil Sauce and balsamic infused Portabella mushrooms. You deserve only the best, don't you? Deviled Game Hens would be another fine accompaniment. Hearty Vegetable Lasagna and Quiche Loraine are other winning companions to the 1999 Domaine Alfred Chamisal Pinot Noir. And if all else should fail, slap a few filet mignons on the grill and have a party with the Domaine Alfred. Bon Appetit!
Editor's Note: To some of our members who may be wondering why C&H, an international wine club, is offering yet another California Pinot Noir, we pose one simple request. Just taste this natural, impeccably made wine. This tiny estate's Pinot Noir puts the majority of big name red Burgundies to shame. And while you are savoring this little treasure, take a peek at the Wine Spectator's recent feature on Domaine Alfred and revel in the good fortune that we found it first. Otherwise, the wine in your glass would be no more. The 1999 Domaine Alfred is about as good as the great, but fickle Pinot Noir varietal gets in California. And at $24.00 a bottle, the Domaine Alfred Pinot Noir is a veritable bargain; it was simply too good to pass up. Besides, we would truly not be an international wine club, nor would we be fairly representing American wines, if we ignored California, the world's fourth largest producer of wine. Moreover, we trust you will enjoy the 1999 Domaine Alfred as much as we did. You may never have heard of this young winery until now, but we guarantee this will not be the last you hear of this splendid property unless you die tomorrow. For better and for worse, Domaine Alfred is about to be discovered. Located in the cool Edna Valley of San Luis Obispo, this new winery is blessed by the wonders of the Central California coast environment, which include a long growing cycle, idyllic soil, and a perfect climate. Moreover, all of Domaine Alfred's wines are estate bottled with grapes from the winery's historic Chamisal Vineyard. Chamisal, the first vineyard in the Edna Valley, was originally planted in 1972. Purchased by the ingenious Terry Speizer in 1994, the then dormant vineyard was replanted with six clones of Pinot Noir on 30 acres, and five clones of Chardonnay on another 30 acres. Subsequently, an additional Chardonnay clone was added, followed by four clones of Syrah planted on another 14 acres. In 2000, Grenache and Pinot Gris were introduced into Chamisal and an additional 8 acres of Pinot Noir were planted. The original Chamisal clone of Chardonnay has also been reintroduced into this historic vineyard. An innovative fellow, Terry Speizer is a consummate perfectionist and one heck of a winemaker. Yet, his winemaking philosophy is quite simple. He states emphatically the grapes are the soul of our wine. If we do an exceptional job on the soul, then all we have to do is give it heart. And what a heart Speizer has put into his first three vintages, beginning with the winery's inaugural 1998 vintage. The Tin Man and all other inhabitants of Oz would be proud. Domaine Alfred has turned out marvelous wines in all three of its vintages. And if Speizer's talent is not sufficient, Byron's Mike Sinor has recently joined Domaine Alfred, adding considerable experience from an impressive string of fine Chardonnay and Pinot Noir wines he helped put out at Byron. Burgundy look out! If other Edna Valley Pinot Noir producers start turning out wine as fine as the 1999 Domaine Alfred Chamisal Vineyard Pinot Noir, many of the $100.00 a bottle Burgundy producers are going to be looking for jobs, and perhaps, a few tips from Terry Speizer as well.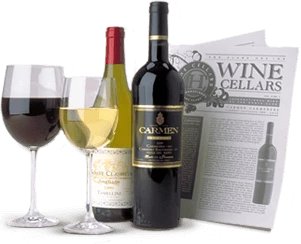 Enjoy Limited Production Estate
Bottled Wines
Discover limited production estate bottled wines such as Vergenoegd's internationally
acclaimed 2005 Cabernet Sauvignon, imported exclusively for our members.
DISCOVER OUR FOUR CLUBS