The 2003 Domaine Alfred Chamisal Pinot Noir possesses not only a heart and a soul, but a great Burgundian feel and texture as well. To put it bluntly, the 2003 Domaine Alfred Chamisal Vineyards Pinot Noir is not just another light, fruity, quaffable California Pinto Noir; it is the real deal, a deeply colored Pinot that sports a regal robe of crimson and purple, and displays in every way a noble bearing. Most convincing and enticing are the wine's deep broad berry aromas that are tinged with the scent of sizzling bacon and laced with oriental spice – the calling cards of great Pinot Noir. In the mouth, the wine has a velvet texture and loads of flavor, with raspberry, black cherry, and cola flavors coming to fore. A subtle complex woodlands flavor and a touch of exotica emerge on the palate as well. Bottled unfiltered and unfined, the 2003 Domaine Alfred Chamisal Pinot Noir begins to reveal its many charms and flavors from the minute it is opened; yet, it continues unfold in the glass for hours. This Pinot Noir is easily a match for most Premier Cru offerings from Burgundy. We suggest it be served at cool room temperature (no more than 66º F).
The 2003 Domaine Alfred Chamisal Pinot Noir could be a meal in itself, but given this Pinot Noir's myriad of complex charms it would be a shame to deny it the ultimate opportunity to shine as it accompanies a wealth of well prepared dishes with real aplomb. In short, this is a wine to enhance a fine meal. We recommend it heartily with a tender Rack of Baby Lamb or a Saddle of Veal. A lightly grilled Sashimi grade Tuna Steak, served with root vegetables, provides another outstanding accompaniment. Hibachi Grilled Salmon, prepared with a mild ginger sauce, provides another fine dining experience in the company of Terry Speizer's most noble Pinot Noir. Yet, a simple quiche or cheese pie provides a nice mid week interlude, too. And if you are a real meat and potatoes person, Domaine Alfred's 2003 Chamisal Pinot Noir can more than stand up to a grilled Filet Mignon, even when smothered in a savory red wine and Portabella Mushroom sauce. Enjoy!
The first time we tasted Terry Speizer's Domaine Alfred Pinot Noir, we knew it was special. Moreover, we realized that Domaine Alfred would not remain under the critic's radar for long, and we were right. Nonetheless, in spite of the great demand for Domaine Alfred's wines, we have been able to secure a small amount of Speizer's splendid 2003 Edna Valley Pinot Noir. Located in the cool Edna Valley of San Luis Obispo, Domaine Alfred is blessed by the wonders of the Central California coast environment, which include a long growing cycle, idyllic soil, and a perfect climate. Moreover, all of Domaine Alfred's wines are made and estate bottled by Terry Speizer with grapes from the winery's historic Chamisal Vineyard. Chamisal, the first vineyard in Edna Valley, was originally planted in 1972. Purchased by the ingenious Terry Speizer in 1994, Chamisal, a then dormant vineyard, was replanted with six clones of Pinot Noir and five clones of Chardonnay on a total of 60 acres. Subsequently, an additional Chardonnay clone was added, followed by four clones of Syrah planted on an additional 14 acres. In 2000, Grenache and Pinot Gris were introduced into Chamisal and an additional 8 acres of Pinot Noir were planted. The original Chamisal clone of Chardonnay has also been reintroduced into this historic vineyard. An innovative fellow, Terry Speizer is a consummate perfectionist and a great Pinot Noir winemaker. And as is the case with most exceptional winemakers, Speizer's philosophy is quite simple. "The grapes are the soul of our wine," Speizer states emphatically. "If we do an exceptional job on the soul, then all we have to do is give it heart." And what a heart Speizer has put into each of the six vintages he has released to date, beginning with the winery's inaugural 1998 vintage. The Tin Man and all other inhabitants of Oz would be proud.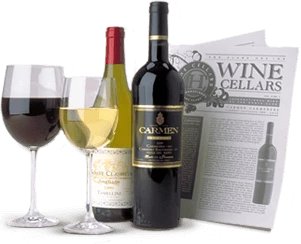 Enjoy Limited Production Estate
Bottled Wines
Discover limited production estate bottled wines such as Vergenoegd's internationally
acclaimed 2005 Cabernet Sauvignon, imported exclusively for our members.
DISCOVER OUR FOUR CLUBS