Bright and sunny in the glass, the 2005 Domaine Alfred Chamisal Vineyard Chardonnay caresses the eye as well as the palate. It reminds us (at least those of us who are old enough) of the great California Chardonnays of yesteryear, those special Napa Valley offerings from the early 1970's that set the quality bar for New World Chardonnay and blew away more than a few French Burgundies in the process. If you are wondering where those wines went, they have come back. The 2005 Chamisal Vineyard Chardonnay offers up a full, heady aroma, replete with pure, intense Chardonnay fruit, the scent of acacia flower, pear, quince, and delicate spice tones, all deftly accented by toasted French oak. Fresh, flavorful, and long in the mouth, the 2005 Domaine Alfred Chamisal Vineyard Chardonnay epitomizes what it means to marry charm to flavor and power. Long, lingering, fresh, and extremely well balanced, one could drink this wine all night long and never tire of it. Up front, the 2005 Chamisal Vineyard is all California, but on the finish it is long, pure, spicy, and every bit as dry as the finest white Burgundy. We suggest only moderate chilling of this outstanding Chardonnay (about 40° F) before consumption, but patient Chardonnay fans may wish to reap the reward of additional pleasure and flavor by allowing this wine to linger awhile in the glass. Like all great Chardonnay wines, the Chamisal Vineyard benefits from a few minutes of aeration.
What does one serve with the 2005 Domaine Alfred, Chamisal Vineyard Chardonnay? How about just about anything one's heart desires. However, Terry Speizer's wines are so distinct and flavorful that one would do well to build a meal around his wines, rather than plan the wines around a meal, and this is especially true for Speizer's flagship Chardonnay from the renowned Chamisal Vineyard. With that said, the 2005 Domaine Alfred Chamisal Chardonnay makes a truly a majestic companion to an elegant dinner party or special family gathering. It will highlight flavorful cheeses and hors d'oeuvres as well as fish, fowl, and pork. So, whether it is smoked salmon with all of the accoutrements, a sweet onion tart made with Vermont White Cheddar, or grilled grouper with a mango salsa, the 2005 Chamisal Vineyard Chardonnay is sure to shine. Additional serving suggestions with the 2005 Chamisal Vineyard Chardonnay include crawfish bisque with country ham, fresh shrimp and lobster spring rolls, and slowly grilled pork chops with juniper and sage roasted new potatoes. And if none of these suggestions strikes a chord, Domaine Alfred's Chamisal Chardonnay is so enjoyable and easy to drink on its own that it constitutes a meal in itself, so feel free to indulge your taste buds, unfettered. Enjoy!
From the very first time we tasted Terry Speizer's wines, we knew they were special and we had better act fast. Moreover, we were certain that Domaine Alfred would not remain under the critic's radar for long, and we were right. Nonetheless, in spite of the great demand for every drop of Chardonnay and Pinot Noir from this meticulous estate, we are pleased to present Domaine Alfred's 2005 Chamisal Vineyard Chardonnay, the winery's premier estate-bottled Chardonnay. Located in the cool Edna Valley of San Luis Obispo, Domaine Alfred is blessed by the wonders of the Central California coast environment, which include a long growing season, idyllic soil, and a perfect climate. In other words, great terroir! Moreover, all of Domaine Alfred's wines are estate bottled, with most of the grapes emanating from the winery's historic Chamisal Vineyard. Chamisal, the first vineyard in Edna Valley, was originally planted in 1972. Purchased by the ingenious Terry Speizer in 1994, Chamisal, a then dormant vineyard, was replanted with six clones of Pinot Noir and five clones of Chardonnay on a total of 60 acres. Subsequently, an additional Chardonnay clone was added, followed by four clones of Syrah planted on an additional 14 acres. In 2000, Grenache and Pinot Gris were introduced into Chamisal and an additional 8 acres of Pinot Noir were planted. The original Chamisal clone of Chardonnay has also been reintroduced into this historic vineyard. An innovative fellow, Terry Speizer is a consummate perfectionist and a great Chardonnay and Pinot Noir winemaker. And as is the case with most exceptional winemakers, Speizer's philosophy is quite simple. "The grapes are the soul of our wine," Speizer states emphatically. "If we do an exceptional job on the soul, then all we have to do is give it heart." And what a heart Speizer and his staff at Domaine Alfred have put into each of the eight vintages this property has released to date, beginning with the winery's inaugural 1998 vintage. Such work has tempted some to call Speizer the "Wizard of Oz," for each of his wines displays heart as well as brains and courage. Chardonnay: The World's Most Celebrated White Wine Chardonnay is the most widely cultivated white varietal on the planet. Twice each year at harvest time (because the seasons are reversed in the northern and southern hemispheres) in its native France and in countless locales throughout the world, Chardonnay grapes command premium prices. In tribute, Chardonnay produces the finest, most flavorful dry white wines on the planet to which writers and connoisseurs devote countless columns and untold hours exalting its virtues and dissecting its flavors. Whether it be from Chablis or Champagne, Napa or McLaren Vale, or from the most illustrious of vineyards perched atop the slopes of Corton and Montrachet, Chardonnay is the yardstick by which all other dry white wines have come to be measured. From its origins in the Burgundy region of France, Chardonnay has traveled the globe. Today, Chardonnay is produced on all continents, except Antarctica. In numerous locales Chardonnay produces outstanding wine that reflects in every detail the soil and the climate (terroir) in which it is grown. However, in California a few areas stand out for quality, and in the last decade none has been more successful than Santa Barbara and Sonoma counties and central California's Edna Valley. With food, Chardonnay is a peerless match. Chablis-style Chardonnays provide superb complements in the company of seafood. And fuller, fleshier Chardonnay wines, typified by the best Australian and Californian versions, can more than hold their own with more complex fare, rich cream sauces, and meats. Moreover, the finest Chardonnay wines shine on their own, requiring nothing but a clean glass to please the palate. Enjoy!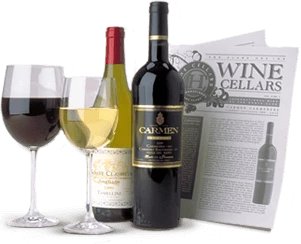 Enjoy Limited Production Estate
Bottled Wines
Discover limited production estate bottled wines such as Vergenoegd's internationally
acclaimed 2005 Cabernet Sauvignon, imported exclusively for our members.
DISCOVER OUR FOUR CLUBS