Dog Point is widely touted as New Zealand's premier producer of Sauvignon Blanc for good reason. Healy and Sutherland spare no pains in fashioning their wines, especially the vineyard's iconic Section 94 Sauvignon Blanc. Once again the 2014 Dog Point Section 94 Sauvignon Blanc affirms the estate's preeminence with this grape, garnering many 90+ point ratings including 95 Points from James Suckling, 94 Points from Robert Parker's Wine Advocate, and more. The 2014 Section 94 is an intense, no holds barred, barrel-fermented Sauvignon Blanc that blows the top off the usual fare one sees from New Zealand and elsewhere. Built to last along the lines of the greatest Bordeaux Graves, the 2014 Dog Point Section 94 offers seductive aromas and a cornucopia of resplendent, complex flavors. White flowers, orchard fruits, lime zest, lemon verbena, and more come to fore in this full-bodied Sauvignon Blanc. Add a creamy texture infused with a refreshing stony minerality and the 2014 Dog Point positively sings from the glass. It also finishes with verve and vigor in a crescendo of flavors. The wine is mature now, though we have no doubt that it will continue to drink well for at least several more years as decade-old Section 94s are still drinking beautifully. For optimal enjoyment, we suggest affording the 2014 Section 94 Sauvignon Blanc a moderate chill (40°-45° F) and 10-15 minutes of aeration before serving. Enjoy!
We have no doubt that tried and true Sauvignon Blanc aficionados will relish the 2014 Dog Point Section 94 all by itself. But why settle for half the pleasure? New Zealanders don't. Dog Point's Section 94 makes its appearance at nearly all the top restaurants in New Zealand. Why? New Zealanders love their food as well as their Sauvignon Blanc, and in that other land "down under," food and Sauvignon Blanc are nearly synonymous. For starters, crustaceans, mollusks, and just about anything edible that comes from the sea is sure to be elevated in the presence of Dog Point's 2014 Section 94 Sauvignon Blanc. Certainly, a bowl of New Zealand Green Tip Mussels are a perennial favorite as are clams and oysters, steamed, roasted, or on the half shell. For those who prefer fish, a simple filet of cod or flounder, baked with white wine, garlic, herbs and mustard provides a fine accompaniment. For more adventuresome gourmands, we suggest spicy chorizo mussels served with garlic bread. Herb crusted shrimp or prawns provide other tasty treats. The 2014 Section 94 will more than do justice to a lobster dinner, too. For those who eschew seafood, Dog Point's exceptional Section 94 Sauvignon Blanc also pairs magnificently with white meats, marinated chicken and pork, as well as mild curries. Much like its predecessors, the 2014 Section 94 Sauvignon Blanc is no wilting flower, so no worries about it fading in the face of a little heat or spice. Bon Appétit!
James Healy and Ivan Sutherland are the heart and soul of the Dog Point Vineyard. Both helped make Cloudy Bay a household name nearly two decades ago when Cloudy Bay was a Marlborough benchmark. They served as winemaker and vineyard manager respectively. They began Dog Point Vineyard to make their own style of wine and establish Dog Point as the 'ne plus ultra' of Marlborough. And what wines they make! In less than a half dozen vintages, James, Ivan, and their wives, Margaret and Wendy, created benchmark Chardonnay and Pinot Noir in addition to the finest New Zealand Sauvignon Blanc we have ever tasted.
Dog Point uses well-established old vines from which yields have been strictly limited. This practice results in an optimal flavor profile in each of the estate's wines. In addition, only natural yeasts are employed, adding to the complexity of the wines. The results of Dog Point's meticulous practices are clearly evident in the rich, flavorful, and highly textured products they send to our table.
Dog Point derives its name from the stark hills overlooking Marlborough's Wairau Valley, where in times past packs of wild dogs would roam and attack the flocks of sheep that grazed on the hills. Dog Point is also home to one of New Zealand's national treasures, the indigenous "ti kouka" or cabbage tree, whose image graces all of Dog Point's labels.
Marlborough is situated on the northern tip of New Zealand's mystical South Island, where it enjoys a unique dry maritime climate. High mountains isolate this enchanted land from the cold alpine interior of the rest of the South Island, while the spectacular Marlborough Sound to the north provides a conduit to the sea as well as the planet's most majestic view of New Zealand's North Island as it soars skyward across the swells of Wellington Straits – a sight that ranks as one of the world's most stunning vistas. Moreover, Marlborough is about as close to viticultural paradise as one can find, especially for Chardonnay, Sauvignon Blanc, and increasingly Pinot Noir.
Marlborough's long, sunny, but not excessively hot growing season provides nearly ideal conditions for grape growing. The average summer daytime temperature hovers between 24° C and 28° C (72°-80° F) depending upon one's altitude and proximity to the sea. The air is crystal clear and the light luminous, with nary an overcast day let alone much rain during the long growing season. Cool nights keep acid levels high in the grapes, even as sugar levels rise abruptly. Such conditions lend themselves to an extended growing season and provide slow, even ripening and extended hang time for the grapes. The result is ripe, healthy fruit, with fresh, vibrant flavors and the ability to develop subtle complexity over time.
In addition to its superb summer climate, Marlborough also boasts excellent soil for grapes. Most of Marlborough consists of silt and free-draining alluvial loams over gravelly sub-soils. In addition, river stones lie scattered throughout Marlborough, remnants of the many rivers that once coursed through the pretty valleys of Marlborough. These river stones store heat from the warm sunny days and radiate that heat back into the vineyards at night, thereby providing a unique microclimate and terroir, much like that of Châteauneuf-du-Pape. Moreover, most Marlborough growers are committed to sustainable agricultural practices in order to preserve the region's noble terroir. And the French thought they had a monopoly on terroir; we think not!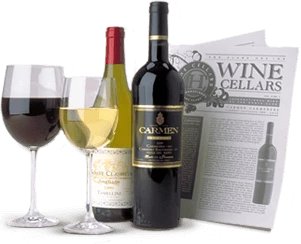 Enjoy Limited Production Estate
Bottled Wines
Discover limited production estate bottled wines such as Vergenoegd's internationally
acclaimed 2005 Cabernet Sauvignon, imported exclusively for our members.
DISCOVER OUR FOUR CLUBS