As a super premium New Zealand Sauvignon Blanc, the 2006 Dog Point Vineyard Marlborough Sauvignon Blanc captures all that the mercurial Sauvignon Blanc variety has to offer. In fact, the 2006 Dog Point provides a smorgasbord of Sauvignon Blanc scents and savors that recall the best of the world's Sauvignon Blanc based wines from around the globe. In short, there is nothing ordinary about this wine, with the possible exception of the label at first glance. And frankly, none of us can or should ever drink a label or a price tag anyway. Fortunately for us, Dog Point puts all of its effort into what is in the bottle: a combination of tropical fruit flavors, gooseberry, delicate herb, subtle mineral tones, and a tender texture that allows this wine to slide down easily and make the tongue beg for more. Indeed, this is one suave sophisticated Sauvignon Blanc that combines the passion fruit flavors of the finest New World Sauvignon Blanc wines with the aristocratic charm of the noblest French Graves. Dry, long, layered, and deep, the 2006 Dog Point Sauvignon Blanc may be the finest Marlborough Sauvignon Blanc we have ever tasted. Enjoy this wonderful summer time wine moderately chilled (40°-45° F), and often.
In New Zealand, one is never too far from the sea or the exquisite and varied seafood that graces the tables of this clean, green, and stunningly beautiful country. Hence, fish, mollusks, and other fruits of the sea in all their glory are the primary accompaniments to this island nation's finest Sauvignon Blanc. Consequently, the 2006 Dog Point Vineyard Sauvignon Blanc is superb with New Zealand Green Tip Mussels, prepared any way you can image. For adventuresome gourmands, we suggest Spicy Chorizo Mussels, served with garlic bread Herb crusted shrimp provides another tasty treat. For those who eschew seafood, this wonderful Sauvignon Blanc will also enliven Grilled Herb Chicken Salad and elevate simple appetizers to the status of delectable treats, so why not consider the 2006 Dog Point Sauvignon Blanc with Endive Spears and Herbed Goat Cheese or simply serve it with St. AndrÉ Cheese and plain crackers? No need to fuss as this wine already shines on its own; food just doubles the pleasure. Enjoy!
James Healy and Ivan Sutherland are the heart and soul of the Dog Point Vineyard. Both left well-known Cloudy Bay, where they served as winemaker and vineyard manager respectively, to begin Dog Point Vineyard and make their own style of wine. And what wines they make. In just three vintages, James, Ivan, and their wives Margaret and Wendy have created benchmark Chardonnay and Pinot Noir in addition to the finest New Zealand Sauvignon Blanc we have ever tasted. Dog Point uses only older, well-established vines from which yields have been strictly limited. This practice results in an optimal flavor profile in each of the estate's wines. In addition, only natural yeasts are employed, adding to the complexity of the wines. The results of Dog Point's meticulous practices are clearly evident in the rich, flavorful, and highly textured products they send to our table. Dog Point derives its name from the stark hills overlooking Marlborough's Wairau Valley, where in times past packs of wild dogs would roam and attack the flocks of sheep that grazed on the hills. Dog Point is also home to one of New Zealand's national treasures, the indigenous "ti kouka" or cabbage tree, whose image graces the winery's labels.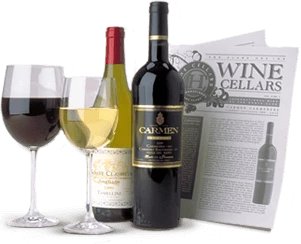 Enjoy Limited Production Estate
Bottled Wines
Discover limited production estate bottled wines such as Vergenoegd's internationally
acclaimed 2005 Cabernet Sauvignon, imported exclusively for our members.
DISCOVER OUR FOUR CLUBS