: In the past two decades, New Zealand has completely transformed its winemaking practices and moved to the forefront of wine-producing nations. Furthermore, this island nation's wines are beginning to set the bar worldwide on quality as well as variety, especially when it comes to premium white wines. In particular, recent releases of New Zealand Chardonnay embody real purity of fruit and a refreshing vibrancy, but they also offer breed, elegance, flavor, and a taste of terroir every bit the match for fine white Burgundy. And, indeed, the 2006 Dog Point Marlborough Chardonnay gives testimony to New Zealand's newfound prowess with Chardonnay. For starters, this wine provides a pretty, sun-kissed robe and a smorgasbord of savory scents to beguile the nose. Not unlike Premier Cru Meursault, the 2006 Dog Point Chardonnay offers up an enchanting nose of freshly baked bread, apple, fig, peach, and caramel, all infused with a delectable cachet of vanilla and spice. Textured, layered, and ripe with pure fruit, the wine caresses the palate and unfolds slowly and seductively in the mouth. Neither big nor brawny, it never overpowers. However, it will linger and develop in the glass for as long as you can bear the pleasure. Moreover, the second glass will eclipse the first – the surest sign of great Chardonnay. The 2006 Dog Point Chardonnay is truly one of the finest Marlborough wines we have ever tasted. Enjoy this beautiful Chardonnay moderately chilled (40º-45º F), and often.
In New Zealand, one is never too far from the sea or the exquisite and varied seafood that graces the tables of this clean, green, and stunningly beautiful country. Hence, the fruits of the sea in all their glory provide ample accompaniments to the 2006 Dog Point Chardonnay. For our tastes, crab, crayfish, salmon, and lobster offer a wealth of flavors to pair with the Dog Point Chardonnay. Soft-shell crab in season or a whole steamed lobster with drawn butter provides incomparable companionship to this wine. However, this premier Chardonnay from Dog Point is a match for plenty of other foods, too, including classic French cuisine. Sautéed Veal Medallions, Quail in Puff Pastry, and Escalloped Chicken with Avocado all get our nod, as well. For those wishing to savor the Dog Point Chardonnay unencumbered, we suggest a plate of soft, rich cheeses that includes Pont-l'Evêque, Port Salut, and St. André as the only accompaniments. These cheeses provide a simple, tasty way to enjoy this superb Chardonnay.
James Healy and Ivan Sutherland are the heart and soul of Dog Point Vineyard. Both left well-known Cloudy Bay, where they served as winemaker and vineyard manager, respectively, to begin Dog Point Vineyard and make their own style of wine. And what wines they make! In just three vintages, James, Ivan, and their wives Margaret and Wendy have created benchmark New Zealand Sauvignon Blanc and some of the finest New World Chardonnay and Pinot Noir we have tasted in a very long time Dog Point uses only mature, well-established vines from which yields are strictly limited. This practice results in an optimal flavor profile in each of the estate's wines. In addition, only natural yeasts are employed, adding to the complexity of the wines. The results of Dog Point's meticulous practices are clearly evident in the rich, flavorful, and highly textured wines they send to our table. Dog Point derives its name from the stark hills overlooking Marlborough's Wairau Valley, where in times past packs of wild dogs would roam and attack the flocks of sheep that grazed on the hills. Dog Point is also home to one of New Zealand's national treasures, the indigenous "ti kouka" or cabbage tree, whose image graces all of Dog Point's labels. Marlborough: New Zealand's Mythical Land of Vines Marlborough is situated on the northern tip of New Zealand's mystical South Island, where it enjoys a unique dry maritime climate. High mountains isolate this enchanted land from the cold alpine interior of the rest of the South Island, while the spectacular Marlborough Sound to the north provides a conduit to the sea as well as the planet's most majestic view of New Zealand's North Island as it soars skyward across the swells of Wellington Straits – a sight that ranks as one of the world's most stunning vistas. Moreover, Marlborough is about as close to viticultural paradise as one can find, especially for Chardonnay, Sauvignon Blanc, and, increasingly, Pinot Noir. Marlborough's long, sunny, but not excessively hot growing season provides nearly ideal conditions for grape growing. The average summer daytime temperature hovers between 24° C and 28° C (72° - 80° F) depending upon one's altitude and proximity to the sea. The air is crystal clear and the light luminous, with nary an overcast day let alone much rain during the long growing season. Cool nights keep acid levels high in the grapes, even as sugar levels rise abruptly. Such conditions lend themselves to an extended growing season and provide slow, even ripening and extended hang time for the grapes. The result is ripe, healthy fruit, with fresh vibrant flavors and the ability to develop subtle complexity over time. In addition to its superb summer climate, Marlborough also boasts excellent soil for grapes. Most of Marlborough consists of silt and free-draining alluvial loams over gravelly sub-soils. In addition, river stones lie scattered throughout Marlborough, remnants of the many rivers that once coursed through the pretty valleys of Marlborough. These river stones store heat from the warm sunny days and radiate that heat back into the vineyards at night, thereby providing a unique microclimate and terroir, much like that of Châteauneuf-du-Pape. Moreover, most Marlborough growers are committed to sustainable agricultural practices in order to preserve the region's noble terroir. And the French thought they had a monopoly on terroir; we think not!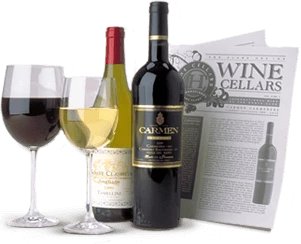 Enjoy Limited Production Estate
Bottled Wines
Discover limited production estate bottled wines such as Vergenoegd's internationally
acclaimed 2005 Cabernet Sauvignon, imported exclusively for our members.
DISCOVER OUR FOUR CLUBS