The medium-bodied 2012 Denis Dutron Mâcon-Fuissé offers everything classic white Burgundy from the fabled Mâconnais has to offer. It begins the enchantment with a brilliant, sun-kissed robe, but even better is the wine's enticing bouquet of freshly picked mountain apples, tropical fruits and oven baked bread. In the mouth, creamy, buttery flavors meld beautifully with the wine's pure, natural fruit. Pinpoint precision and a racy refreshing minerality round out the wine's palate appeal and provide for a clean lingering finish. For optimal enjoyment, we suggest a moderate chill (about 40° F) before serving, though many will prefer this excellent Mâcon-Fuissé at a more ambient temperature, so as you like it.
Denis Dutron's outstanding 2012 Mâcon-Fuissé provides the quintessential aperitif. It also provides the perfect foil to hors d'oeuvres, gourmet cheeses, white pizzas and almost anything that once swam in the sea. Scallops, crab, and shrimp constitute some of our favorite pairings with this Mâcon-Fuissé. Flounder, grouper, mahi mahi, and sea bass offer other fine choices with Denis Dutron's Mâcon-Fuissé. A thin crust white pizza with shitake mushrooms, Taleggio cheese and black truffles makes a superb companion to this wine as well. Light creamy pastas and healthy garden salads topped with grilled chicken offer other excellent accompaniments to this beautiful Mâcon Chardonnay. Bucheron, Edam, Port Salut, and most other soft, cow's milk cheeses provide excellent, easy to prepare accompaniments to Denis Dutron's tasty Macon-Fuissé as well. Enjoy!
The Dutron family founded the present wine estate Château Vitallis in 1835. Château Vitallis is one of the few "large" estates in the picturesque wine country of southern Burgundy known as the Mâconnais. Although large by local standards, the estate cultivates a mere 26 acres of vines. Since 1981, the estate has been run with expert care by Denis Dutron.
The estate is renowned for its old vines, many of which are in excess of 65 years of age, with the average age of vines in excess of 35 years. The château's vineyards are situated on the premier slopes of the region, all facing southeast at an altitude of up to 900 feet in the premier villages of Fuissé and Solutré. Just three wines are entitled to bear the name Denis Dutron: Pouilly-Fuissé, Macon-Fuissé, and Macon-Vinzelles.
Denis Dutron uses traditional methods in the vineyards. He employs natural ground cover and sustainable methods of cultivation instead of chemical fertilizers and herbicides. In the cellar he uses stainless steel vats and employs temperature-control to assure a long cool fermentation, which results in beautiful fresh fruit aromas and flavors in each of his wine. Denis Dutron's wines regularly garner medals in French wine competitions.
The wines from the villages around Mâcon are the most popular white wines of France's fabled Burgundy region. They draw their name from the small city of Mâcon in southern Burgundy and the 26 distinct villages from which the appellation's bright, delicate Chardonnay wines flow. The fine wine villages of the Mâconnais are a hilly, rural part of Burgundy. Lucky for us the wines of Mâcon-Villages are born on the region's limestone subsoil, which help distinguish the appellation's wares from less favored locales. Here, Chardonnay reigns supreme and accounts for more than 90% of the entire region's production. Pouilly-Fuissé, St. Véran, Mâcon-Fuissé and several other renowned Mâcon appellations are considered the stars of the region and are entitled to their own individual appellation.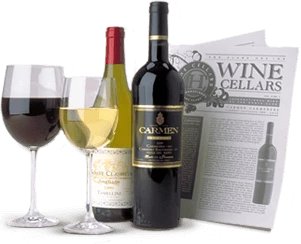 Enjoy Limited Production Estate
Bottled Wines
Discover limited production estate bottled wines such as Vergenoegd's internationally
acclaimed 2005 Cabernet Sauvignon, imported exclusively for our members.
DISCOVER OUR FOUR CLUBS