The scion of one of the finest vintages in Stellenbosch in recent memory, the 2020 DeMorgenzon DMZ Chardonnay offers a classic, yet refined example of Stellenbosch Chardonnay. It opens with an amplifying bouquet of stone fruits, white peach, and creamy vanilla tones. In the mouth, it graces the palate with a delightful mélange of poached pear, white peach, and lightly buttered brioche, all wrapped in a finely textured patina of smooth oak tempered by a delightful chalky minerality. A touch of lime zest keeps this Chardonnay balanced and fresh to the finish. Enjoy the 2020 DeMorgenzon DMZ Stellenbosch Chardonnay now and often! Serve chilled to 40°-45° F. Anticipated maturity: 2021-2023.
The suave and sophisticated 2020 DeMorgenzon DMZ Chardonnay hardly needs an accompaniment, but we believe this delightful Chardonnay, like the finest wines, enhances food and truly shines at table. Place it in the company of Slow Roasted Salmon with Fennel and Lime, or Veal Medallions with a Creamy Mushroom Sauce, and enjoy the magic. Coq au Vin Blanc (Chicken in White wine) makes another winning accompaniment with DeMorgenzon's 2020 DMZ Chardonnay. In fact, most white fish and shellfish provide excellent companions to this fine Chardonnay, providing they are fresh and prepared with savory, rather than piquant sauces. Salads and charcuterie boards with a selection of creamy, rich cheeses from cow's milk make excellent companions, too, but as you like it. Bon Appétit!
It has been said that all wine estates on South Africa's Western Cape are beautiful and possess a unique terroir, which would be difficult indeed to refute. One visit to Stellenbosch and surrounding Winelands, and the case would be closed. With that said, DeMorgenzon, meaning the morning sun in Dutch, has a further claim to fame. It sits high above the Stellenboschkloof Valley and is the first part of the valley to see the morning sun. DeMorgenzon enjoys commanding views of Cape Town, Table Mountain, and the deep rolling blue of the South Atlantic Ocean. It is also in sight of nearby Kanonkop from where a cannon was once fired to alert the settlers in the region that a ship had put into Table Mountain. Since the times even before the early Dutch settlers, what is now called DeMorgenzon has always been a special place.
Founded in 1699, the DeMorgenzon estate is now in the trust of Wendy and Hylton Appelbaum, a dynamic South African couple committed to bettering the lives of all South Africans through educational trusts and a strong commitment to biodiversity and an ecologically sensitive environment at DeMorgenzon. The estate's 224-acre garden, of which 135 acres are under vine, serves as a model for wineries around the world. From DeMorgenzon's vineyards flow award-winning world-class Chardonnay, Chenin Blanc, Sauvignon Blanc, Syrah, and multiple red and white blends from a host of the world's finest grape varieties. We invite you to begin your exploration of DeMorgenzon's garden with this month's feature, the 2020 DeMorgenzon DMZ Chardonnay.
South Africa has had a thriving wine industry since the 17th century, but only now is the rest of the world taking notice. Quality and innovation push the envelope, and values abound. Nowhere in South Africa is their more to delight wine lovers than in the much heralded Winelands of Stellenbosch.
Located on the Western Cape less than an hour north of Cape Town, the picture postcard town of Stellenbosch and the surrounding mountains form a dramatic backdrop for what has justly been heralded as the most beautiful wine country in the world. Although some may try to refute that claim and promote the various picturesque merits of other world renowned wine regions, what is not in question is the integral role Stellenbosch has played for more than three centuries in the formation of South African wine. Not only is Stellenbosch South Africa's oldest and most important wine producing region, it is the finest region for red and white wines on the African continent and the source of many of the world's greatest wine values.
Stellenbosch is South Africa's Napa, Sonoma, and Santa Barbara counties and much more. Stellenbosch contains a myriad of microclimates, which allow for the cultivation of a wide array of grape varieties. Consequently, Stellenbosch is responsible for high quality red and white wines from a host of varietals, including world-class Chardonnay, Chenin Blanc, and Cabernet Sauvignon as well as Sauvignon Blanc, Semillon, Viognier, and of course South Africa's unique varietal, Pinotage, a cross between Pinot Noir and Cinsault. From wineries in Stellenbosch old and new flow an enormous variety of wines that are world-class and wholly unique in character. It is time to discover the unique, incredibly flavorful wines of Stellenbosch – South Africa's crown jewel and the world's most beautiful wine land.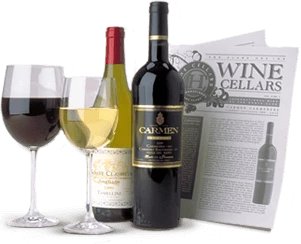 Enjoy Limited Production Estate
Bottled Wines
Discover limited production estate bottled wines such as Vergenoegd's internationally
acclaimed 2005 Cabernet Sauvignon, imported exclusively for our members.
DISCOVER OUR FOUR CLUBS