The 2015 vintage has proven to be a banner vintage for Dei and the estate's highly touted Vino Nobile. Unequivocally, Dei's 2015 Vino Nobile di Montepulciano looks to be their finest to date. The 2015 Dei Vino Nobile sparkles with a brilliant ruby color, while its aroma offers beguiling scents of ripe cherries, blackberries, and plums – all infused with welcome hints of woodland violets and forest floor. Balanced and complex in the mouth with a delightful mélange of red and black fruits, star anise and unsmoked tobacco, the 2015 Dei Vino Nobile di Montepulciano comes across as seamless, yet substantial, with well-integrated fruit, purity of flavor, superb texture, and smooth tannins – all of which account for the numerous 90+ point ratings this wine has received, including 93 points from Wine Spectator. Although wonderful while still in the fresh bloom of youth, the 2015 Dei Vino Nobile has many years of life ahead of it and can be counted on to provide enormous drinking pleasure for up to a decade or more. For optimal enjoyment we suggest thirty minutes of aeration before serving at cool room temperature (58°-62° F).
Veal and beef are traditional Tuscan favorites with Vino Nobile di Montepulciano, but equal credence should be given to lamb, pork, and chicken dishes. Tuscany is a dry, austere landscape, especially in summer and early fall, but it is a fecund land. Its beef is exquisite and its produce legendary for its purity of flavor – all of which provide great complements to Dei's elegant and complex 2015 Vino Nobile di Montepulciano. Florentine Steak, rubbed with extra virgin olive oil and brushed with garlic and herbs, provides splendid companionship. Wild Boar Ragu makes another great pairing. Chicken with Black Olives and Capers served over penne pasta in a light cream sauce is another excellent choice with Dei's outstanding 2015 Vino Nobile. Parmesan Crusted Chicken, served with lightly herbed goat cheese; and savory Lamb Ragout with mushrooms, red peppers, and onions over braised greens and roasted red potatoes, provide other tasty treats with the flavorful medium-bodied 2015 Dei Vino Nobile di Montepulciano. Salute!
The Dei estate lies at the end of a tiny Tuscan road, sequestered from the commercial hoopla that surrounds many other Tuscan wineries. To enter the world of Dei is to step back in time. However, that step is not a retreat to the vagaries of yesteryear as the winery is modern and technologically up to date and the vineyards impeccably maintained. However, the house, the manicured gardens, and the glowing atmosphere are straight out of the 1920s. From its surroundings, Dei recalls the ambiance, comfort and confidence of a bygone era. More importantly, the estate's Vino Nobile reflects the overt charm, grace, and conviviality of its owners.
Dei was founded in 1964 by Alibrando Dei upon the purchase of a parcel of land called Bossona where he planted a vineyard of Prugnolo Gentile, the special clone of Sangiovese that is unique to Vino Nobile. Over the next several decades the family developed the vineyard and sold off the juice in bulk. However, in 1985, Alibrando's son, Galileo, decided to rent a cellar and, with no technical assistance, produced the first family-named commercial vintage. The bottling was such a success that the family built a modern cellar in 1989 and yet another several years ago.
Today, Dei enjoys an enviable reputation, and as the Wine Advocate has so saliently noted, "The powerful and elegant wines of Caterina Dei continue to rank among the leaders of the pack in Montepulciano." Moreover, the estate continues to blossom under the guidance of the third generation, Maria Caterina Dei and oenologist Nicolò d'Aflitto. Caterina gave up her career as a professionally trained singer and actress to embrace the family business and is passionately dedicated to producing high quality Vino Nobile that highlights Vino Nobile's outstanding terroir. The current estate's 38 hectares (84 acres) of vineyard are all located in the historic Vino Nobile di Montepulciano zone and are split between four prized vineyards: Bossona, Martiena, La Ciarliana and La Piaggia. The original Bossona vineyard is located at about 300 meters in an idyllic amphitheatre. It is responsible for Dei's Riserva bottling, while Martiena houses both the cellar and family villa. Production is focused on the local varietals, especially Sangiovese (Prugnolo Gentile), Canaiolo and Mammolo.
Dei produces only about 60,000 bottles of Nobile di Montepulciano, 20,000 bottles of Nobile Riserva (only in the best years), 40,000 bottles of Rosso di Montepulciano and an extremely limited quantity of the highly acclaimed "Super Tuscan" blend, Sancta Catherina from Prugnolo Gentile, Syrah, Cabernet, and Petite Verdot.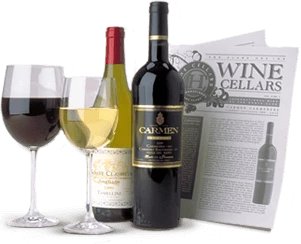 Enjoy Limited Production Estate
Bottled Wines
Discover limited production estate bottled wines such as Vergenoegd's internationally
acclaimed 2005 Cabernet Sauvignon, imported exclusively for our members.
DISCOVER OUR FOUR CLUBS