Caterina Dei and Nicolò d'Aflitto have a knack for turning out elegant, aromatic Rosso di Montepulciano, and Dei's 2012 Rosso di Montepulciano is perhaps the estate's finest to date; as it embodies all the beautiful fruit flavors and soft accessible tannins that make good Rosso di Montepulciano so attractive. Brilliant ruby in color and delightfully aromatic with the scents of wild cherry and delicate hints of cinnamon and other exotic spices, Dei's Rosso di Montepulciano welcomes the eager taster from the moment it splashes into the glass. Add a deft touch of the enchanting fragrance of the timeless Tuscan landscape to this wine's intoxicating olfactory and that is what you can expect to encounter in a glass of 2012 Dei Rosso di Montepulciano. Sipping a glass of this wine is like being transported to the environs of Montepulciano, where sitting under an arbor with the brilliance of the Tuscan sun reigning down conjures all that is good and right in the world. Allow this beautiful Rosso at least 15-20 minutes of aeration to work its magic before serving at cool room temperature (no more than 65° F).
Traditional pasta dishes, beef, and veal are perennial Tuscan favorites with Rosso di Montepulciano, but equal credence should be given to lamb, pork, and chicken dishes. Chicken with black olives and capers in a light cream sauce, served over penne pasta provides an excellent companion to Dei's 2012 Rosso di Montepulciano. Parmesan Crusted Chicken, served with lightly herbed goat cheese; and savory Lamb Ragout with mushrooms, red peppers, and onions, served over braised greens and oven roasted potatoes, provide other tasty treats with the elegant, flavorful 2012 Dei Rosso di Montepulciano. Rigatoni or penne pasta with prosciutto and sausage pairs superbly, too, especially when topped with a tasty Béchamel sauce. Buon Appetito!
The Dei estate lies at the end of a tiny Tuscan road, sequestered from the commercial hoopla that lately surrounds many other Tuscan wineries. To enter the world of Dei is to step back in time. However, that step is not a retreat to the vagaries of yesteryear as the winery is modern and technologically up to date and the vineyards impeccably maintained. However, the house, the manicured gardens, and the glowing atmosphere are straight out of the 1920s. From its surroundings, Dei recalls the ambiance, comfort and confidence of a bygone era. More importantly, the estate's Vino Nobile and Rosso di Montepulciano reflect the overt charm, grace, and conviviality of its owners.
Dei was founded in 1964 by Alibrando Dei upon the purchase of a parcel of land called Bossona where he planted a vineyard of Prugnolo Gentile, the special clone of Sangiovese that is unique to Vino Nobile. Over the next several decades the family developed the vineyard and sold off the juice in bulk. However, in 1985 Alibrando's son, Galileo, decided to rent a cellar and, with no technical assistance, produced the first family named commercial vintage. The bottling was such a success that the family built a new modern cellar in 1989.
Today, Dei enjoys an enviable reputation, and as the Wine Advocate has so saliently noted, "The powerful and elegant wines of Caterina Dei continue to rank among the leaders of the pack in Montepulciano." Moreover, the estate continues to blossom under the guidance of third generation, Maria Caterina Dei and oenologist Nicolò d'Aflitto. Caterina gave up her career as a professionally trained singer and actress to embrace the family business and is passionately dedicated to producing high quality Vino Nobile and Rosso di Montepulciano that highlight the estate's outstanding terroir. The current estate's 38 hectares (84 acres) of vineyards are all located in the historic Vino Nobile di Montepulciano zone and are split between four prized vineyards: Bossona, Martiena, La Ciarliana and La Piaggia. Production is focused on local Tuscan varietals, especially Sangiovese (Prugnolo Gentile), Canaiolo and Mammolo.
Dei produces only about 60,000 bottles of Vino Nobile di Montepulciano, 20,000 bottles of Nobile Riserva (only in the best years), 40,000 bottles of Rosso di Montepulciano and an extremely limited quantity of the highly acclaimed "Super Tuscan" blend Sancta Catherina from Prugnolo Gentile, Syrah, Cabernet, and Petite Verdot.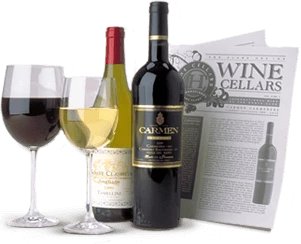 Enjoy Limited Production Estate
Bottled Wines
Discover limited production estate bottled wines such as Vergenoegd's internationally
acclaimed 2005 Cabernet Sauvignon, imported exclusively for our members.
DISCOVER OUR FOUR CLUBS