Cold fermented in stainless steel and neutral French oak before resting in barrel for nine months with minimal malolactic fermentation, the 2008 De Tierra Tin Man Monterey Chardonnay highlights the attributes of the Chardonnay grape rather than the preponderance of oak. Tin Man's bright, fresh, aromatic profile tantalizes the nose with a mélange of brioche, citrus, tropical fruit, and forsythia, a pleasant reminder to those of us fortunate enough to experience the delicious, pre-oak satiated Chardonnays produced during the early years of California's viticultural Renaissance. And like all of De Tierra's wines, the 2008 Tin Man's appeal is immediate and irresistible. The wine's pure fruit flavors happily follow through on the palate, accented by just the right amount of acidic verve to add complexity to the wine's long, seductive finish. For optimal enjoyment, we suggest a moderate chill (40º-45º F) before serving. However, some may prefer this balanced Chardonnay less chilled, even as it begins to warm in the glass . . . but as you like it!
For our tastes, a clean glass is the only accompaniment needed to enjoy the 2008 De Tierra Tin Man Monterey Chardonnay. Yet, seafood appetizers made with crab, crayfish, salmon, or lobster in the company of Tin Man will almost certainly double the pleasure for seafood lovers. And soft-shell crab in season or a whole steamed lobster with drawn butter provides unrivaled companionship to this wine for all but the most stalwart of carnivores. However, this first rate Chardonnay from De Tierra provides an ideal match for many other foods, too, including classic French cuisine. Quail in Puffed Pastry, and Escalloped Chicken with avocado all get our nod as well. For those wishing to highlight Tin Man's attributes with minimal encumbrance, we suggest a plate of soft, rich cheeses that includes Pont L'Evêque, Port Salut, or St. André as the only accompaniments. These cheeses provide a simple, tasty way to enjoy De Tierra's eminently drinkable Chardonnay. Enjoy!
De Tierra Vineyards is situated at the foot of Mount Toro, deep in the Corral de Tierra region of Monterey County. This is Steinbeck country, a magical land between the vaulting Santa Lucia Highlands and the Carmel Valley that John Steinbeck affectionately referred to as "the pastures of heaven." Here owners Tom and Carol Russell and acclaimed winemaker David Coventry turn out an enviable array of wines that evoke images of paradise. Increasingly, a number of small boutique wineries in California are presently fashioning some of the nation's most compelling wines. Such is the case at De Tierra Vineyards where David Coventry works his well-honed magic with Chardonnay, Pinot Gris, Merlot, Pinot Noir, and Syrah. De Tierra, meaning "of the earth," produces 10 different wines in miniscule quantities. Producing hand crafted wines in lots of just several hundred cases allows winemaker and partner David Coventry little room for error, but then challenge is what the gregarious, unassuming Coventry thrives upon. Dave uses traditional Burgundian practices for the winery's formidable Chardonnay and Pinot Noir, while De Tierra's outstanding Monterey Syrah offers more than a match for the powerful Syrah based wines of France's Northern Rhône Valley. Add a crisp, Alsatian style of Pinot Gris and a knockout Merlot, and De Tierra seems to have all the bases covered.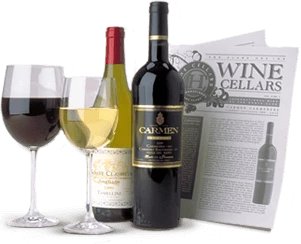 Enjoy Limited Production Estate
Bottled Wines
Discover limited production estate bottled wines such as Vergenoegd's internationally
acclaimed 2005 Cabernet Sauvignon, imported exclusively for our members.
DISCOVER OUR FOUR CLUBS