The 2001 De Solminihac Chardonnay goes a long way to redefining the consumer's notion of Chilean Chardonnay. This Burgundian style Chardonnay was barrel fermented sur lie in French oak for a full six months before bottling. Don Emilio's flagship Chardonnay boasts a pale yellow robe and an exuberant bouquet, reminiscent of good Meursault. Floral, butter, hazelnut, and vanilla scents all waft from the glass. On the palate the 2001 De Solminihac Chardonnay is well defined and complex, as each sip recalls yet another gustatory note. Apple, apricot, dried peach, citrus, and spring flowers all play a part in the symphonic harmony of this private reserve Chardonnay. Rich, well balanced, and very persistent, this medium to full-bodied Chardonnay is already delicious, but it will most certainly improve further in bottle for at least another couple of years. We suggest serving it between 40° – 50° F.
The 200l De Solminihac Chardonnay is classic Chardonnay, and classic Chardonnay deserves classic food, or at least the very best fare one can bring to the table. Why not try Lobster Stuffed Ravioli, tossed in Champagne sauce with grilled shrimp, with Don Emilio's classic Chardonnay. It's simply delicious. A plain steamed lobster in drawn butter or seared scallops in a savory cream based sauce constitute other outstanding pairings. Poached salmon, sea bass, and tilefish are other classic marriages that are bound to succeed with the 2001 De Solminihac Chardonnay as well. And for contrarians or those who would rather die than eat what comes out of the briny deep, there is always chocolate, specifically in the form of chocolate truffles filled with Chardonnay. Indeed, such morsels do exist. For more great chocolate accompaniments, we invite you to visit our international chocolate of the month club at www.chocolatemonthclub.com
Emilio de Solminihac, more affectionately known as Don Emilio to a burgeoning legion of young Chilean winemakers, is the guardian of traditional winemaking in Chile and one of South America's finest winemakers. He is also an affable gentleman who seems cut from a bygone age. Like most winemakers of his generation, Don Emilio received his first training in wine as a young man while working in his grandfather's vineyard and winery. Later he would graduate from the Universidad de Chile with a degree in agricultural engineering, and subsequently depart for France, where he would study at the Université de Bordeaux under the legendary Emile Peynaud – France's most renowned oenologist. While attending the Université de Bordeaux, Emilio earned that venerable institution's esteemed degree in oenology, the first Chilean to do so. Today, Emilio de Solminihac is revered as much for his legacy of fine, age worthy wines as he is for his numerous oenological innovations – many of which have helped to transform the Rapel Valley into the Napa Valley of Chile. Don Emilio's long collection of wines include splendid Sauvignon Blanc, Semillon, Chardonnay, and a limited quantity of South America's finest Riesling as well a host of revered reds, not which the least is the estate's excellent Bordeaux-style Cabernet Sauvignon. Yet, Don Emilio's most appealing legacy remains the limited production of Chardonnay, Merlot, or Cabernet Sauvignon that is bottled under the De Solminihac label. These complex, age worthy wines are as endearing as they are enduring, and they go a long way to dispel the notion that Chilean wines don't age in the bottle or develop the portfolio of secondary characteristics that wine critics generally refer to as complexity. Try a De Solminihac wine, Don Emilio's private reserve, and enjoy the legacy.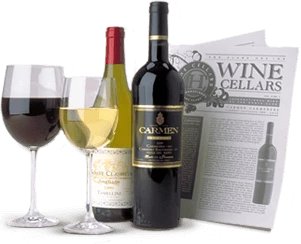 Enjoy Limited Production Estate
Bottled Wines
Discover limited production estate bottled wines such as Vergenoegd's internationally
acclaimed 2005 Cabernet Sauvignon, imported exclusively for our members.
DISCOVER OUR FOUR CLUBS