Born on the volcanic hills of Vesuvius, the 2001 De Angelis Bianco Lacrima Christi captures every bit of the flavor and subtle complex tones that volcanic soil can impart to a dry white wine. Bright in color, golden rays of sunshine burst from a glass of this wine followed by subtle scents of blossoms, mineral, lemon zest and the sea, resplendent with its restorative freshness. Clean sophisticated flavors that underscore the wines bouquet carry through in this Lacrima Christi; culminating in a long, dry refreshing finish that cleanses the palate. We suggest serving the De Angelis Bianco Lacrima somewhere between ice cold and cool cellar temperature (40°-55° F). Enjoy!
Traditional Campanian fare is the local favorite with the 2001 De Angelis Bianco Lacrima Christi del Vesuvio. And certainly spicy fish stews, fried calamari, mozzarella sticks, and thick rockfish filets, which are smothered in savory tomato based sauces make splendid accompaniments to the De Angelis Lacrima Christi. Steamed clams, mussels, and oysters provide other fine accompaniments to this wine, even when paired with a mildly piquant cocktail sauce. Guacamole, Caesar Salad, tapas, and most hors d' oeuvres will provide additional tasty companions to the 2001 De Angelis Lacrima Christi. This flavorful Lacrima also makes for a lovely aperitif, especially when accompanied by a spring breeze or the sound of the sea, or both. Buon Appetito!
Located on the foothills of Mount Vesuvius, bordering majestic Sorrento Bay, the Azienda Agricola De Angelis is situated in the prettiest part of the Campania. The Campania Felix, meaning the 'joyous country' or the 'face with an open smile,' is the ancient province of the Roman Empire that sits just south of Rome and neighboring Latium. Like its name implies, this region produces friendly, gregarious wines, and none is more exemplary of the good nature and open character of the land and people of the Campania than the De Angelis Bianco Lacrima Christi. The estate's owners, the DeAngelis Brothers, typify the unparalleled character of their enchanted region. From barely twenty acres of hillside vineyards they produce, with the help of Oenologist Angelo Valentino, the two mythical wines of Sorrento: Rosso Lacrima Christi and Bianco Lacrima Christi. Lacrima Christi means 'tears of Christ,' and as legend has it the wines of this area of Vesuvius were so named because here, it is said, that Lucifer was cast out of heaven, causing Christ to weep. The Bianco Lacrima Christi is the product of two native varietals, Coda di Volpe and Falanghina, which produce a fine, fragrant white wine that is prized for its flavor as well as its finesse. Meanwhile, the Rosso Lacrima is the result of the local Piedirosso grape, married to a lesser portion of Aglianico, one of the ancient grapes that the Greeks brought to southern Italy more than 2500 years ago.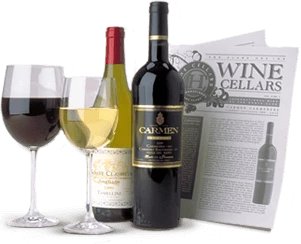 Enjoy Limited Production Estate
Bottled Wines
Discover limited production estate bottled wines such as Vergenoegd's internationally
acclaimed 2005 Cabernet Sauvignon, imported exclusively for our members.
DISCOVER OUR FOUR CLUBS