David Finlayson's 2018 Pepper Pot (90 Points – Tim Atkin, MW) is a delicious Rhône style blend (57% Shiraz, 24% Mourvèdre, 10% Tannat, 5% Cinsault, 3% Grenache, 1% Carignane) that emanates from Paarl and Stellenbosch, South Africa's two most renowned appellations. David has always had a knack for producing pure, delicious Rhône style wines, but his 2018 Pepper Pot truly hits the mark. Savory notes of blackberry, mulberry, and exotic spices greet the nose. Equally rewarding is Pepper Pot's smooth, rich, mouth-filling flavors in the form of ripe berry fruits, cacao, and savory forest notes. Robust in flavor but smooth in texture, the 2018 David Finlayson Pepper Pot blows away many more expensive Côtes-du-Rhônes. Afford it a bit of aeration to reveal its ultimate charm and complexity, and taste why David Finlayson is one of South Africa's premier winemakers and Pepper Pot one of the planet's great values. For optimal enjoyment we suggest serving David Finlayson's 2018 Pepper Pot cool (58°-62° F) after 10-15 minutes of aeration. Anticipated maturity: 2020-2023. Enjoy!
This 2018 David Finlayson Pepper Pot is enticing and ready to accompany a whole host of eclectic dishes. Our tasting panels will attest to enjoying it on its own, but the pure berry flavors and savory notes of the 2018 Pepper Pot make it an ideal choice to accompany flavorful, highly charged dishes. Pork, veal, game, and hearty vegetable dishes enhance the allure of Pepper Pot, which is fashioned to accompany the spicy, one pot dishes common to South Africa. Braised Beef Sliders with a spicy sauce, Venison Carpaccio with lightly dressed wild arugula, Indian Lamb Curry, and Chicken Chili with black beans provide especially tasty accompaniments to this wine. Roast Loin of Pork with black olives and Mediterranean herbs also offers fine companionship to David Finlayson's savory Pepper Pot. And of course, the finest cheeses and specialty pizzas also make splendid companions to the 2018 Pepper Pot. Bon Appétit!
David Finlayson and his family's Edgebaston Stellenbosch wine estate have become synonymous with modern winemaking in South Africa. Originally from Scotland, the Finlayson family has for three generations made outstanding wines in Stellenbosch and has in recent years been instrumental in transforming the Cape wine industry from a dwindling domestic business to a thriving international venture receiving worldwide acclaim. Recently, after much prompting, David Finlayson is bottling his family's Edgebaston estate wines under this own name to much deserved critical acclaim.
The Finlayson family is often cited as South Africa's first family of wine for their impressive credentials and multigenerational contributions to the South African wine industry. David's father Walter made wine at South Africa's Blaauwklippen winery for more than 15 years where he twice garnered "Diner's Club Winemaker of the Year" awards in addition to a host of other prestigious awards. While still at Blaauwklippen, Walter purchased the now renowned Glen Carlou farm in Paarl, which he and son David transformed into one of South Africa's leading wineries. Subsequently, Walter has become best known for producing South Africa's wine of the year in 2005.
David continues the family's winemaking legacy. In addition to his award winning work at Glen Carlou, David Finlayson honed his winemaking skills at a number of prestigious addresses. David performed winemaking stints at Peter Lehmann, one of Australia's iconic wineries, and in France at world renowned Château Margaux before returning to South Africa. In 2003 Walter and David sold their shares in Glen Carlou and purchased what is now Edgebaston, a beautiful estate on the hills overlooking Stellenbosch, South Africa's premier appellation and burgeoning wine town. From the beginning, critics have lauded David Finlayson and Edgebaston's award winning wines for their quality, value and innovation, and we count the Finlaysons and their Edgebaston estate among our best finds. Apparently, we are not alone as critics have latched on to David Finlayson's expertise and continue to laud David's superb Pepper Pot Rhône blend (this month's feature) as well as his outstanding Chardonnays, Chenin Blancs, and Cabernet Sauvignons with multiple 90+ point ratings.
Located on the Western Cape less than an hour north of Cape Town, the picture post card town of Stellenbosch and the surrounding mountains form a dramatic backdrop for what has been heralded as the most beautiful wine country in the world. Although one may debate that claim and the various picturesque merits of other world renowned wine regions, what is not in question is the integral role Stellenbosch has played for more than three centuries in the formation of South African wine. Stellenbosch is unquestionably South Africa's oldest and most important wine producing region. It is South Africa's Napa, Sonoma, and Santa Barbara counties all in one. It contains a myriad of microclimates and is responsible for high quality red and white wines from a host of varietals, including Cabernet Sauvignon, Shiraz, Chardonnay, Chenin Blanc, Sauvignon Blanc, Semillon, Viognier, and South Africa's unique varietal, Pinotage, a cross between Pinot Noir and Cinsault. From wineries in Stellenbosch, both old and new, flow an enormous variety of wines that are wholly unique in character and deserving of worldwide attention.
Located on South Africa's Western Cape just north of Stellenbosch, Paarl is one of South Africa's oldest wine lands, and it is currently home to many of South Africa's cutting edge wineries. Paarl enjoys a well-deserved reputation for its robust, full-bodied spicy reds and ideal conditions for cultivating Rhône varietals, most notably Shiraz, Mourvèdre, and Pinotage. Paarl is also the source of excellent white wines, primarily from Chenin Blanc and Viognier. And like its neighbor, Stellenbosch, Paarl possesses similarly dramatic scenery that is truly a feast for the eyes.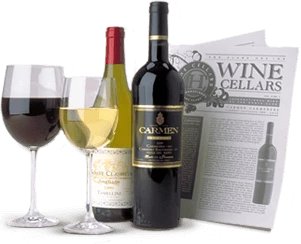 Enjoy Limited Production Estate
Bottled Wines
Discover limited production estate bottled wines such as Vergenoegd's internationally
acclaimed 2005 Cabernet Sauvignon, imported exclusively for our members.
DISCOVER OUR FOUR CLUBS