Emanating from the second oldest vineyard of Chenin Blanc in South Africa, planted in 1947, and another 56-year-old bush vine vineyard of Chenin Blanc, David Finlayson's iconic 2018 Camino Africana Stellenbosch Chenin Blanc is simply stunning, receiving high praise from our tasting panel as well as 92 points from Wine Spectator. Although still very much in its youth, this most recent release of Camino Africana Chenin Blanc offers a budding floral bouquet with hints of dried honey, marzipan, and more. Apple, melon, and orchard fruit flavors grace the palate and come beautifully infused with a pleasant minerality. Savory and seamless in the mouth, the 2018 David Finlayson Camino Africana Chenin Blanc exhibits waxy umami flavors backed by fine, racy acidity and a pleasant saline quality, all of which add to the wine's latent complexity. For ultimate enjoyment, we suggest serving the 2018 David Finlayson Camino Africana Chenin Blanc moderately chilled (40°-45° F). We also suggest giving this rare Chenin Blanc a little time in the glass to fully reveal itself. Better still, lay a few bottles down, as your reward will be well worth the wait. Enjoy!
Although the 2018 David Finlayson Camino Africana Stellenbosch Chenin Blanc needs no accompaniment to shine, it makes an ideal companion to flavorful foods and complex dishes, even those with curry and plenty of spice and panache. South African Chenin Blancs, such as David Finlayson's Camino Africana, make superb companions to spicy fish dishes such as Bouillabaisse or Cioppino, shellfish in heady broths, chicken with green curry, satays, and many Indian specialties. Spice and a bit of fire won't frighten this stalwart Chenin Blanc. Foie Gras or country pâtés served with an apple or pear chutney provide equally tasty pairings with this wine. Arancini and cheesy risottos with aged Parmesan offer more satisfying accompaniments. However, one need not be beholden to spicy foods to enjoy David Finlayson's highly acclaimed 2018 Camino Africana Chenin Blanc. Lightly seasoned grilled fish and fresh sea scallops pan seared with butter, olive oil, salt and pepper provide equally appealing complements without the fire and spice, but as you like it. Bon Appétit!
David Finlayson and his family's Edgebaston Stellenbosch wine estate have become synonymous with modern winemaking in South Africa. Originally from Scotland, the Finlayson family has for three generations made outstanding wines in Stellenbosch and has in recent years been instrumental in transforming the Cape wine industry from a dwindling domestic business to a thriving international venture receiving world-wide acclaim. For the first time and after much prompting, David Finlayson is bottling his family's Edgebaston estate-bottled wines under this own name.
The father and son team of Walter and David Finlayson present impressive credentials. Walter made wine at South Africa's Blaauwklippen winery for more than 15 years where he twice received "Diner's Club Winemaker of the Year" awards in addition to a host of other prestigious accolades. While still at Blaauwklippen, Walter purchased the now renowned Glen Carlou farm in Paarl, which he and son David transformed into one of South Africa's leading wineries. Subsequently, Walter has become best known for producing South Africa's wine of the year in 2005.
David continues the family's winemaking legacy. In addition to his award winning work at Glen Carlou, David Finlayson has honed his winemaking skills at a number of prestigious addresses. David performed winemaking stints at Peter Lehmann, one of Australia's iconic wineries, and world renowned Château Margaux before starting Edgebaston. In 2003 Walter and David sold their shares in Glen Carlou and purchased what is now Edgebaston, a beautiful estate on the hills overlooking Stellenbosch, South Africa's premier appellation and burgeoning wine town. From the beginning, critics have lauded David Finlayson and Edgebaston's award winning wines for their quality, value and innovation, and we count the Finlaysons and their Edgebaston winery among our best finds. Apparently, we are not alone as critics have latched on to David Finlayson's expertise and continue to laud Edgebaston's superb Chardonnays, Chenin Blancs, and Cabernet Sauvignons with multiple 90+ point ratings. David Finlayson's Camino Africana Chenin Blanc (this month's feature) hails from one of the oldest Chenin Blanc vineyards in South Africa and ranks among the country's finest wines.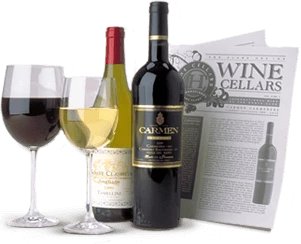 Enjoy Limited Production Estate
Bottled Wines
Discover limited production estate bottled wines such as Vergenoegd's internationally
acclaimed 2005 Cabernet Sauvignon, imported exclusively for our members.
DISCOVER OUR FOUR CLUBS