The 2006 Costantini Massarosa Lazio Rosso is a bright, tasty red wine that just bursts with flavor. It is both lithe and satisfying, which makes it go down ever so easily. It offers an enchanting nose and a distinctive flavor that mirror dark ripe cherries, summer fruits, and woodland violets. The Massarosa Rosso is neither complex nor complicated, but it captures every bit of the glorious sun-drenched terroir from whence it comes. Like the Alban Hills themselves, Costantini's 2006 Massarosa Rosso possesses a certain luminosity and purity that are hard to resist. We suggest allowing this beautiful Roman red at least fifteen minutes of aeration before serving. Our preference is to serve it slightly cool (55°-62° F) and then, if desired, allow it to open slowly in the glass. Enjoy!
The 2006 Costantini Massarosa Lazio Rosso is the quintessential Roman red. It provides the ideal companion to the simple, uncomplicated, but full-flavored fare for which the Eternal City is justly renowned. Moreover, the luminous 2006 Massarosa Rosso brings a certain conviviality to the table. It offers both freshness and flavor to complement the savory tomato and garlic laden dishes that are popular in Rome. So, fire up the pasta pot and bring on the heady marinara and spicy meat sauces as well as the garlic and herb crusted pork roasts, and don't forget to save some of this delicious Lazio red to wash down at least a few hunks of good Pecorino cheese. Traditional southern Italian staples such as lasagna, manicotti, pizza, and ravioli all represent themselves well in the company of the Massarosa Rosso, too. However, don't be afraid to branch out beyond the obvious with the Massarosa Rosso; you won't be sorry that you did. Buon Appetito!
Costantini Massarosa is not your typical Lazio producer, but then again Piero Costantini is not your ordinary winegrower, nor is he emblematic of the industrialist mentality that pervades the production of so much of Lazio's wines. At Costantini Massarosa, which is known locally as Villa Simone, quality is supreme. All of Costantini's grapes are organically cultivated and all systemic treatments have been banished from this 55 hectare estate in favor of natural, sustainable methods of disease control. Furthermore, production per hectare is half the legal limit, and great care is expounded both in the vineyard as well as in the cellar to make the estate's excellent Lazio Rosso and exemplary Frascati the finest in the region. Thanks to Piero Costantini and his winemaker nephew Lorenzo, the wines of the Alban hills remain the pride and joy of Rome. Lazio (Latium) Lazio or Latium is the region of Rome. It is also the source of so much of the wonderful produce, meat, and especially wine that flow into the Eternal City to sustain Romans and multitudes of visitors alike. Lazio is unquestionably one of the most important wine regions in Italy, both in sheer volume as well as quality. And what may come as a surprise to many is that ninety percent of Lazio's wines are white, including the region's best known wine – Frascati. Although white wine reigns supreme in Lazio, the red wines of Lazio can be some of Italy's most enjoyable. However, red Lazio is made in very small quantities and it is rarely exported. Moreover, Romans tend to keep the best Lazio reds for themselves and sell the bulk wine in local trattorias. Fortunately, we were able to secure, with some coaxing, a quantity of Costantini's famous Massarosa Lazio Rosso. We hope you enjoy it as much as we do.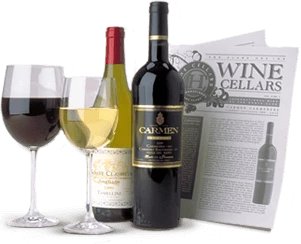 Enjoy Limited Production Estate
Bottled Wines
Discover limited production estate bottled wines such as Vergenoegd's internationally
acclaimed 2005 Cabernet Sauvignon, imported exclusively for our members.
DISCOVER OUR FOUR CLUBS