In Stepping Stone's 2011 Rocks! Red, the Old World clearly meets the New World, as this wine draws inspiration from the magnificent red blends one encounters from the South of France and in our new Bold Reds Wine Club. The choice of varietals (Zinfandel, Merlot, and Grenache) is a unique mélange of California, Bordeaux, and the Rhône Valley. And the result is a deep, dark potion with smooth rich fruit and a youthful ardor. The wine offers up a heady bouquet of blackberry jam and currant fruit along with a pleasant toasty quality born of oak barrel ageing. But make no mistake, the 2011 Rocks! Red is no wimpy little blend. Full bodied and nearly overwhelming upon the first sip, the 2011 Rocks! Red reveals deep down fruit flavors, husky tannins, and plenty to look forward to. And with just a few minutes of aeration, 2011 Rocks! Red smoothes out to reveal a creamy mid palate and plenty of luscious fruit and barrel flavors that made us keep coming back for more. For optimal enjoyment, we suggest serving Stepping Stone's Rocks! Red at no more than 65°F after 15-20 minutes of aeration.
The 2011 Stepping Stone Rocks! Red makes the ideal accompaniment to appetizers and all kinds of Mediterranean specialties. An appetizer of grilled French bread with Kalamata olive and bacon tapenade, topped with fresh arugula, shaved Manchego cheese, and a drizzle of olive oil, provides an ideal starter for the first glass of Rocks! Red. For the second glass, some favorite parings with Rocks! Red include pulled pork rib sliders with melted cheddar cheese, ravioli stuffed with goat cheese and herbs, braised short ribs in a Cabernet sauce with creamy mashed potatoes, and sliced sirloin steak with mushrooms. And to finish the last bit of the 2011 Rocks! Red left in your glass, why not choose a cheese dish? Wedge cuts of Havarti cheese rolled in crushed hazelnuts and lightly fried with a bit of Lingonberry preserves or a Gorgonzola, fig, and pecan terrine truly complement the 2011 Rocks! Red, and they won't disappoint the gourmand, either. Most Italian specialties with rich heady tomato sauces pair well, too.
Stepping Stone is the handiwork of Cornerstone Cellars, which has earned an enviable reputation for fashioning knock-out, super premium Napa Valley Cabernet Sauvignon since 1991. While Cornerstone's age worthy Cabernets are built for the long haul and demand time in the bottle to approach their apogee, the winery's Stepping Stone offerings deliver affordable luxury as well as immediate gratification, without sacrificing quality or abandoning Cornerstone's practice of using the finest grapes, barrels, and facilities to make the ultimate in drinking pleasure. Moreover, each of Cornerstone's Stepping Stone wines provides an exciting and unique taste experience.
While many California wineries produce one or two exceptional wines, typically from a single well known varietal, too many others still offer an overwhelming portfolio of monochromatic varietal offerings that hardly distinguish themselves from one another or from their neighbor's wines either. Not so at Cornerstone! Every wine Cornerstone makes bears a unique signature from the winery's outstanding Napa Valley Cabernet Sauvignon to Cornerstone's two tiers of Stepping Stone wines, including Stepping Stone's two terrific blends, which they call Rocks! Red and Rocks! White.
Rocks! are blended wines that are all about pleasure and being fun to drink, often! They are Cornerstone's most affordable wines. Yet, both Rocks!' blends offer bright, zesty mouth-watering flavors because wine, first and foremost, is meant to be enjoyed. From the winemakers' point of view, Rocks! provides the freedom each vintage to blend whatever varieties the winemakers find to produce the best wine possible. Consequently, each vintage of Rocks! offers something new and unique. And in order to focus on the wine's unique flavors, Cornerstone does not share the exact percentage of the Rocks! blends "as they want everyone savoring the results vintage to vintage, not the statistics." Rocks! is Rocks! as the folks at Cornerstone are fond of saying. And from our experience, both the white and red versions of Rocks! truly rock!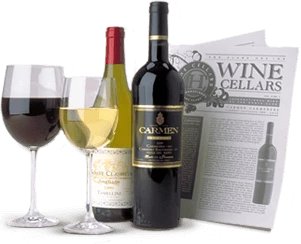 Enjoy Limited Production Estate
Bottled Wines
Discover limited production estate bottled wines such as Vergenoegd's internationally
acclaimed 2005 Cabernet Sauvignon, imported exclusively for our members.
DISCOVER OUR FOUR CLUBS