Although the times, they are a changing, Cabernet Franc continues to fly largely under the radar. Sadly or fortunately, depending upon one's perspective, one of the world's greatest grape varieties still remains overlooked by many American wine lovers in favor of Cabernet Sauvignon. To a lesser extent the same scenario prevails in the grape's native France, in spite of the fact that one of Bordeaux's five top First Growth Grand Cru Classé rated wines, Château Cheval Blanc, is comprised primarily of Cabernet Franc. On the flip side, Cabernet Franc enjoys cult status among serious red wine drinkers, and the 2010 Cornerstone Stepping Stone Napa Valley Cabernet Franc provides ample evidence as to why Cabernet Franc enjoys such status. Cornertstone's Stepping Stone Cabernet Franc offers a fragrant, gracious bouquet of red and black fruits, fresh cut herbs and tobacco plus a hint of espresso bean. Bright, energetic and downright velvety on the palate, the 2010 Stepping Stone Cabernet Franc caresses the mouth with a luscious core of berry fruit, infused with chocolate, and perfectly ripe, well-integrated tannins. If Cornerstone's aim with this wine was to make a balanced, first rate Cabernet Franc to drink now and over the next 5-10 years, they certainly have succeeded. Give this delightful Cabernet Franc a bit of aeration and enjoy it at cool room temperature (no more than 65° F) as often as you can.
The velvety, complex flavors and supreme balance of the 2010 Stepping Stone Napa Valley Cabernet Franc pair beautifully with all kinds of meats and grilled vegetables. Rare juicy steaks, game birds, winter stews, and hearty meat and cheese lasagnas are some of our favorite accompaniments to Cornerstone's gregarious Stepping Stone Cabernet Franc. We should add veal and lamb to that list, too. Veal Medallions wrapped with prosciutto ham get a serious nod as does Rack of Lamb, served with potato gnocchi, pearl onions, and mushrooms. Roast duck with a berry sauce, chicken and many types of soft, cow's milk cheeses complement Stepping Stone's Cabernet Franc, too. And truth be told, this Cabernet Franc shines on its own, so if you're not cooking tonight, you may still want to open a bottle of the 2010 Stepping Stone Cabernet Franc. Just don't invite too many friends over, or you'll need another bottle or two. Enjoy!
Stepping Stone is the handiwork of Cornerstone Cellars. Cornerstone Cellars has earned an enviable reputation for fashioning knock-out, super premium Napa Valley Cabernet Sauvignon since 1991. While Cornerstone's age worthy Cabernets are built for the long haul and demand time in the bottle to approach their apogee, the winery's Stepping Stone offerings deliver affordable luxury as well as immediate gratification, without sacrificing quality or abandoning Cornerstone's practice of using the finest grapes, barrels, and facilities to make the ultimate in drinking pleasure. Moreover, each of Cornerstone's Stepping Stone wines provides an exciting and unique taste experience.
While many California wineries produce one or two exceptional wines, typically from a single well known varietal, too many others still offer an overwhelming portfolio of monochromatic varietal offerings that hardly distinguish themselves from one another or from their neighbor's wines either. Not so at Cornerstone! Every wine Cornerstone makes bears a unique signature. Cornerstone produces two outstanding Napa Valley wines: Cabernet Sauvignon and Sauvignon Blanc. They also fashion beautiful Willamette Valley Chardonnay and Pinot Noir in Oregon. At the same time, Cornerstone's Stepping Stone line of wine offers two tiers and a modest number of offerings, all of which are distinct. The first tier includes an exceptional Cabernet Franc (this month's feature), a Cabernet Sauvignon, and a Syrah. Less expensive but equally compelling are Stepping Stone's two terrific blends, which they call Rocks! Red and Rocks! White. Both Rocks! blends offer bright, zesty mouth-watering flavors because wine, first and foremost, is meant to be enjoyed, regardless of the price.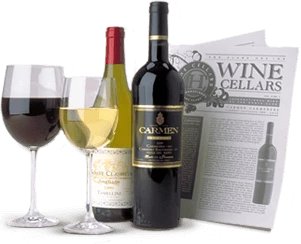 Enjoy Limited Production Estate
Bottled Wines
Discover limited production estate bottled wines such as Vergenoegd's internationally
acclaimed 2005 Cabernet Sauvignon, imported exclusively for our members.
DISCOVER OUR FOUR CLUBS