Born in a perfect vintage in America's premier appellation for Cabernet Sauvignon, the 2016 Consortium Napa Valley Cabernet Sauvignon is already an absolute delight to drink. Bold but not brazen, this superbly crafted Cabernet exudes exceptional flavor, charm and precision. From the moment it reaches the glass, the 2016 Consortium begins to work its magic by offering beguiling scents of blackberry, Morello cherry, plum, and hints of bay leaf, all of which come wrapped in a well-integrated patina of oak. The 2016 Consortium Cabernet doubles the pleasure in the mouth as the wine's beautiful olfactory wells up on the palate, providing rich black and red fruit flavors infused with deft touches of bay leaf, dark chocolate, and tobacco. Fine ripe tannins support the wine's complex flavors and provide impeccable balance and mouthfeel. In short, there is everything to like in the 2016 Consortium Cabernet Sauvignon. Afford it at least 15 minutes of aeration and enjoy it now and over the next 5-7 years at cool room temperature (60° F).
Given the balance and seductive flavors of the 2016 Consortium Napa Valley Cabernet Sauvignon, it stands out as a Cabernet Sauvignon that can be enjoyed on its own, but why not enhance the experience with the finest cuts of meat or some of the planet's most delicious cheeses or chocolates? Chateaubriand with morels in a puff pastry; Rack of Lamb served with lentils and haricots verts; Bacon Wrapped Bison Meatloaf, served with hand cut duck fat fries; and Grilled Duck Breast with duck confit hash and seasonal vegetables all make splendid companions to the 2016 Consortium Cabernet. For those who prefer simplicity and subscribe to the philosophy that less is more when it comes to enjoying a fine wine, we suggest serving a well-endowed charcuterie and cheese plate comprised of naturally dry cured meats and soft rindless cheeses, but almost any aged, finely crafted cheese will shine in the presence of the Band of Vintners' 2016 Consortium Cabernet Sauvignon. To finish a glass of this classic Cabernet, consider pairing it with tiny morsels of dark chocolate of at least 72% cacao. Enjoy!
"Consortium Cabernet Sauvignon is the product of our collaboration, friendship and a shared love of Napa Valley."
Consortium is the handicraft of seven talented young Napa Valley winemakers, sommeliers, and wine personalities: Barrett Anderson, Brennan Anderson, Jason Heller, Cameron Hobel, Dan Petroski, Mark Porembsky, and Stéphane Vivier. Collectively, they are known as the Band of Vintners, seven friends who make and purvey one incredible Napa Valley Cabernet Sauvignon that utterly shames many of Napa's more iconic labels.
Barrett Anderson, Dan Petroski, Mark Porembsky, and Stéphane Vivier form the band that makes the wine. With winemaking experiences at Freemark Abbey, Cardinale, Lokoya, Larkmead, El Molino, Hyde de Villaine, and a host of other iconic properties, these friends know how to make Cabernet Sauvignon from the finest vineyards in Napa Valley. With a traditional blend of 92% Cabernet Sauvignon, 6% Merlot, and 2% Cabernet Franc, they fashioned the outstanding 2016 Consortium (this month's feature), a wine that could easily sell for $100.00 per bottle. Taste and enjoy!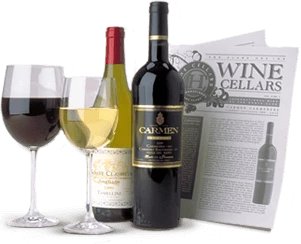 Enjoy Limited Production Estate
Bottled Wines
Discover limited production estate bottled wines such as Vergenoegd's internationally
acclaimed 2005 Cabernet Sauvignon, imported exclusively for our members.
DISCOVER OUR FOUR CLUBS