Dampierre's specialty is this month's feature, the Dampierre family's traditional, non-vintage Comte Audoin de Dampierre Grande Cuvée Brut, a serious complex Champagne that offers a delicate and persistent mousse, exquisite texture, and delicious fruit: apple and toasted pear flavors infused with pinpoint minerality render Dampierre's Grande Cuvée irresistibly delicious. Both zesty and compelling in aroma and flavor, the Dampierre Grande Cuvée is a wine that can be enjoyed at any time of day. For optimal enjoyment, we suggest chilling the Dampierre Grande Cuvée to 38° F before attempting to open the bottle. Pour a glass, take a sip, and then allow the wine to reveal itself as it slowly sheds its chill. Fine Champagne will bloom in the glass like a flower unfolds on a warm spring day. Enjoy!
In Champagne, hors d'oeuvres, smoked salmon, and charcuterie provide traditional accompaniments to fine Champagnes, to which we vigorously nod our approval. Although ideal as an aperitif, the supreme elegance and depth of flavor of the Dampierre Grande Cuvée Brut also render it a splendid partner to grilled fish, scallops, and most seafood specialties served in broth or a delicate cream sauce. Steamed lobster and Alaskan king crab legs served with warm drawn butter provide other favorite accompaniments. Poultry and puff pastry provide other excellent pairings with Dampierre's Grande Cuvée Brut. Freshly cut slices of apple and pear accompanied by a plate of creamy cows' milk cheeses such as Muenster, Neufchatel, or Port Salut offer a simple, satisfying accompaniment to a glass of this exquisite Champagne as well. Nonetheless, nothing is quite so fine as a glass of Dampierre Grande Cuvée Brut as an aperitif, taken on its own with time to truly enjoy its delicate perle, frothy mousse, and sophisticated flavors without distraction. Bon appétit!
Editor's Note: Champagne is a wine that is under pressure. It should always be well chilled before opening. Always exercise caution when opening a bottle of sparkling wine. Never use a corkscrew. Point the bottle away from people and objects. Use a clean towel or cloth to firmly grip the bottle. Gently remove the wire stopper while firmly holding the cork in place. Then with thumb and forefinger, remove the cork slowly from the bottle. Do not let the cork fly. Enjoy!
The Dampierre family has been a proprietor in Champagne for over 700 years, making Dampierre one of the last of the great family owned Champagne houses. For centuries, the Dampierre family, like so many of the land holding families in Champagne, grew grapes or were involved in the trade, but they did not create or run their own Champagne houses. It was not until 1986 that Audoin de Dampierre actually established his own Champagne house, but he and his family had plenty of prior experience. Since 1881, when Audoin's great-grandfather married into the Boisseau dynasty of Champagne, the Dampierre family has been linked to the production of superior Champagne.
Dampierre fashions a scintillating array of wines. Dampierres's non-vintage Comte Audoin de Dampierre Grande Cuvée (this month's feature) is one of the world's finest non-vintage Brut Champagnes as well as the house's most renowned wine. Dampierre also fashions limited quantities of Blanc de Blancs and Rosé Champagnes along with other notable vintage and non-vintage cuvées. The most illustrious of these Champagnes is the Dampierre Cuvée General Patton, a 100% Chardonnay Champagne crafted to commemorate the 70th anniversary of Patton's liberation of Rheims during World War II. Rheims is Champagne's most important city and the traditional coronation site of the kings of France. General Patton led his army and tanks into Rheims on August 30, 1944, where he promptly set up headquarters in a home linked to the Counts of Dampierre. The general obviously had sense of history, good taste in wine, and he knew the best place to stay in town.
Champagne is an ancient province of France, a pastoral land of meadows and streams and, most importantly, chalk hills upon which some of the world's choicest grapes are grown. Champagne's boundaries are delimited by law and its wines strictly regulated by the laws of Appellation Contrôlée as to permitted grape varieties (primarily Chardonnay, Pinot Noir, and Pinot Meunier), yield, production, and quality. Yet, Champagne is more than a place; it is also a wine. In fact, Champagne is several different wines – only the most recognizable of which is white and bubbly.
Although Champagne can be still or sparkling, white or red, and even rosé, the wine the world has come to know best as Champagne is always sparkling. So synonymous now is the name Champagne with sparkling wine that the nomenclature has been applied generically and indiscriminately to any wine that bubbles, much to the regret of the Champagne producers themselves. Authentic Champagne comes only from the Champagne district of France and meets all the approved legal requirements and standards of production, including absolute adherence to the painstaking Méthode Champenoise, which requires that secondary fermentation take place in the bottle for sparkling Champagne.
The magic of Champagne (the bubbly kind, at least, that now encompasses the overwhelming majority of wine produced in Champagne) comes from encapsulating the bubbles in the very bottle in which the wine starts its life. In the old days, long before the advent of technical wine equipment, temperature control, and central heating, the slow fermentation of grapes in the cool Champagne autumn was often interrupted by winter's chill. With the onset of winter, fermentation would stop completely or at least appear to cease, so the wine was bottled and prepared for distribution. However, the following spring temperatures would rise and the fermentation process would begin anew. This delayed completion of fermentation is known as secondary fermentation. Secondary fermentation produces the beautiful bubbles and tiny streams of carbon dioxide that have come to enchant several centuries of well-wishers and hedonists. What began as serendipity is now one of the wine world's highest art forms.
Since the 17th century, several historical personages have contributed to the development of Champagne, including the renowned Dom Perignon, the legendary blind monk and cellar master of the Champagne Abbey of Hautviller; Frère Oudart; and later the widow Clicquot. Thanks to centuries of improvements and some of the first true brand name marketing, Champagne enjoys today a special place in western culture. Champagne has been called the Belle of the Ball and has come to symbolize conviviality, hope, and all that is good in life and love. What would a wedding or any other festivity be without Champagne? But why wait for an occasion? Champagne is the perfect way to start an evening. Pop the cork and join in the fun.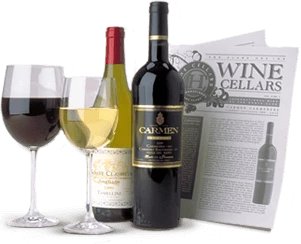 Enjoy Limited Production Estate
Bottled Wines
Discover limited production estate bottled wines such as Vergenoegd's internationally
acclaimed 2005 Cabernet Sauvignon, imported exclusively for our members.
DISCOVER OUR FOUR CLUBS