The 2014 Complicated Sonoma Coast Chardonnay makes a good first impression: it sparkles in the glass, offering an eye-appealing glint of sunshine and the desire to immediately stick one's nose into the glass. What awaits the eager olfactory in this seductive Sonoma Chardonnay is a burst of opulent fruit aromas. Apple, apricot and peach aromas all come to fore as they meld with deft touches of French oak to delight the nose. In the mouth, the 2014 Complicated Sonoma Coast Chardonnay is anything but complicated. This Chardonnay's winning olfactory follows through on the palate, where one discovers a touch of lemon zest and hints of spice and toasted French oak barrel to frame the wine's fruit. All this leads to an elegant, satisfying finish, which made our panel members ask for more. Even the few dyed in the wool Chardonnay detractors liked Complicated's tasty, uncomplicated 2014 Sonoma Coast Chardonnay and asked for more. For optimal enjoyment, we suggest serving Josh and Carlo's 2014 Complicated Chardonnay moderately chilled (40°-45° F).
Balanced, uncomplicated Chardonnays such as Complicated's 2014 Sonoma Coast Chardonnay need little in the way of accompaniments to please a crowd. Josh Phelps and Carlo Trinchero have fashioned a beautiful 2014 Complicated Chardonnay that ingratiates itself to the nose and thirsty throat, and it never wears on the palate. But we discovered that the 2014 Complicated Chardonnay is more than just a good aperitif. Pair a grilled chicken and avocado wrap, a shrimp salad, or a bucket of crispy chicken wings with a bottle of the 2014 Complicated Chardonnay and you will likely need another bottle of Josh and Carlo's quaffable Chardonnay. Grilled fish, poultry and pulled pork also make delightful accompaniments to this easy to drink Sonoma Chardonnay. Soft, creamy cheeses served with fresh apples, pears, or strawberries also provide simple, satisfying, and uncomplicated accompaniments to the 2014 Complicated Chardonnay. Enjoy!
Taken Wine Company produces just two special varietal wines in their Complicated portfolio: Complicated Chardonnay and Complicated Pinot Noir. As two appears to be the magic number with this brand, two next generation winemakers, Carlo Trinchero and Josh Phelps, from two of California's iconic wine families created Complicated in 2009 to realize their mutual dream of starting their own wine venture. Josh and Carlo grew up together in the winegrowing town of St. Helena, in the Napa Valley, where wine runs in the DNA. The Phelps and Trinchero families have earned reputations for fashioning outstanding wines, the likes of which other Napa Valley wineries seek to emulate.
Complicated wines are crafted to appeal to the millennial generation in terms of both what is inside and outside the bottle, as are Taken's two other brands: Available and Taken. The names Taken, Complicated, and Available all tie into social media and are relevant to Josh and Carlo's generation. Taken's Complicated brand specializes in Chardonnay and Pinot Noir, while Available is reserved for Italian varietals and Taken for the two Bordeaux classics – Cabernet Sauvignon and Merlot. However, what is most essential about Josh and Carlo's Complicated wines is not the name, but how delicious and uncomplicated these wines are. Pure succulent fruit flavors, velvet-like textures, and long clean finishes are what one can expect from a Complicated wine and two not so complicated millennial winemakers.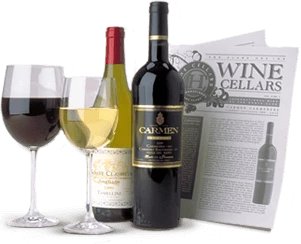 Enjoy Limited Production Estate
Bottled Wines
Discover limited production estate bottled wines such as Vergenoegd's internationally
acclaimed 2005 Cabernet Sauvignon, imported exclusively for our members.
DISCOVER OUR FOUR CLUBS